Wake Forest's baseball team dazzled Demon Deacon fans by finishing the regular season ranked No. 1 and coming oh-so-close to taking the national title before conceding to Louisiana State University (2-0) in the Men's College World Series in Omaha, Nebraska. "The way that these guys love each other, as a coach, I'd rather coach this team and not win the national championship than coach any other team," said Coach Tom Walter (P '23). "I'm just beyond proud of them." More here.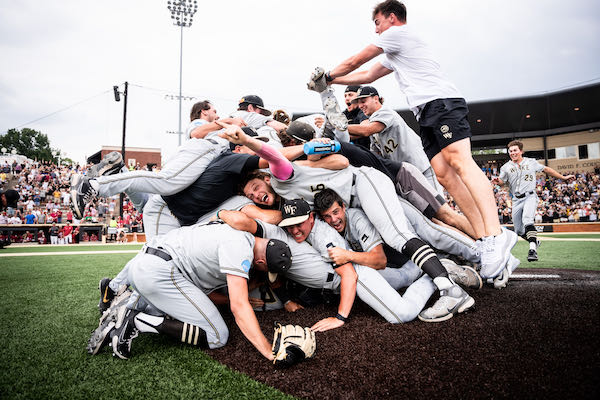 PITCHING SCIENCE: Pitchers from Wake Forest and even MLB teams have honed their skills with help from the cutting-edge pitching lab that Wake Forest and Atrium Health Wake Forest Baptist opened four years ago in the Chris Hurd Player Development Center at David F. Couch Ballpark. Under the direction of biomechanist Kristen Nicholson, an assistant professor in the Department of Orthopaedic Surgery and Rehabilitation at the School of Medicine, the lab uses more than 20 cameras, force plates built into a pitching mound and 3D Doppler radar to measure the location, trajectory and spin rate of the ball. Nicholson uses the data to help players prevent injuries and improve performance. "This year, I felt like we were able to utilize the knowledge we've gained to make an impact and see it all pay off," she says. More here.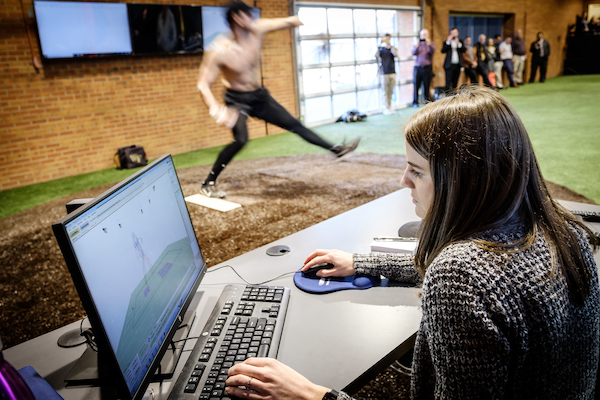 DATA-DRIVEN DUGOUT: The baseball analytics team, led by Chris Lewis ('22, MSA '23), proved to be another secret weapon, expanding from four to 20 undergraduate and graduate student members during the past four years. Their analysis of biomechanical and bullpen data helps players improve and target opponents. The students started as a club, but "we saw a big opportunity to fill," says Lewis, who joined the Toronto Blue Jays analytics team in July in Florida. More here.
AVALANCHE OF ACCOLADES: Walter was named ACC Coach of the Year. The ACC named junior Rhett Lowder Pitcher of the Year for the second year in a row, Male Athlete of the Year and Baseball Scholar-Athlete of the Year, and Wake Forest honored him with his second Arnold Palmer Award (Male Athlete of the Year). Five Demon Deacons were named 2023 Collegiate Baseball All-Americans. More here.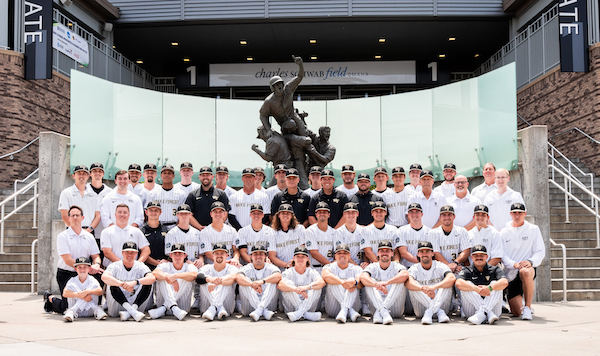 REMEMBRANCE: Wake Forest's last trip to Omaha in 1955 ended with a national title, and players still recall the euphoria of the 7-6 win over Western Michigan University. A few obstacles arose. President Harold Tribble (LL.D. '48, P '55) had to get star pitcher Lowell "Lefty" Davis ('57) flown in from summer classes for a Saturday game. A rained-out game's postponement until Sunday prompted an outcry from North Carolina Baptists who objected to playing on a sacred day of rest. Winning the title still thrilled players. "That year I was pitching, I thought I'd captured the world," says Jack McGinley ('57). More here.
GOING PRO: A program-record 10 players were selected in the summer MLB Draft, starting with Lowder (Cincinnati Reds) and junior Brock Wilken (Milwaukee Brewers) in the first round. Drafted in later rounds were Justin Johnson (MSBA '23), Pierce Bennett ('23) and undergraduates Tommy Hawke, Seth Keener, Bennett Lee, Teddy McGraw, Camden Minacci and Sean Sullivan. The Deacons quickly began attracting promising transfers. More here.