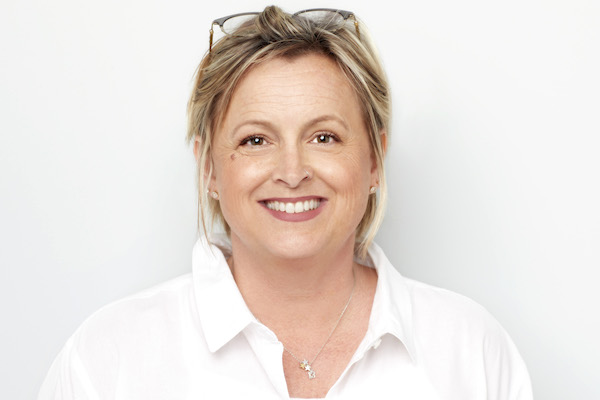 Carrie Buse ('89) was channeling her inner Barbie long before millions of moviegoers rediscovered the doll last summer.
Just as the Hollywood blockbuster follows the transformation of "Stereotypical Barbie" to feminist, Buse has charted her own journey from a small town in the South to El Segundo, California, as head of design for Mattel's Future Lab.
"If I had designed a career path, it wouldn't have been this. But I love my work," says Buse, who majored in communication at Wake Forest with a focus on film and television. "We live in a really difficult time, and play helps."
Growing up in Shelby, North Carolina, Buse and her older sister treated Barbie as an adventurer, not a fashion icon. Their dolls jumped out of trees and dove into buckets. The Buse girls used books and pocket doors in their den to create houses, rooms and furniture.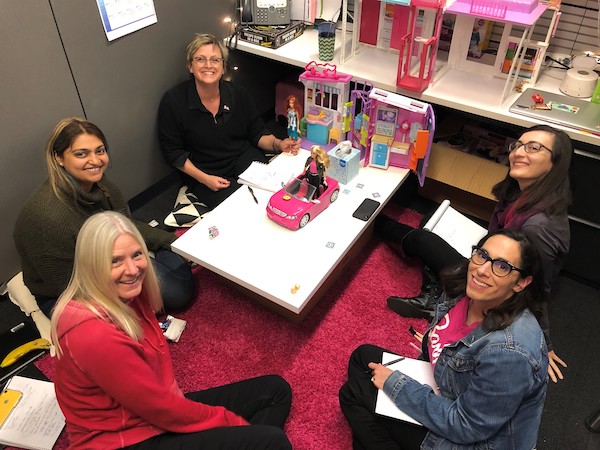 Buse originally had planned to head to Washington, D.C., upon graduation to earn a master's degree in broadcasting. But she changed gears after getting her acceptance, on Commencement day, to the University of California Los Angeles' Graduate Program in Film & Television.
Since then, she's ridden waves of technological innovation in the worlds of gaming, entertainment and toys. Even in film school, Buse assisted a professor who had figured out how to write a computer program for laser discs to digitally jump back and forth in movies, rather than having to rewind and fast-forward. "I loved it, and it unlocked this idea of nonlinear thinking for me," she says.
After finishing the program, Buse found herself at a loss for what would come next. Through what she calls some "very random connections," she landed a spot as a producer/designer/scriptwriter for Philips POV making nonlinear narrative games in the early days of CD-ROMs.
Her writing talent helped her land freelancing gigs through the '90s dot-com boom, including a stint responding to emails submitted by girls on Barbie.com — in Barbie's voice. Buse shared age-appropriate versions of her own SoCal adventures: A night at a Japanese hotspot turned into Barbie and little-sister Skipper discovering sushi.
Then came the dot-com bust, which left Buse asking her mother for help with her rent.
To pay the bills, she joined Mattel full time as a copywriter in the packaging department. Rather than resenting the switch from developing choose-your-own-adventure scripts for interactive toys, she recognized that she was learning on the job "how people truly connect to brands."
"We never grow out of the need for play."
Next, she joined Mattel's "Advanced Concepts" team, dreaming up tech enhancements for the doll division. Some of her favorite projects included a fingernail printer, a monster-face maker and a Video Girl Barbie with her own camera, back then viewed internally as a helpful tool for children recording YouTube videos.
Fast forward to this year's movie, when that doll's bitter lines got big laughs: "I have a TV on my back. You know whose dream this is? Nobody. It's nobody's dream."
(A former boss warned her before the Mattel premiere that her project would be mocked, but Buse was more focused on what to say if she found the movie lacking, given her graduate degree in film. She was delighted to find that she loved it — especially this line from Ken, who accepts himself as "Kenough" after realizing he is more than a Barbie accessory: "To be honest, when I found out the patriarchy wasn't about horses, I lost interest anyway.")
Buse's career turn shocked Mary Dalton ('83), a professor of communication and film studies under whom Buse had studied at Wake Forest and whose parents grew up on farms near Shelby. "I felt so conflicted, and I remember saying, 'There will be spaces to push against those (Barbie) stereotypes,'" Dalton says. "That's what she has done. She has found her own niche."
Indeed, while Buse works with many strong colleagues "who wear pink proudly," she points out with a crinkly-eyed smile that her Barbie swag is always black.
Even in her early days as a copywriter, Buse couldn't resist dabbling in other projects at Mattel. Before long, the design department poached her to support what the gaming industry calls a MMOW, or massive multiplayer online world, revolving around — who else? — Barbie. It was an instant hit, registering millions of users in just a few months.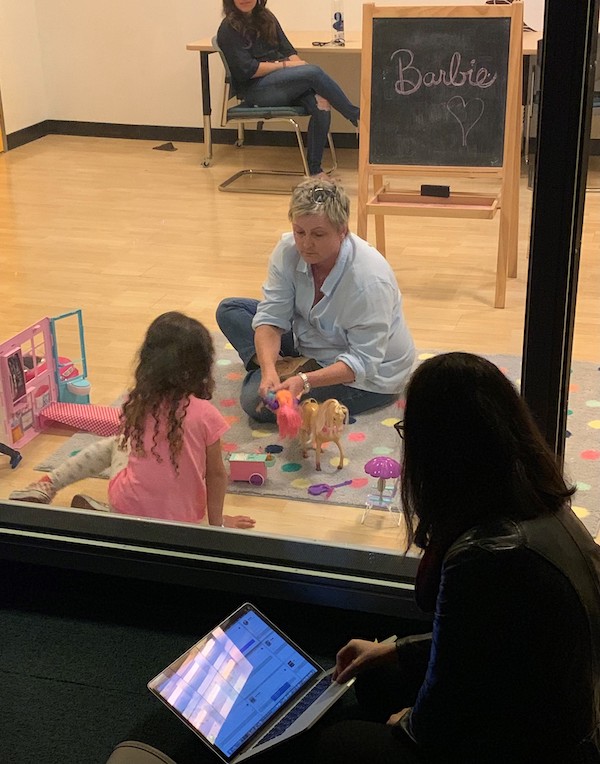 Buse was eventually plucked from her team to design new technology just for Barbie. She wasn't happy about the move — until she met her new boss, Kim Culmone, now senior vice president and head of design for dolls. Buse credits Culmone for transforming Barbie's image.
"Kim said, 'Right now, if somebody calls you a Barbie, it's not a compliment. But I have this vision that it's going to mean that you're a Renaissance woman,'" Buse recalls. "And I was like, 'Sign me up. I'm all in for this story.'"
Culmone credits Buse for her leadership in imagining new ways to leverage technology. "Carrie's always many steps ahead, envisioning where our toys will show up in the future," Culmone says. "It's a very impressive space that she hangs out in in this organization."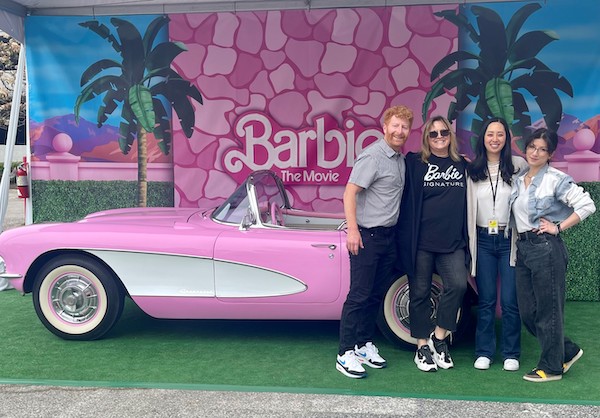 Buse worked on Hello Barbie, which used Wi-Fi and voice recognition to power conversations between the doll and a person. Barbie Hello Dreamhouse, a smart home (since discontinued), responded to more than 100 voice commands — including "Let's throw a surprise party."
The lights would shut off, the child would be instructed to hide, footsteps would sound, the door would swing open, lights would turn on, music would play, "and the little kids would go, "Surprise!" Buse recalls. "As a designer, I ask, 'How long can the play keep going? How do I keep you engaged, so you're still having fun and using your imagination?'"
Last year, Mattel promoted her to head of design for its Future Lab, leading a team focused on innovating what's ahead both for children and, increasingly, grown-ups. "There wasn't a better person for this role than Carrie. I know she's comfortable with the discomfort and ambiguity that come with innovation," says Ron Friedman, the group's vice president.
"Carrie's always many steps ahead, envisioning where our toys will show up in the future."
During their weekly meeting, the Future Lab team members play a game for a few minutes, and "the highlight is having Carrie unmuted and hearing her laughter," he says. "It's the energy that feeds all of us."
They are finding early success with "virtual collectibles" — specifically Hot Wheels NFTs, or non-fungible tokens, an ID for a digital asset. Such toys are designed for "kidults," anyone 12 or older, which is the fastest growing toy market, Buse says.
"All of those people who went to see the Barbie movie and made it this huge thing are the same people who are getting into virtual collectibles," she says.
The Hot Wheels NFTs have taken off amid a widespread slump in the non-fungible token market, in part because "we knew what our community liked," Friedman says. "That's something Carrie always advocates — being consumer-centric and focused on the experience, not the technology."
Or, as Buse puts it, "We never grow out of the need for play. It's fun to be in this space right now and think about, 'Can I make things that have value for kids and adults?'"
She quickly answers her own question: "I think, 'Wow. Yeah, let's do that.'"