While visiting The Metropolitan Museum of Art in New York City, you might expect a tour guide to tell you about the brushstrokes that Emanuel Leutze used when painting "Washington Crossing the Delaware." What you may not expect: being asked to sit on the floor and make a sculpture out of Play-Doh, imitate a pose that a statue is making, or yell "mmmmmmmuseum!" along with eight strangers while you're surrounded by Egyptian artifacts.
But that's what you get when you sign up for one of the Museum Hack tours at the Met that Nick Gray ('04) created. "We do museum tours for people who don't like museums. It's a fresh look at an old museum," says Gray, a dapper 31-year-old who often wears a blazer and bowtie when giving tours and wrangles stragglers by playing a harmonica. "Many people think that visiting a museum must be a passive experience. We show people that it can be active — you can take back the space."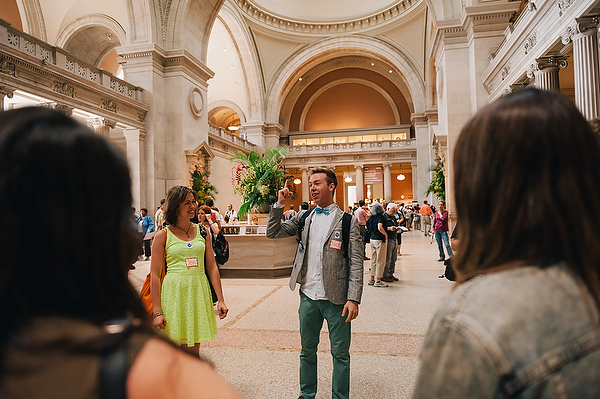 The Met doesn't endorse the tours, but it doesn't prohibit them, either. Gray makes sure that the tours follow the museum's rules (i.e., no flash photography, no touching the art, no running), but there is a gray area. Once, tour participants were asked to take a photo of "the best beard in the museum." Gray assumed that participants would focus on the bearded characters in the artwork, but, as it turns out, some security guards at the Met also have impressive facial hair — and they weren't exactly ready for their close-ups. "The guards made everyone delete any photos of them," says Gray. "We found out the hard way that it was a no-no."
AN ENTREPRENEUR AT HEART
Gray spent his childhood living in Arizona, California, Georgia and Texas as an Air Force brat. He was always cooking up imaginative and unique ways to work — even as a youngster. When he was 12, he agreed to work at a store not in exchange for money, but for baseball cards and comic books. In middle school, he dove into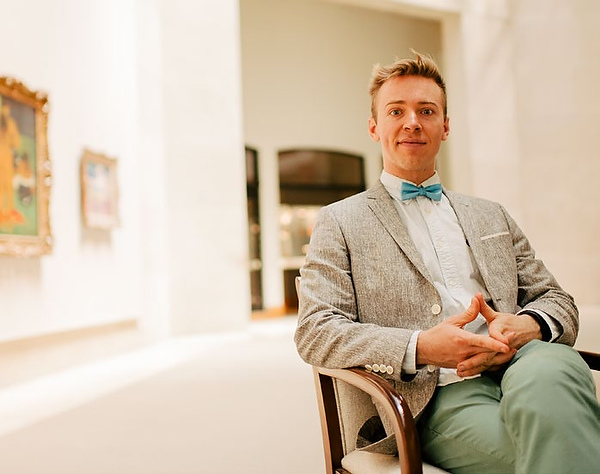 lawn maintenance — he noticed that the thin, vertical, metal borders that surrounded his neighbors' lawn edges were rusting, so he'd sand and repaint them. He also created websites for local bands and small companies, and in high school, he started a website-hosting business. It's no wonder that Gray later earned a WFU Presidential Scholarship for entrepreneurism. "Not a lot of schools offered entrepreneurial scholarships at the time. It's a big reason that I was able to go to Wake, so I was excited," says Gray.
One memorable experience was taking a class called Management in the Visual Arts, which was financed by world-renowned art dealer William Acquavella (P '03), whose son was attending the University at the time. Half the students in the class were art majors and half were business majors. "It was a priceless opportunity," says Gray, who was a business major. "I learned about how much it cost for a work of art to go from a gallery to a museum and took an all-expenses-paid trip to New York City over spring break to visit galleries and museums."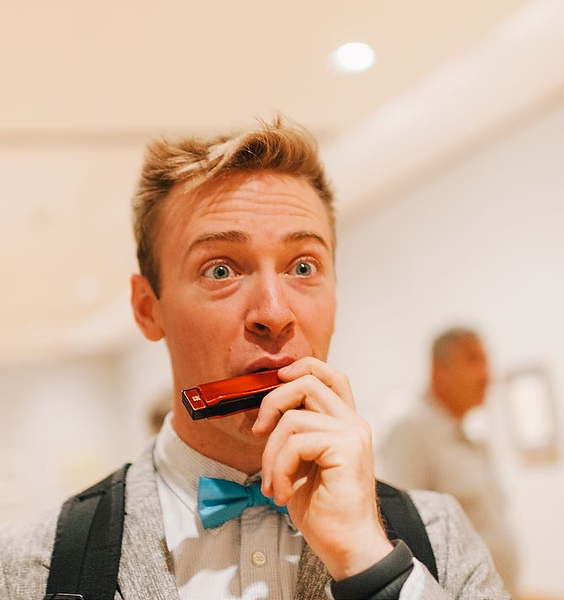 Something else Gray enjoyed in college: being part of the Lilting Banshees comedy troupe. "I was surrounded by the most talented writers and actors. It taught me how not to be shy," he says. His performance skills and comedic timing are apparent when you watch him lead a Museum Hack tour today. On one tour, for example, he pointed to an object in the museum — a walking stick that also functions as both a flute and an oboe — and told an entertaining, fictional story about how he ("Master Gray") once used it to woo a lady ("the finest courtesan in all the land"). The moment she falls for him ("the mic-drop moment") is when he reveals that the instrument/cane is made from the rare tusk of a narwhal. "My goal is to bring pieces of art to life through fun facts, stories and jokes," says Gray.
Being clever also worked to Gray's advantage when it came to dating. "When most guys in college try to impress a girl, they think: I'm going to take her to dinner 'off campus.' But Nick's world was much bigger," says Ricky Van Veen ('03), CollegeHumor.com co-founder and Gray's friend. "He was dating a girl and found out that she loved Kenneth Cole shoes. He did his research and discovered that Kenneth was a pun enthusiast. Nick emailed Kenneth, told him how his girlfriend was a big fan, and said: 'I'm in college and don't have a lot of money, but here's a list of my favorite puns.' A week later, a shoebox was sent to Gray. It contained a new pair of women's shoes from Kenneth Cole in Gray's girlfriend's size with a note that said: 'So many girls would love to be in your shoes — Kenneth.' I was like, wow. This guy Nick is professional — he is going places," says Van Veen.
Gray thought outside the box in other ways, too. Van Veen says that in college, Gray discovered that a certain electronics store in Winston-Salem had a 12-month return policy on TVs. Gray would buy the largest TV in the store each September and then return it each May. "So each year, he always had the biggest TV on campus." Van Veen says Gray also would throw "steam room" parties in his dorm's bathroom by turning on all the hot sink faucets and shower heads and inviting everyone to come in towels and robes.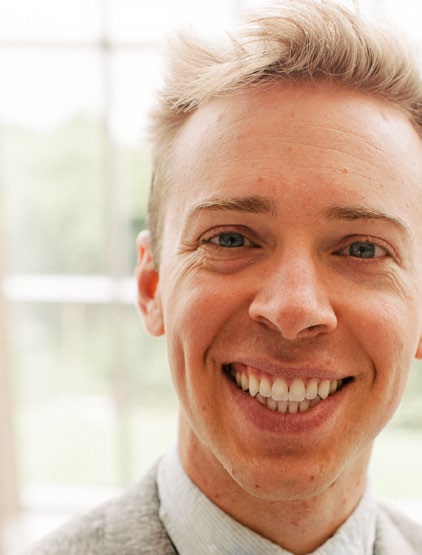 "Nick was a nontraditional student," says Page West, professor of strategy and entrepreneurship who taught Gray and served as his adviser. "One of the things that characterizes Nick is creativity and a readiness to look at things from a different point of view. That's the mark of many successful entrepreneurs." West helped Nick find a bigger area for a company that Nick launched in college called Buddy Gopher (a system that allowed you to simultaneously check the "away messages" of all of your AOL Instant Messenger buddies). "Nick was running it out of his dorm, so his room was filled with multiple computers that were running 24/7. You couldn't open his door without hitting a computer." West found an unused office in Reynolda Hall for entrepreneurial students to use, with Nick as one of the first occupants.
FROM PASSION TO PROFESSION
After graduation Gray worked for Flight Display Systems, a company launched by his parents that sells audio and video equipment to private jets and military planes — first in Georgia and then in New York City, where he has lived since 2007. In December 2010, a woman invited him on a date to the Met, and it changed his life. "It was a Saturday night and it was snowing. There was hardly anyone in the museum. I'd been before, but I had never truly 'experienced' it. I fell in love with the museum that night. I looked around and thought: 'This is why I moved to New York City,' " says Gray. "Since that night, I've come back 157 times."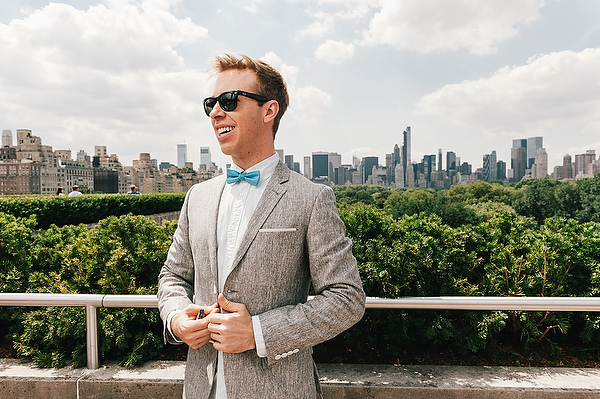 At first, he spent many nights exploring, listening to the museum's audio tour and reading about exhibits online. Then, to celebrate his 30th birthday in 2011, he gave a tour. "I was excited to share what I had learned with friends," he says. His buddies loved the tour so much that they started telling their friends about it, so he kept doing them sporadically for free and advertising them on Facebook.
In March 2013 DailyCandy.com featured a piece about Gray which resulted in 1,000 people requesting tours. That April, he quit his full-time job so he could focus solely on Museum Hack and start charging people.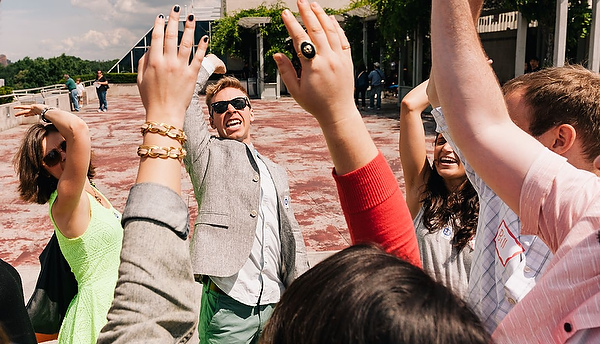 "The first time I charged people, I gave them their money back at the end of the tour," says Gray. "I felt guilty because I had so much fun doing it." His goal isn't for Museum Hack to make him rich. "You'd have to be crazy to work with museums to try to make money," he says. "I just want to make enough money to create a sustainable business." One way he's making the business sustainable is by hiring other "museum educators." He already has one full-time employee with a museology degree and one part-time employee with an art history degree.
Tours run every Friday, Saturday and Sunday morning at the Met from 10:15 a.m. to 12:15 p.m. The cost: $39 (more if you'd like to provide the museum's $25 suggested donation at the door and tip your guide). Tours are limited to a maximum of nine people so they remain intimate. They often sell out weeks in advance.
One helpful aspect to taking the tour is that it prevents you from feeling overwhelmed by the vast scope of the museum. The Met takes up 13 acres of Central Park; it has 21 wings and 17 curatorial departments. "It's gargantuan," says Gray. The Museum Hack tour swiftly ushers you in and out of multiple rooms, showing you only the most exciting exhibits.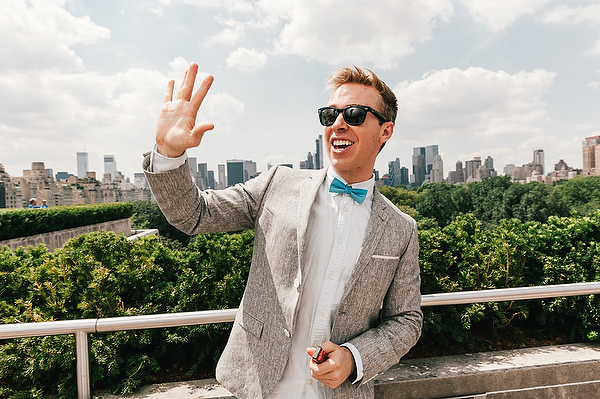 Gray still leads a few tours now and then when his employees are sick or on vacation, but he's transitioning into more of a managerial role. Now that he's mastered the Met, he's thinking about expanding throughout the city, the country and even the globe. "My team and I are investigating doing tours at the Museum of Natural History and the Brooklyn Museum in New York City," says Gray. "Someday, I'd love to take a Museum Hack tour at the Louvre or the Vatican. Wouldn't you?"
---
Jane Bianchi ('05) is a freelance writer in New York City.
---