The scene: opening session of POL 210, "Food Politics and Policy," fall semester 2013. I'd asked my filled-to-capacity class of Wake Forest students to explain briefly why they'd enrolled, and their answers came with gusto. "Everybody's talking about GM (genetically modified) food labeling." "I'm concerned about factory-farmed animals." "I'm planning to be the CEO of a frozen-food company." (Remarkably focused, that last fellow.) Ten years ago, I couldn't help musing, we'd have been lucky to find five students interested in food politics. Today we could pack an entire lecture hall.
Once the exclusive academic province of agricultural science and nutrition studies, food (and beverages; I'm using the term in its broadest sense) may be the hottest topic on campuses across the United States today. Sociologists and anthropologists study fast-changing 'food cultures' around the world. Psychologists delve into food addiction and its close cousin, eating disorders. Health sciences faculty and clinicians seek to reduce obesity and address the manifold illnesses exacerbated by Americans' rich diets. Historians and linguists retrace civilizational changes to how past peoples ate — and how they talked about eating. Political science students, in classes like mine, explore how policymakers address issues ranging from food deserts in East Winston-Salem to climate change's effect on global food production.
Helping drive this popularity has been a collection of improbable household names, together reviving the faded practice of transforming American culture through robust intellectual engagement. Michael Pollan's "The Omnivore's Dilemma: A Natural History of Four Meals" is a richly nuanced portrait of our bewildering "food landscape," ranging from pastoral organic farms to laboratory creations like xanthan gum. Eric Schlosser's "Fast Food Nation: The Dark Side of the All-American Meal," perhaps the unlikeliest book ever turned into a Hollywood film, traced the rise to gustatory and cultural supremacy of Whoppers and Chicken McNuggets. Morgan Spurlock ate every single meal at McDonald's for one month and filmed the whole peculiar experiment; the result, "Super Size Me," remains among the highest-grossing documentaries ever.
The national nerve touched by this trio, along with others exploring our food practices on page and screen, roughly coincided with the rise of an American celebrity chef culture. Television did much to speed this latter development: watching Jamie Oliver or Paula Deen or the latest "Iron Chef" winner helped make their restaurants national destinations, their cookbooks bestsellers, their Twitter followers soar (Oliver: 3.79 million).
Thus both high and low cultures have converged over the past decade or so on the importance of food, a Serious Subject for diners, do-gooders and culture critics alike. Mix into this heady brew a generation that volunteers for public service causes at unprecedented rates — and that has higher average disposable income than any previous group of teens and 20-somethings — and the popularity of food studies, food-related public service passions and haute-food consumption among today's college students and recent graduates snaps more clearly into focus.

Here at Wake Forest, examples of engagement with this New Food Culture (to coin a phrase) abound, often with our signature Pro Humanitate twist. When a popular local pediatrician and her husband, a distinguished federal judge, launched a venture designed to deliver nutritious meals to low-income children, Wake Foresters — including a sizable number of football players — immediately signed on to assist with their Project H.O.P.E. as food deliverers, preparers and volunteers for other roles. The N.C. Campuses Against Hunger project held its second annual cross-university gathering here last fall. More than 200 students from six different campuses attended, joined by a host of our own faculty and staff. And our first-year class packed Wait Chapel to hear Joel Salatin, self-described "Christian, libertarian, environmentalist, capitalist farmer," deliver the keynote orientation address to the Class of 2017.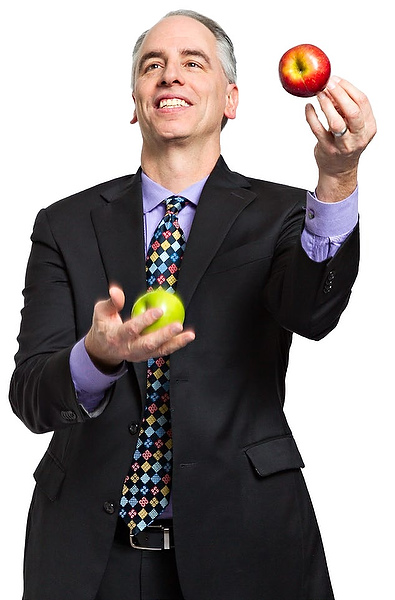 On the consumption side, not so long ago students seeking sustenance on campus had two choices: the Pit or the Snack Pit. With the recent opening of North Dining Hall, our community now has more than a dozen dining choices — from sit-down restaurants such as Shorty's and the new Bistro '34 to combined eating/hangout spaces such as Zick's or Campus Grounds, the student-run complement to our two Starbucks venues on campus. (The Pit, alumni will be reassured to know, remains … and serves more meals each day than ever before.)
As this issue of Wake Forest Magazine amply testifies, our food-related academic and service offerings run across all our schools, from the divinity school's landmark "Food and Faith" program to joint efforts by medical school and health/exercise science faculty to address diabetes, pediatric obesity and other growing health concerns.
Our students and newest alumni also carry this deep interest in food far beyond campus. Dozens of Wake Foresters have recently spent a summer or post-graduation year WWOOFing — "World Wide Opportunities on Organic Farms" — experiencing new places through agricultural work in exchange for meals, accommodation and fellowship. Wake Forest students and graduates intern or work at places such as Yale University's Rudd Center (the nation's most prominent food-policy research institute), PepsiCo and the U.S. Senate Agriculture, Nutrition and Forestry Committee; they run food trucks in Portland, Ore., launch healthy-food startups and research "foodways" in Nepal.
Ultimately, all this Wake Forest attention to food seems much more than a fanciful fad; indeed, it is in keeping with our institutional DNA. With Winston-Salem hunger and obesity rates paradoxically both soaring, our community engagement around each must be consistent and determined. And in a University that remains dedicated at our core to learning, I can't resist recalling Charles M. Lewis ('63, P '13) quoting Socrates to such stirring effect in my introductory philosophy course a quarter-century ago: "Surely knowledge is the food of the soul."
---
Rogan Kersh ('86), one of Wake Forest's first class of Reynolds Scholars, returned in 2012 to become provost and professor of political science. His research focuses on the politics of obesity and on interest-group lobbying. His latest book, with James Morone, is "By The People: Debating American Government."
---