Cathryn "Cassie" Freund ('10) is helping save wild orangutans in Borneo as program director of the Gunung Palung Orangutan Conservation Program (GPOCP). A native of Rochester, Minnesota, she earned her master's degree in conservation biology from Columbia University in 2012 and has worked in Indonesia for the past three years. You can follow her work at www.saveGPorangutans.org, on her blog and on Twitter. "I would love to connect with other wildlife lovers in the Wake Forest community," she says. "I promise to provide lots of cool orangutan photos and exciting news from Indonesia!"
How did you end up in the middle of a rainforest in Borneo?
I loved zoos and animals when I was little. I actually wanted to be a marine biologist at first. I had a pretty serious collection of wildlife books, and I used to pore over the photos of dolphins and coral reef fish. Over time I realized that if we don't protect animals and their habitats, they won't be there at all, which is what ultimately drove me toward ecology and conservation biology.
Being a successful scientist is all about finding your niche, and after being exposed to a huge variety of conservation research and traveling to a few tropical ecosystems during my time at Wake and in graduate school, I came to realize that there are so many empty niches in the fields of conservation and ecology in Borneo that it was the logical place for me to be. Plus, nothing beats the feeling of standing in the middle of a remote Bornean rainforest watching an orangutan. American life seems so far away during those moments!
What professors at Wake inspired what you're doing now?

I was a biology major and took all of the ecology and environmental science classes that I could. There were two professors who really influenced me: Dr. (Ron) Dimock was my major advisor. He was always available to help if I needed something, and working in his lab was a great experience. The second was Dr. (Miles) Silman, who is doing amazing tropical forest ecology work in Peru. My Community Ecology class was a highlight; it was a class for both undergrads and grad students so his expectations were very high, but his enthusiasm for ecology was totally contagious, so the work was fun. I did a project on loggerhead sea turtle populations that year.
What led you to Borneo?
I originally thought that I wanted to work in East Africa for my master's thesis. (I went there on a summer conservation/ecology study program while I was at Wake.) But one of the grad students in my department at Columbia had done her master's in Borneo and was looking for someone to help her do preliminary work for her dissertation. It was the perfect opportunity to collect data for my own project and I jumped on board! I had no idea what to expect and those first few days in the peat swamp forest were less than idyllic, but I grew to love it.
Why orangutans?
You definitely have to be passionate to work in conservation, because a lot of it is gloom and doom — for example, seeing palm oil plantations come into an area and clear cut forests that have supported both wildlife and local people for hundreds of years is extraordinarily frustrating.
My passion for saving orangutans is really rooted in my desire to protect their forest habitat. My master's thesis at Columbia focused on tropical peat swamp forest ecology. I love learning how the forest works because we still know relatively little about how the soil and the trees and the wildlife interact.
Conserving orangutans is definitely the icing on the cake for me. Orangutans are what we call an umbrella species, which means if you protect them you protect the whole host of other biodiversity that depends on the same habitat. Orangutans are very well-known species as well, and I think people are more inclined to protect them than, say, a species of tree or bird, simply because they are so charismatic!
Do you work "in the field" or more "behind the scenes"?

My first job in orangutan conservation, with the Orangutan Tropical Peatland Project in Central Kalimantan (Indonesian Borneo), was entirely field based. I spent the majority of my time at the research station, collecting forest ecology data and following orangutans and other primates.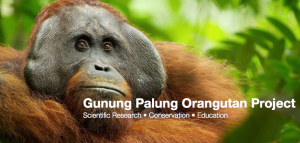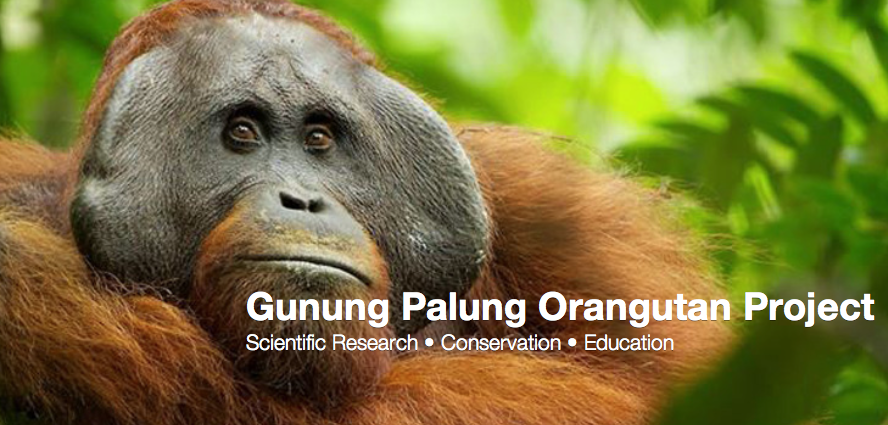 Now as the program director for the GPOCP, I'm in charge of all of our community-based conservation programs. Instead of going into the forest to do the research science, I go into the communities with my staff, who are all Indonesian and have been working here for many years, to raise awareness for orangutan conservation among the villagers who live near Gunung Palung National Park. We also provide them with sustainable alternative livelihoods to curb illegal logging in the National Park and help them gain the legal rights to forested areas on their community land to make it harder for palm oil companies to come in and make new plantations there.
What do you find most fascinating about orangutans?

Their intelligence. They're extremely smart animals and some of their behaviors are incredibly human-like. That makes the case for conserving and protecting them so much more compelling; I'm sure that they see and comprehend how humans are altering their habitat. One of the research assistants here told me a story the other day about how they were following a female orangutan to take behavioral data on her when they ran into a few illegal loggers taking trees out of the forest. The orangutan just sat in a tree and watched this happening — actively observed it — for several hours before moving along. I can't help but wonder what that orangutan was thinking. Aside from the scientific reasons behind their conservation, I feel like we also have a moral obligation to protect them because we humans are the ones destroying their home in the first place.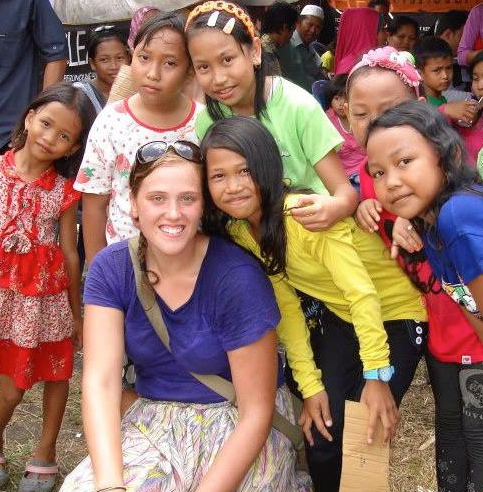 What's next for you?
I just started my job here, and I'm excited because there are a lot of great things we can do in the coming months and years. I'm considering going back to school for a Ph.D. in conservation biology as well, but right now I'm really just seeing where the work takes me. Indonesia is a great place to work and the range of biodiversity here is incredible.