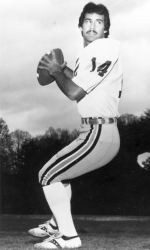 Following back-to-back 1-10 seasons, Wake Forest put together an improbable run to the Tangerine Bowl in 1979, Wake's first bowl appearance since 1949. Behind record-setting quarterback Jay Venuto ('81), tailback James McDougald ('80) and a stellar defense led by James Parker ('80), Wake Forest pulled off a string of last-minute wins including upsets of 12th-ranked Georgia, 13th-ranked Auburn and 14th-ranked North Carolina to finish the regular season 8-3 and ranked 14th in the country. Venuto, the 1979 ACC Player of the Year who was named an ACC Legend last year, talks about his teammates who refused to ever give up, his memories of the big wins and the big hit on YouTube that's a big hit with his family. Watch the 1979 Tangerine Bowl.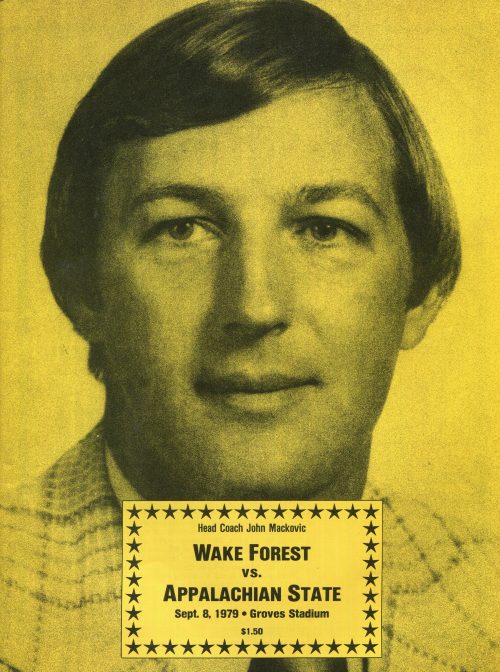 You had played very little in your career and had been redshirted in '78. As you went through preseason practice in the fall of 1979, did you have any idea how good this team was going to be?
No. I can remember that there was a group of guys – Syd Kitson ('81, P '08, '09), Mark Lancaster ('80), James McDougald ('80) – who would sit around in our dorm rooms and chat. What can we do to change, not so much the culture, but what can we do to get back on the winning track. We all had visions of what we had to do, and we had the leaders to get us there. The guys really believed that we could, and they were willing to pay the price.
(Head coach) John Mackovic ('65, P '97) forced us to believe in ourselves. It was a resilient group of guys. If we were behind in the fourth quarter, we didn't want to say, 'Well, here we go again, we can't pull it off.' If we were close, we were going to find a way to win. The more he (Mackovic) instilled that in us, the more we believed. Every game, somebody, and it was always a different guy, made a play that enabled us to believe. We were a good football team that became a great football team; great teams find a way to win.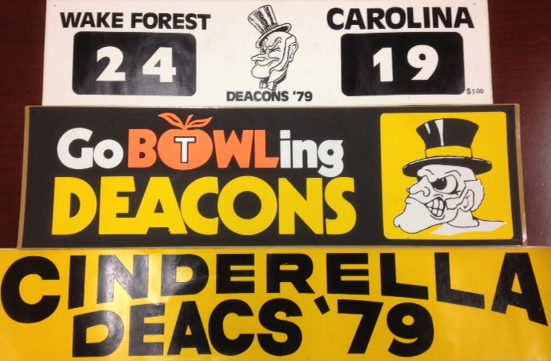 I've heard you say that your teammates wanted to prove that they were better than 1-10.
What's interesting is that people have the misconception that we were a band of misfits. Of the 11 guys on offense, eight guys played in the NFL or had an opportunity to play. Guys like tight-end turned offensive guard Syd Kitson, who worked his butt off to be successful. (Safety) Mark Lancaster transferred in from North Carolina; he wanted to prove to himself and (UNC coach) Bill Dooley that he was a ball player. James McDougald would talk about being the best that you could be and using your God-given talent. Seniors like (guard) Jim Smith ('80), this was his last chance, he wanted to make the most of it, and (guard) Chuck Kraft ('80), he wanted to make sure that we had a memorable season. (Nose guard) James Parker ('80) was a guy we looked up to. (Linebacker) Carlos Bradley ('82) had already played a lot, and we watched him and his work ethic. All those guys had passion.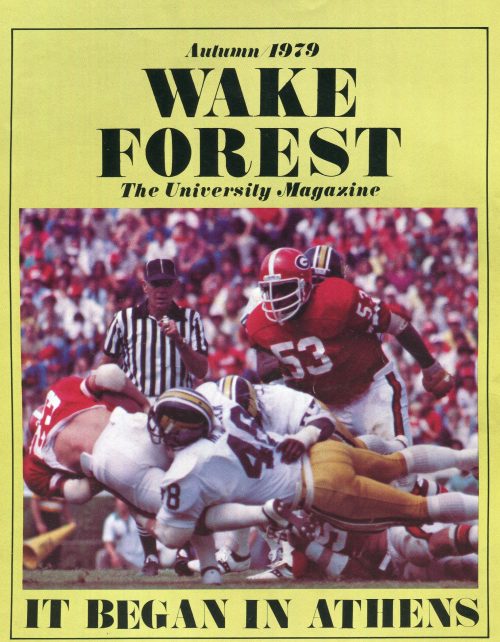 Walk us through the season. Wake recovers a fumble late to beat Appalachian State in the season-opener and then travels to 12th-ranked Georgia. A Georgia columnist predicts Georgia would beat "Mackovic's meatballs" 60 – 0. Wake pulls the upset, 22-21, after Georgia misses a last-second field goal. What do you remember about that game?
John made sure we saw the newspaper article. But at that point, early in the season, you still don't know. If we're not physically able, all that pregame talk goes out the window. What a lot of people don't know is that I had jammed my thumb in practice on Wednesday. I didn't practice the rest of the week and was very doubtful (for the game).
The two most important lessons in my life came from John Mackovic the night before and during the game. Friday night, I had a meeting with the coaches and (backup quarterback) David Weber. John tells me, 'Jay you're playing tomorrow until you tell me otherwise.' I knew I couldn't play, but I couldn't tell him that. During the pregame workouts, I walked over to my dad – he had driven down to see me play – and I said 'I can't play, I can't grip the football.' (But) I took the first snap in pregame practice and it knocked the pain right out of me.
I start (the game) and the first pass I throw gets picked off and returned 60 yards for a touchdown. I walk over to the sidelines thinking about what I'm going to say to him (Mackovic). Before I can say anything, he said, 'Jay, there's nothing wrong with your thumb, that was a mental mistake.' I wasn't going to tell him that I couldn't play. That saved my career at Wake Forest. I'm forever indebted to him. I've tried to use what he taught me for the last 35 years in raising my sons.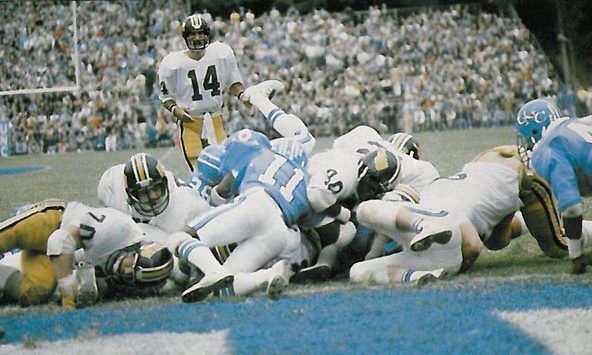 After beating East Carolina (the Pirates miss a field goal on their last play) and Maryland (a late interception seals the win), you face undefeated North Carolina in Chapel Hill. That game is memorable for at least two plays: your 60-yard touchdown pass to fullback Albert Kirby ('80), and Donnie Jackson ('80) taking the ball away from UNC on a late kickoff return to preserve the win. What do you remember?
I had been to the stadium before; my father went to graduate school at Carolina. It was a great atmosphere, both teams were good. In the pregame talks, Syd Kitson and Mark Lancaster told us that North Carolina has to fear us as much as we fear them; we can compete with them. Our defense goes out and plays like they've never played before. They bottled up Amos Lawrence. They had a great defense, too, but we moved the ball and wore them out. When our defense played like they did, we knew we could win.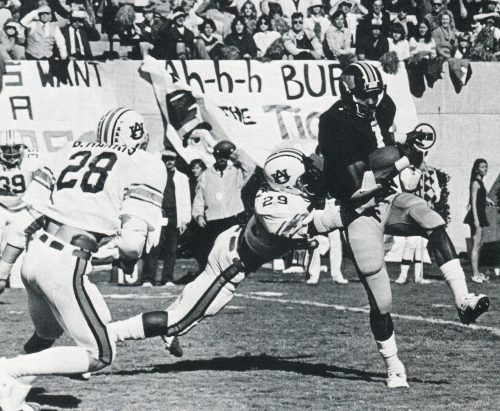 The Auburn game is considered by many as the greatest football game in Wake Forest history. Down 38-20 at halftime, Coach Mackovic tells the team, "Never, never, never, never, never, never give up." James McDougald scores three touchdowns in the second half and the defense holds the high-powered Tiger offense scoreless in the second half to give Wake a stunning 42-38 upset. What was going through your mind in the second half?
John probably told us that 20 to 25 times that season. That was part of his MO as we were rebuilding, to get us to believe. When he reiterated that, we knew what he meant. We weren't going to give up; we were going to fight. We had moved the ball pretty well, but had some turnovers late in the half. The second half, the defense played the way they did the week before (against North Carolina) and shut them out. (On Auburn's last two possessions, Carlos Bradley recovered a fumble near the Auburn goal line, and Larry Ingram ('81) intercepted a pass near the goal line.) The defense is the story of that game.
What was the reaction on campus during the team's run?
One thing that I remember happened in Herman Eure's (Ph.D. '74) biology class. As soon as Syd Kitson and I walked in after the Georgia win, the whole class stood up and clapped. One of the things that we (his football teammates) had talked about was how we wanted to assimilate into the Wake Forest culture. We didn't want to just be football players. We didn't want people to think we were special because we were football players. We wanted students to feel like we were one of them. That moment, and when the buses came back from Georgia, the number of students waiting for us, that was a special moment. That's your own people backing you; they cared about their fellow classmates.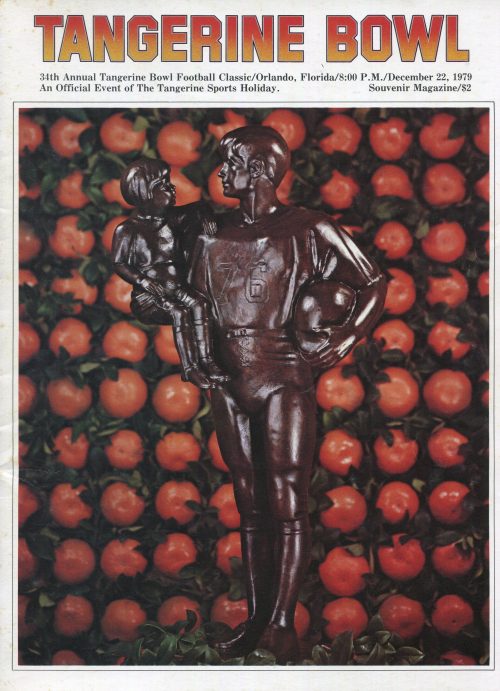 Wake went on to the Tangerine Bowl, but lost to LSU, 34-10; what are your memories of the game?
LSU might have been one of the top 10 teams in the country. I was excited for the team that we got our first bowl bid in a long time and had been rewarded for a great season. Deep down I knew that I hadn't played very well the last couple of games. I was hurt a little bit, but I didn't tell anyone besides (trainer) Doc Martin. (Venuto had elbow surgery after the season.) I threw three interceptions the week before against South Carolina, and John kept asking me if I was all right. I was still trying to get myself back on track.
And you were knocked out of that game …
About six months ago, my youngest son, Chase, found the video of the game on the LSU website. He put it on Facebook and told all his friends, 'watch at the 1:38 mark and you'll see what's wrong with my dad.' Man, what a hit. My kids got a big laugh out of it.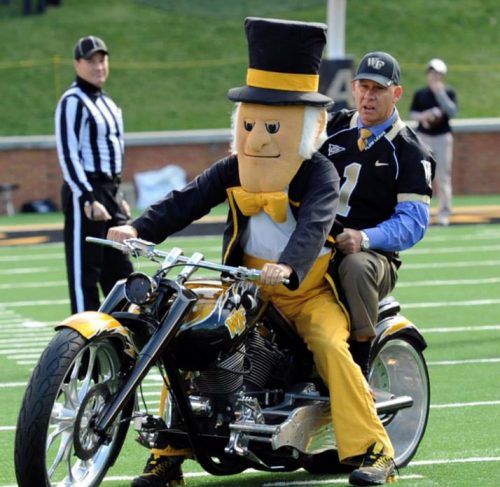 After he graduated, Jay Venuto played for the Baltimore Colts for a year and was an assistant coach at several schools including Wake Forest under Al Groh in the mid-1980s. He retired from coaching in 2000 to spend more time with his sons and to work with teammate Syd Kitson's real estate development company, managing golf-course properties. He is now a golf tech at Dick's Sporting Goods in Ithaca, New York. His two sons have followed in his footsteps: oldest son Garrett was a quarterback at Penn State; youngest son Chase was the starting quarterback this fall at Brockport College in Brockport, New York.