Professor David Coates, a powerful voice on liberal politics and progressive issues, died Aug. 7, 2018, following an illness. He was 71.
A memorial service will be held Tuesday, Oct. 2, at 4 p.m. in Brendle Recital Hall in the Scales Fine Arts Center.
A native of the United Kingdom, Coates (P '17) taught at the universities of York, Leeds and Manchester for three decades before joining the Wake Forest faculty as Worrell Professor of Anglo-American Studies in 1999.
Rose O'Brien ('18), one of his former students, described him as an "intellectual powerhouse" and "a kind soul."
"His students loved him because he was a good person, a friend and our mentor," she said. "He encouraged us, educated us and did it all with a mischievous twinkle in his eye."
---
Obituary
Read more of Rose O'Brien's remembrances.
Share your memories of David Coates for a memory book.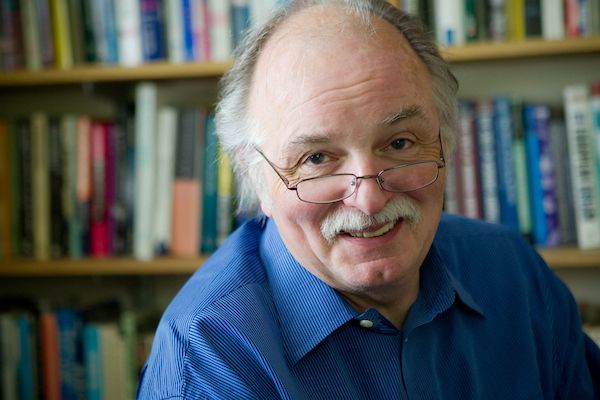 Coates was an expert on American politics, economy and society, and British Labour politics. He was a prolific scholar and author of books, articles and blog posts on capitalism, immigration, Presidents Donald Trump and Barack Obama, and what he called progressive responses to conservative arguments.
He frequently commented on a wide range of topics in national and international media outlets. "Democracy is about the power of voice," he once wrote.
Coates believed that professors had an obligation to share their knowledge and expertise with the public, and that students had a responsibility as well. "If Pro Humanitate is to be more than an empty phrase, Wake Forest students have to engage with the complexity of the human condition and seek ways to improve it," he said.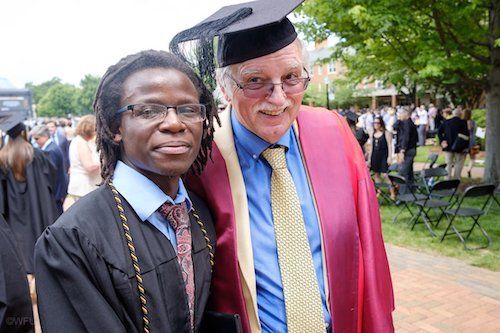 Coates earned his doctorate in political science from Oxford University before beginning his long academic career in the United Kingdom. For years, he made annual trips to America with his American-born wife, Eileen, to visit her relatives in New Jersey.
When he joined the Wake Forest political science faculty in 1999, he said he wanted his then-8-year-old son, Jon ('17), to grow up an "American boy in America." (Coates himself became an American citizen, although he maintained his U.K. citizenship as well.)
Coates was already a prominent scholar and author in England, but he relished the chance to pursue his first love, teaching, at Wake Forest. "I've always thought our job is to teach and shape generations of young minds while we do the research that informs our teaching," he said when he joined the faculty. "It is quite delicious to be involved with a university where I don't have to apologize for my interest in teaching. It's a terrific liberation."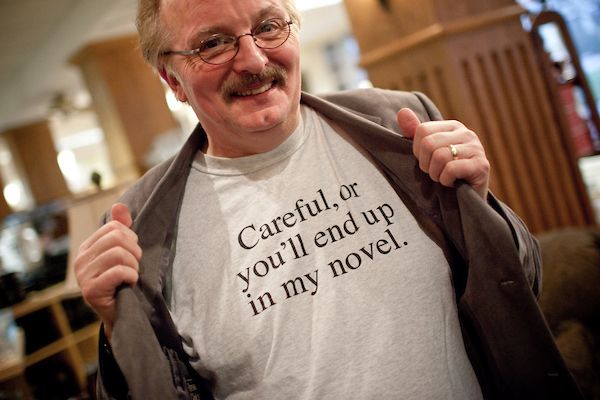 In 2007, Coates and colleague Peter Siavelis organized a national conference on immigration. They later compiled a book of essays that came out of the conference into a book, "Getting Immigration Right: What Every American Needs to Know."
Siavelis, now professor and chair of political science and international affairs, said Coates was a valued scholar, teacher, colleague, mentor and friend. "Not only was he a superior intellect and incredibly productive scholar, he was also a beloved teacher who took time and truly cared about his students," Siavelis said. "Above all else, what impressed me about David was his commitment to the powerless. In everything he did, David strove to achieve justice and fairness."
Coates wrote 14 books — including "America in the Shadow of Empires," "Answering Back: Liberal Responses to Conservative Arguments," "Making the Progressive Case: Towards a Stronger U.S. Economy" and "Blair's War" — and a dozen edited volumes. His most recent book, "Flawed Capitalism," was published in April. He also wrote several novels, including "The Thighs of Rose Tudor-Crump: An Everyday Story of University Folk."
One of the last books he worked on was written by students in his fall 2017 senior seminar on The Rise and Fall of Empires. Rose O'Brien and McKenzie Maddox ('17) co-edited the book, "The Fall of the Ottoman Empire and the Emergence of the Modern Middle East."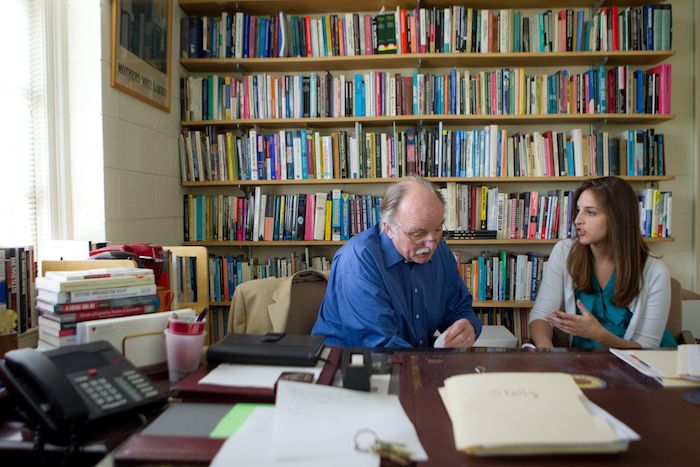 While often writing on hot-button political topics, Coates also had a lighter side. In 2012, Wake Forest Magazine asked Coates and other professors to write a 25-word story using at least one of five words: Quad, Pit, magnolia, tunnel and proud.
Coates eagerly accepted the challenge and wrote not one, but two short stories for the "Flash Fiction" feature: "Briefly, they were lovers. Then for her, the Quad and chapel. For him, the Pit and tunnel. Lovers no longer. One nation, under God – divided."
His second story: "The quad filled. Security swept the tunnel and the Pit. The President spoke. Pity they missed the stranger in the Magnolia Room. Too proud, maybe?"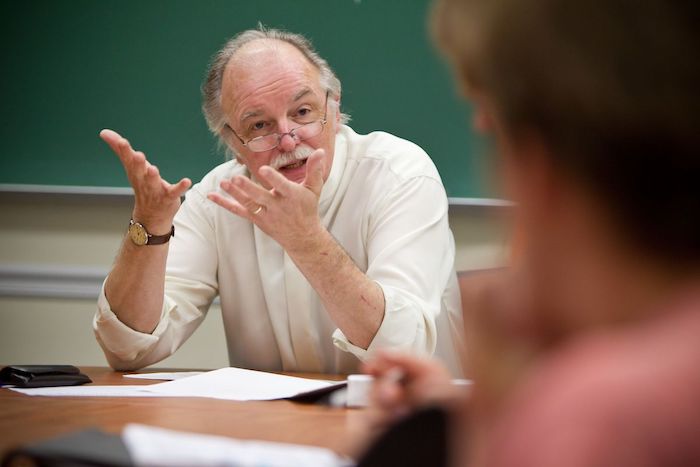 A number of former students and colleagues remembered Coates on Twitter:
Tatenda Mashanda ('17)
"My mentor, my comrade, and partner in the struggle. My heart wants to cry but I know he would rather have me honour his memory and legacy by continuing to fight for the cause of freedom and what is just for society. The world has lost an intellectual giant."
Jack Collins ('16)
"There was a reason I took every single one of Professor David Coates courses at @WakeForest. My thesis advisor, mentor, and most importantly my friend, left a meaningful impact on my life. A true embodiment of #prohumanitate, Wake Forest lost a valuable family member today."
Landon Baucom ('13)
"Amazing professor, political savant, wonderful father. Wake Forest lost a legend in its Political Science Department and the world lost an amazing person."
Kyle Tatich ('18)
"The Wake Forest community lost one of its best professors and mentors in Dr. Coates. It was an honor to know him and take his class this past spring."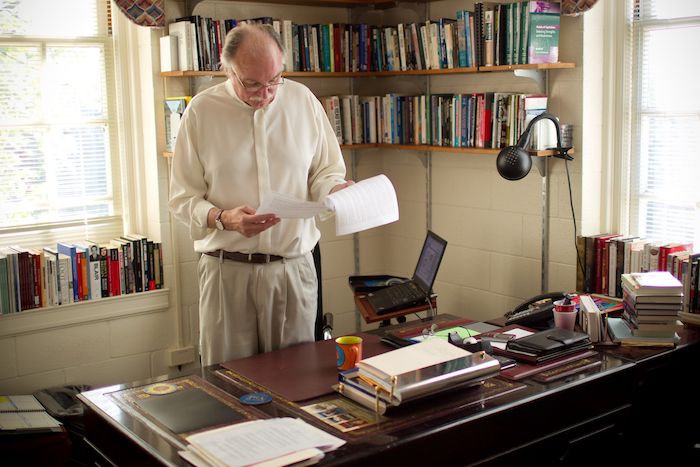 Katie Collins Neal ('03)
"It's hard to articulate my admiration for David Coates in a tweet. He was brilliant, passionate, gracious, kind, witty and exuberant. He made our world and @WakeForest a better place."
Political Economy Centre, University of Manchester
"This is very sad news. David was unerringly kind and generous with his time, as well as an insightful thinker on the dysfunctions of contemporary capitalism. Our condolences to you all."
Scott Lavery, The University of Sheffield
"Incredibly sad to hear of the death of David Coates. He was a titan of the British political economy tradition and will be sorely missed."
University of North Carolina, Center for European Studies
"Our deepest condolences to the family, friends, colleagues and students of Professor David Coates, who delivered inspiring lectures on the EU and UK for our @unctam (TransAtlantic Masters program) students and affiliates."