As a standout offensive lineman on Wake Forest's football team in the early 1960s, James T. "Jim" Williams hoped to pursue a career in the NFL. But history professor Forrest Clonts (1920) encouraged Williams, a first-generation college student, to attend law school.
Williams ('62, JD '66, P '89, '92) followed his advice and went on to become one of North Carolina's best corporate trial lawyers and one of Wake Forest's strongest leaders. "Wake Forest has been part of the fabric of my life since I was 17," Williams said last year. "As it turns out, I have never really left Wake Forest, and Wake has never stopped changing me."
A former chair of the University's Board of Trustees, Williams died Sept. 3, 2018, in Greensboro, North Carolina. He was 78.
---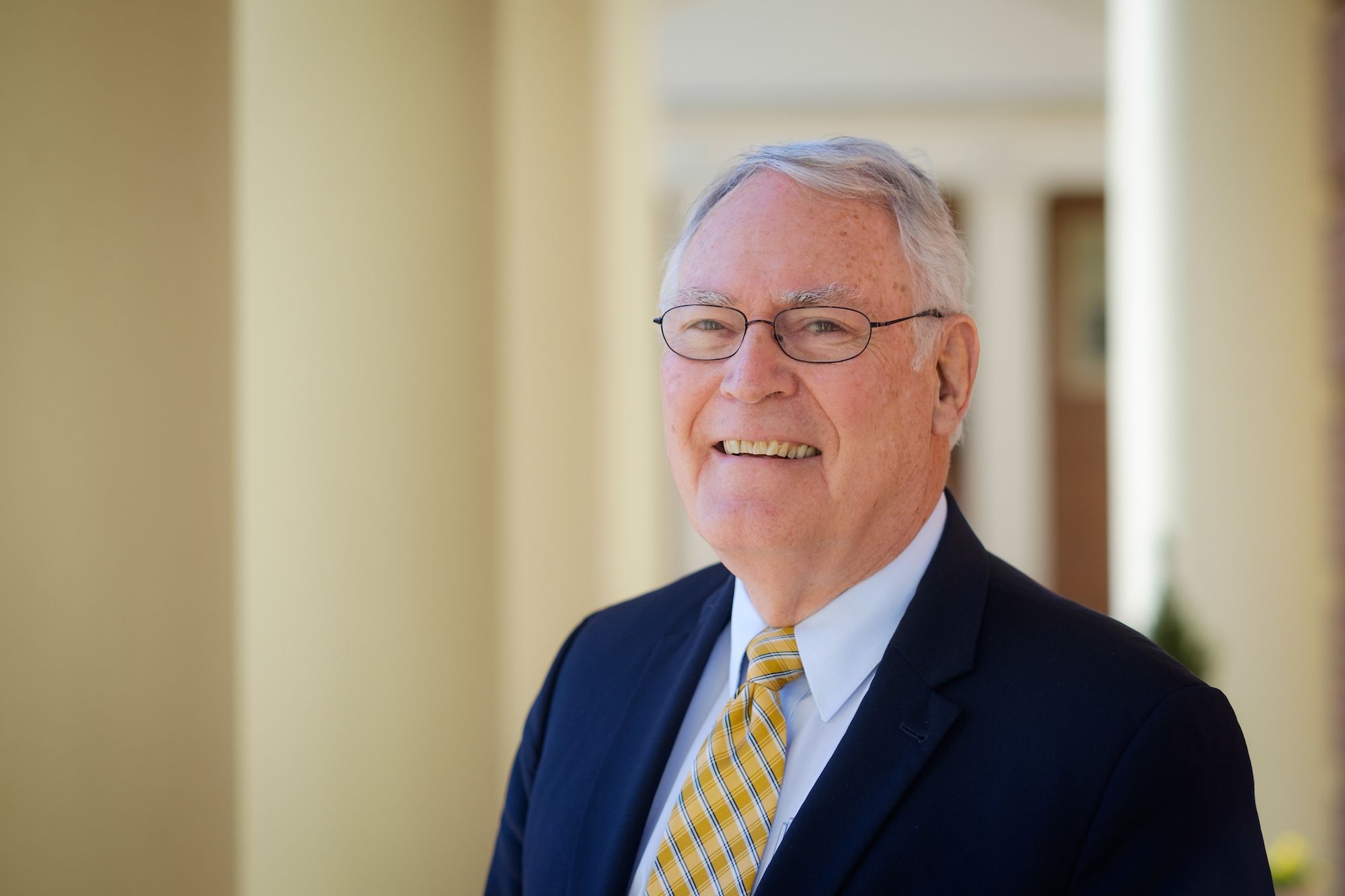 Williams is survived by his wife, Barbara; daughters Anne Bryan Trent ('89) and Patricia Vaughan Goodson ('92, JD '96); five grandchildren; and a brother, John V. Williams ('66).
"Jim embodied the spirit of Wake Forest as well as anyone I know," Wake Forest President Nathan O. Hatch said. "His life demonstrated what it means to be a professional for the public good. His service to his family, his alma mater and his community has been exemplary."
Williams was a partner at Brooks Pierce in Greensboro.
He served as chair of Wake Forest's Board of Trustees from 2009 to 2012 and was named a Life Trustee in 2013. He received the Distinguished Alumni Award in 2014 and the Medallion of Merit, Wake Forest's highest award for service, in 2016.
He served on the Wake Forest Alumni Council, the College Board of Visitors and the School of Law's Board of Visitors before being named to the Board of Trustees in 2002. He was vice chair of the board from 2007 to 2009. He also served on the cabinet for the Wake Will capital campaign and on the boards of Wake Forest University Health Sciences and Wake Forest Baptist Medical Center.
"Wake Forest never called Jim Williams that he didn't answer the call," said Reid Morgan ('75, JD '79, P '13, '14, '19), Wake Forest's senior vice president and general counsel.
Williams passed along his love of Wake Forest to his family, said his daughter Anne Trent in a video made when he received the Distinguished Alumni Award. "You could see his eyes light up when he was on campus."
A native of Durham, North Carolina, Williams received a football scholarship to attend Wake Forest. He was a history major and a member of Pi Kappa Alpha fraternity.
"I have never known a truer friend, a person with more personal values, with more family values, and more devoted to the people he serves than Jim," said Craven Williams ('62, P '90) of Greensboro in the same video made when Williams received Wake Forest's Distinguished Alumni Award.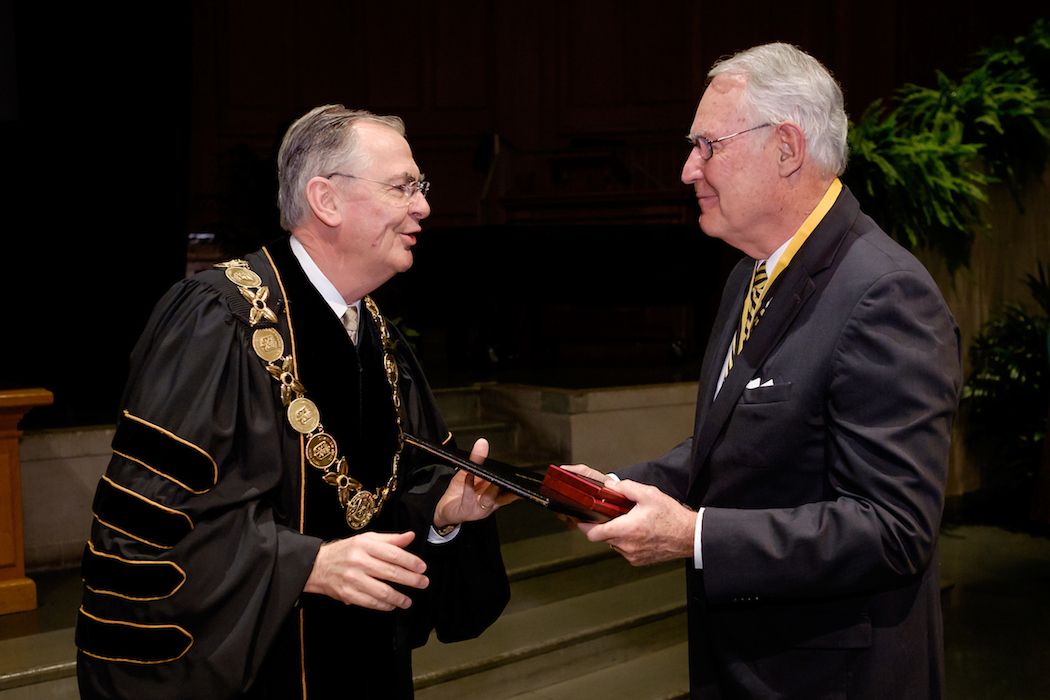 After graduating from law school, Williams joined the firm now known as Brooks, Pierce, McLendon, Humphrey & Leonard. He was widely recognized for his integrity, preparation, competitiveness and civility in courtroom trials.
He was consistently recognized by legal publications as one of the leading business litigators in North Carolina. He was named "one of the most able and respected lawyers in the state" in the 2014 Chambers USA Guide to America's leading business lawyers. "Best Lawyers in America" named Williams the "Greensboro Bet-the-Company Litigator of the Year" in 2009.
He received both the John B. McMillan Distinguished Service Award, the highest award given by the North Carolina State Bar, and was only the third person to receive the Advocate's Award, given by the North Carolina Bar Association.
Williams was also active in the community. He served as chair of the Community Foundation of Greater Greensboro and was a board member of Blue Cross and Blue Shield of North Carolina, the Greensboro Area Chamber of Commerce and the Greensboro City Board of Education.
Williams enjoyed traveling — he and his wife traveled to Vietnam, Cuba and Botswana, among other destinations — and was an avid sailor and photographer. In 2017, he shared with Wake Forest Magazine his favorite photograph that he had taken on campus, the commissioning ceremony for ROTC cadets during Commencement one year.
"This single photograph speaks to me most powerfully about this special place and its nobility," he wrote in the Constant and True essay in the magazine's fall 2017 issue. "Technically, it is not such a good photograph, but it somehow captures how I feel about Wake Forest: It is 'Mother, so Dear' for me and countless Wake Forest generations.
"Aren't we lucky?"