After Judy Shaw Peterson ('60) was diagnosed with lung cancer 18 months ago, her best friends rallied around her. These weren't just any best friends, but her closest, dearest friends that she met when she was a freshman at Wake Forest more than 60 years ago.
Judy and "the girls" — Maryann Johnson Ferguson ('60, P '94) of Salem, Virginia; Betty Whitaker Frazier ('60) of Fayetteville, North Carolina; Elaine Towe Holt ('61) of Richardson, Texas; Jean Kirkham Kraus ('59) of Roanoke, Virginia; and Anne Whicker Patterson ('60) of Charlotte — have been friends since their first days on what was then a brand-new campus.
They live in different states now and don't see each other in person that often, but "the bonds of friendship have strengthened as we've gotten older," said Judy, a retired school teacher who lives in Winston-Salem.
She's never needed those friends more than she did when she was battling cancer. To show her appreciation for their support, she's given them a special gift the past two Decembers — it involves the annual Lovefeast on campus, but more on that later — that she hopes brings back a few memories of their student days.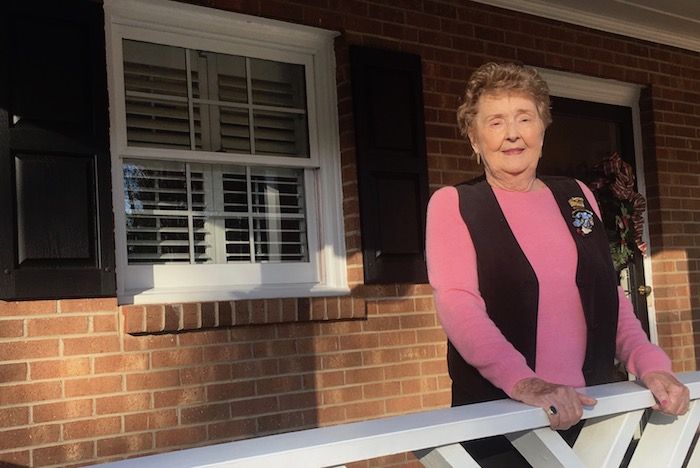 Judy remembers those days well — from "borrowing" Pit trays to go sledding during snowstorms to having to wear a raincoat over her shorts when walking to gym class. The girls lived in the basement of Johnson and then Bostwick dormitory, the only girls' dormitories on campus. It was a time when female students had dorm mothers, curfews and dress codes.
All six girls were from North Carolina. Judy and Anne worked on the Howler. Judy and several others were in the Strings society. "String-along, string-along," she sings. "We were just thrown together, and we just seemed to 'click' as a group," she says. "When you find people you can feel comfortable with, it's very, very meaningful. It was just a good time."
Anne Patterson says that each girl "brought her own uniqueness and now, when we get together, each uniqueness is still there. In no time we're right back in the dorm, sitting on the beds laughing and sharing stories. I am so happy we six stayed together for 62 years, and we're still going strong."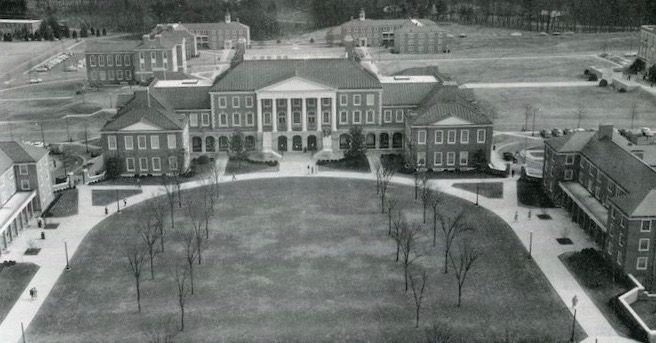 After the girls graduated, they moved to different cities — several out of state — and started careers and families. They stayed in touch as best they could, but long-distance phone calls cost money in those days, Judy reminds me.
In 2007, Judy invited all the girls back to Winston-Salem for a mini-reunion. Over dinner in Reynolda Village, breakfast at Graylyn and a tour of campus, they relived their college days. "We were not at a loss for words," Judy says. When they peeked into some of their old basement dorm rooms, "boys were living there now!"
Ten years later, in the summer of 2017, Judy found out she had lung cancer. She picked up the phone — long-distance calls are free now — and called all five friends. As she underwent surgery, chemotherapy and rehabilitation during the next year, they kept her spirits up with balloons, cards, calls, food and, for those who were able to come to Winston-Salem, visits.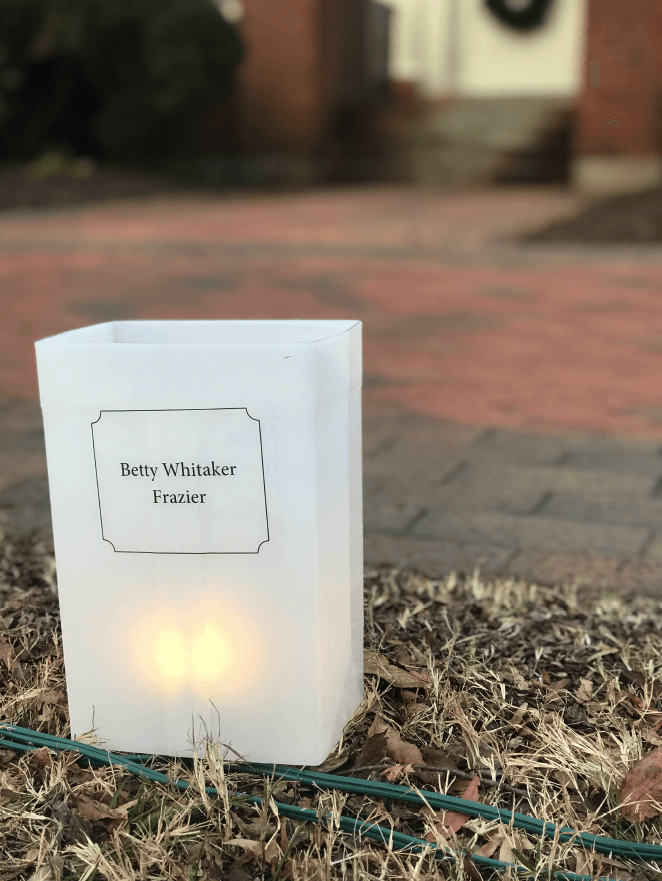 Last December, even though she was reeling from chemotherapy, she wanted to do something to express her appreciation, something that would have special meaning. She chose to honor each of them with a luminary that was placed on the Quad before the annual Lovefeast in Wait Chapel. She did the same thing this year. It was not a Christmas gift, she stressed; it was a gift of gratitude. (For the past several years, donors to the Wake Forest Fund in the summer and fall have been able to place their names on a luminary or, like Judy, honor others on a luminary.)
Anne said the girls were touched by Judy's gesture. "We were excited to be 'back on campus,' even as a name on a luminary. We surrounded Judy with our love and support, knowing that she would have been there for any one of us."
Judy's cancer is in remission now. She hopes some of the friends can come to Winston-Salem for a reunion next spring. She remains grateful for what they have meant to her from 1956 to today. During their 2007 reunion, Judy's husband, Ken, took a photograph of the group that she treasures. The photo is in Judy's kitchen, where she can see it every morning and smile, she says. "Those are such good friends."