Sara Johe Busse ('81) has never met a volunteer opportunity that she didn't love and embrace. "Being a volunteer is the greatest gift that I've been given," she says.
Busse left her journalism and public relations career a few years ago to become something of a fulltime volunteer in her hometown of Charleston, West Virginia, preparing meals for those in need, encouraging children to read and supporting the arts.
She spends much of her time coordinating Trinity's Table, a food ministry of Trinity Evangelical Lutheran Church in downtown Charleston, half a mile from the West Virginia state Capitol. Volunteers serve about 300 meals a week to anyone who walks through the church doors, no questions asked. A food pantry provides another 100 to 200 meals a week.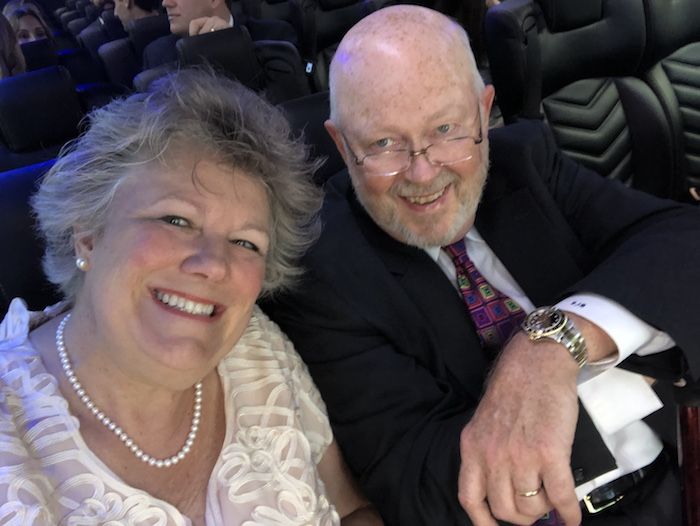 Busse has a simple reason for why she prepares meals for her "neighbors," as she calls the folks she serves. "It's the right thing to do. Everyone deserves a warm meal. I don't care what your situation is. I don't care what put you in this situation. Nobody, when they were 5 years old says, 'I want to be homeless when I grow up.'"
A former writer for the Charleston Daily Mail and The Charleston Gazette, Busse received a Women of Achievement Award in 2016 from the YWCA Charleston for her volunteer work. The YWCA's Jennifer Vieweg, who presented the award, praised Busse for her wide-ranging impact on the community.
"If it's up to Sara Busse, you're going to love reading; you're going to appreciate classical music; you'll be blessed with beautiful gardens; you will never go hungry; and you will always have a friend," Vieweg said. "Sara has dedicated her life to making Charleston a better place to live, work and be. … Her passion is volunteering. Her heart is for those who are hurting. It is that passion that has driven her to quietly improve the lives of thousands, literally thousands, of people in our community."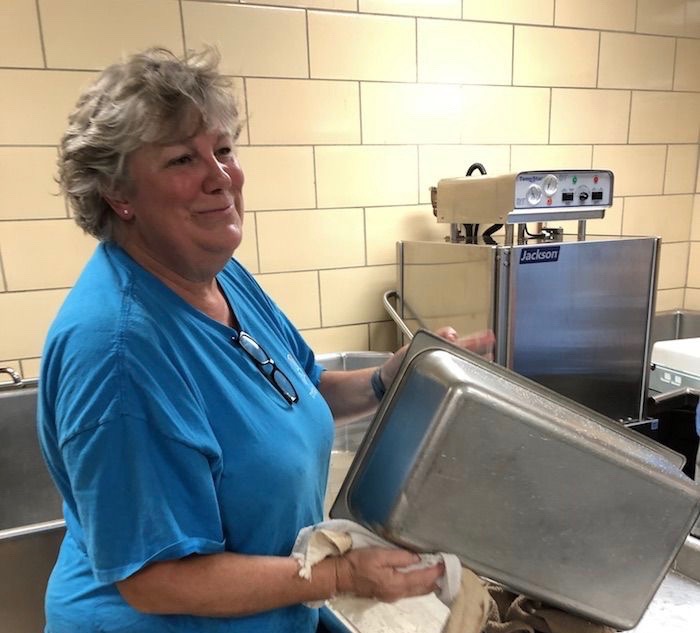 In addition to leading Trinity's Table, Busse serves on the board of directors for the United Way of Central West Virginia and the Clay Center for the Arts & Sciences. She's a past president of the West Virginia Symphony League and a past chair of Read Aloud West Virginia. She also volunteers with the Covenant House food pantry and the 2nd Avenue Community Center afterschool program.
That's not all. In the past she's volunteered with the Kanawha County Master Gardeners, Religious Coalition for Community Renewal, Counseling Connection, Mothers of Preschoolers of Charleston and West Virginia 211, a help line sponsored by the United Ways of West Virginia.
It's all part of her efforts to make Charleston "one of the most caring places to live in the country," she says. "We need a symphony and a homeless shelter. We need the arts center and Health Right," which provides health care to uninsured and underinsured residents. "We need it all."
Busse grew up in Charleston, or to be more precise, across the Kanawha River in South Charleston. Her father, Howard, was an architect who studied with Frank Lloyd Wright and once worked with Luther Lashmit, who designed Wake Forest's Graylyn International Conference Center. Howard Johe designed schools, churches, the Charleston Civic Center, the West Virginia University Coliseum, and the home where Busse grew up and the one where she and her husband, Bob, raised their two children.
Her parents inspired her volunteer spirit, she says. Her father told her that she could do anything she wanted to do. Her mother is the type of person who serves coffee to the trash collectors and taught her to be kind to everyone. "My father taught me that no one was better than me. My mother taught me that no one was less than me."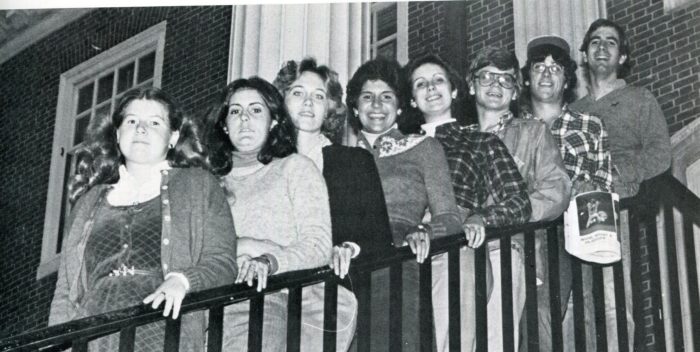 She found more of that volunteer spirit and caring atmosphere at Wake Forest. She found mentors in Jack Fleer in political science and Bynum Shaw ('48, P '75) in journalism, and a cadre of other aspiring journalists working on the Old Gold & Black. She was a Fidele, but she roomed with the president of the S.O.P.H. society, Carol Barbee ('81), now a television writer and producer.
She became lasting friends with the girls in Bostwick dormitory halls 1B and 3B. The close-knit group of a dozen girls — now doctors, teachers, writers — still vacation together every summer at Bald Head Island, North Carolina.
After graduating with a political science major, she moved back home to write feature stories for the Charleston Daily Mail. She later went into public relations and marketing before circling back to journalism and writing for the Charleston Gazette-Mail. (She still writes occasionally for the paper, including this recent column on her father.)
"Going to Wake Forest gave me a great sense of something beyond my own neighborhood," she says. "Even though I came back to my own neighborhood, I came back with a different perspective because of Wake Forest."
The idea for Trinity's Table started in Biloxi, Mississippi, in 2005 following Hurricane Katrina. Busse and other volunteers from Trinity Church traveled to the Gulf Coast town to help with the massive cleanup effort. Instead of shoveling out mud from flooded homes, Busse often found herself cooking for the volunteers.
When the group returned to Charleston, they started thinking, "Why aren't we cooking for our neighbors?" Busse recalls of the conversations. "There are hungry people here."
In a part of the country wracked by the opioid epidemic, the loss of coal-mining jobs and homelessness, the need is great. Trinity's Table fills a niche serving meals on Sunday nights to complement the efforts of other nonprofits and churches that serve meals on other days. Health care providers and social workers come in periodically to offer their services.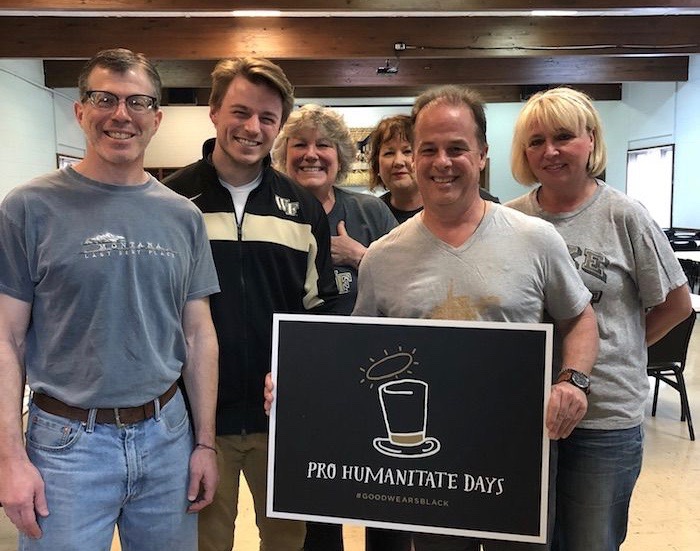 Busse plans menus, cooks meals, raises money, writes a weekly newsletter, supervises an intern, coordinates the volunteers and arranges food pickups from the local food bank and businesses that donate food. She recruited a dozen fellow alumni to help serve meals during Pro Humanitate Days in April.
She would like to change the conversation around serving others and what she describes as the "disrespect to our impoverished." Impoverished communities are under fire now, she says, from some who argue that efforts such as Trinity's Table are enabling people.
"There's an 'us' and 'them' mentality, a 'good' people vs 'bad' people," she says. "These are people with mental health issues, or they have a history of poverty. They have not chosen this lifestyle. Yes, we have a homelessness problem and a drug problem, but how can anyone say that giving someone a warm meal is the wrong thing to do?"