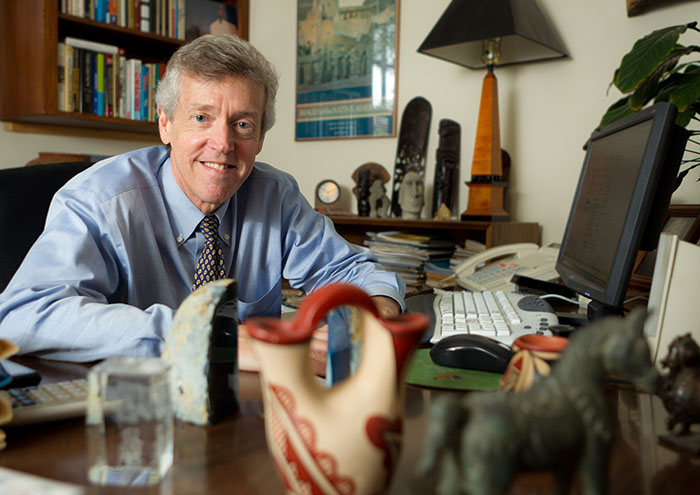 ---
Bill Wells ('74) loves to tell a good story. When you ask him how he ended up at Wake Forest — as a student, not as the director of financial aid for two decades; that comes later — he meanders back to the early 1900s to mix in family history, Wake Forest history and North Carolina Baptist history, and the influence of his older brother, Jim ('70).
The Wells boys — Jim, Bill and their younger brother, Stuart — grew up in eastern North Carolina. When Jim was considering which college to attend, family friend Robert Lee Humber (1918, MA 1919, LLB 1921, LLD '49, P '51) encouraged him to look at Wake Forest. Humber, a Rhodes Scholar and Wake Forest trustee, even called Bill Starling ('57), then director of admissions, to ask, "What can you do for Jim?" Starling found some scholarship money, and Jim Wells enrolled in 1966.
Bill Wells chokes up telling this story, because his brother's scholarship would end up changing his life, too. A couple of years later, Jim told Bill about a new scholarship at Wake Forest named for Guy (1922, LLD '62) and Clara Carswell. Bill applied for and received the scholarship, one of Wake Forest's most prestigious awards. "We were not poor, but I couldn't have come here without a scholarship," he says. "Financial aid from Wake Forest made a huge difference in my life's path."
Years later, Bill Wells' path brought him back to Wake Forest. He's spent the past 22 years answering a version of Humber's question: "What can he do to make it possible for deserving young people, regardless of their family's financial circumstances, to attend Wake Forest?" Wells, 68, is retiring as director of financial aid after helping thousands of students receive scholarships and financial aid.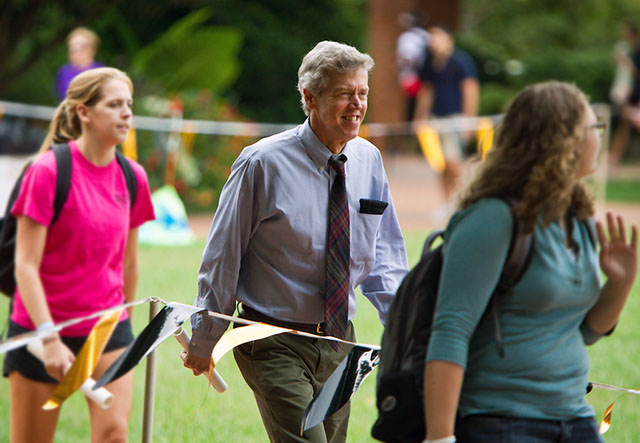 Wells has consistently championed access and improved affordability for underserved students. He's grateful to the alumni, parents and friends whose generosity funds scholarships and financial aid. It's all about "sending the ladder back down," he says. "Those of us who have had the privilege to experience something as great as a Wake Forest education" should help others climb that ladder. "When you get to a place in life when you can afford to help talented young people who cannot afford to enroll in a great school like Wake Forest, then you should do everything you can to help make it possible for them."
His efforts have been bolstered by the Wake Will Lead campaign, which surpassed the $1 billion milestone last fall. Donors have given more than $300 million to fund scholarships and financial aid. In addition to creating numerous new scholarships, those funds have also allowed the University to lower the loan amount for students receiving financial aid by increasing grants that don't have to be repaid. Debt decreased by 30% from the Class of 2014 to the Class of 2019. In 2013-14, the average grant to students with need covered less than half the cost of attendance; today, grants cover two-thirds. About 30% percent of undergraduates receive need-based financial aid.
Wells' commitment to students begins with his own story growing up in Greenville, North Carolina, in a family steeped in Baptist and Wake Forest history. His great-grandfather, James Shelton Wrenn, attended Wake Forest in the mid-1880s. "We always talked about Wake Forest with great reverence," he says. "Wake Forest was a big deal." His father was a small-business owner and later a life insurance agent who couldn't have afforded to send two sons to Wake Forest. "The Carswell Scholarship changed my life," Wells says simply.
"There's nothing we could be doing that's any more important, that has a broader impact on people's lives, and ultimately, improving society, than giving talented young people the opportunity to achieve."
When Wells arrived on campus, he met another Carswell Scholar named Tom Phillips ('74, MA '78, P '06), who was one of his suitemates in Davis dorm. Phillips is retiring as associate dean and director of the Wake Forest Scholars program the same day that Wells is retiring. Wells majored in history and joined Sigma Chi fraternity. (He's been the faculty-staff adviser for Sigma Chi for 20 years).
After graduating, Wells earned master's degrees in history and higher education from UNC. He taught history briefly at a prep school before going back to UNC for additional graduate studies in history and higher education. He started working in the financial aid office as a student, found he enjoyed the work, and stayed at UNC for 20 years before returning to Wake Forest in 1998.
Wells and his wife, Sally, live within walking distance of campus. He doesn't plan to go far after he retires. He'll continue to work part time on the University's enrollment strategy. "There's nothing we could be doing that's any more important," he says, "that has a broader impact on people's lives, and ultimately, improving society, than giving talented young people the opportunity to achieve."