Editor's note: This article first appeared in the Wake Forest College Birthplace Society's newsletter, "From the Forest of Wake," in March 2022.
---
It was spring 1942, 80 years ago, when Wake Forest, a college committed to educating men, first admitted women to the residential student body in an effort to alleviate financial challenges presented by World War II.  
With thanks to board member Jenny Robinson Puckett ('71, P '00), who recently interviewed Marina Hawkins Nowell ('43, P '78, '90), we present firsthand memories of those early coed days starting in spring of 1942. Thanks to Marina and her daughters, we know that "The Light Shines On!"
–Cassandra Martin Baker ('69, P '96, '99), president, Wake Forest College Birthplace Society Board of Directors
---
More on the history of Wake Forest Women
---
Shortly after the high school in Henderson, North Carolina, held its graduation ceremonies in 1940, Marina Hawkins' parents drove her to the campus of Wake Forest College, for the purpose of finding out how their daughter could begin her higher education. At that time, Wake Forest was not accepting women for residential admission; nevertheless, the family sought the advice of Dean D.B. Bryan. His response to young Marina seemed to open a door: "Go to a two-year college, and then come back and we will talk again."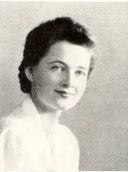 That is exactly what she did. Marina Hawkins graduated from Louisburg College in the spring of 1942, reported soon after to Wake Forest College, and then began classes that June. As it happens, two women had preceded her by four months: Beth Perry and Anna J. Moore had enrolled in February 1942, for the spring semester. In May, Wake Forest College hired its first Dean of Women, Lois Johnson.
During the summer, women lived in Bostwick Dormitory. But campus conditions changed radically in August, with the arrival of the Army Finance School, which had leased almost the entire campus for its contingent of 1,200 officers and soldiers. Even as the Army arrived, the men students continued to depart for military service. By September, the class of women students had grown to 47, prompting campus adjustments for the 13 residential women, in the areas of eating, sleeping and studying. Total student enrollment was 827.
---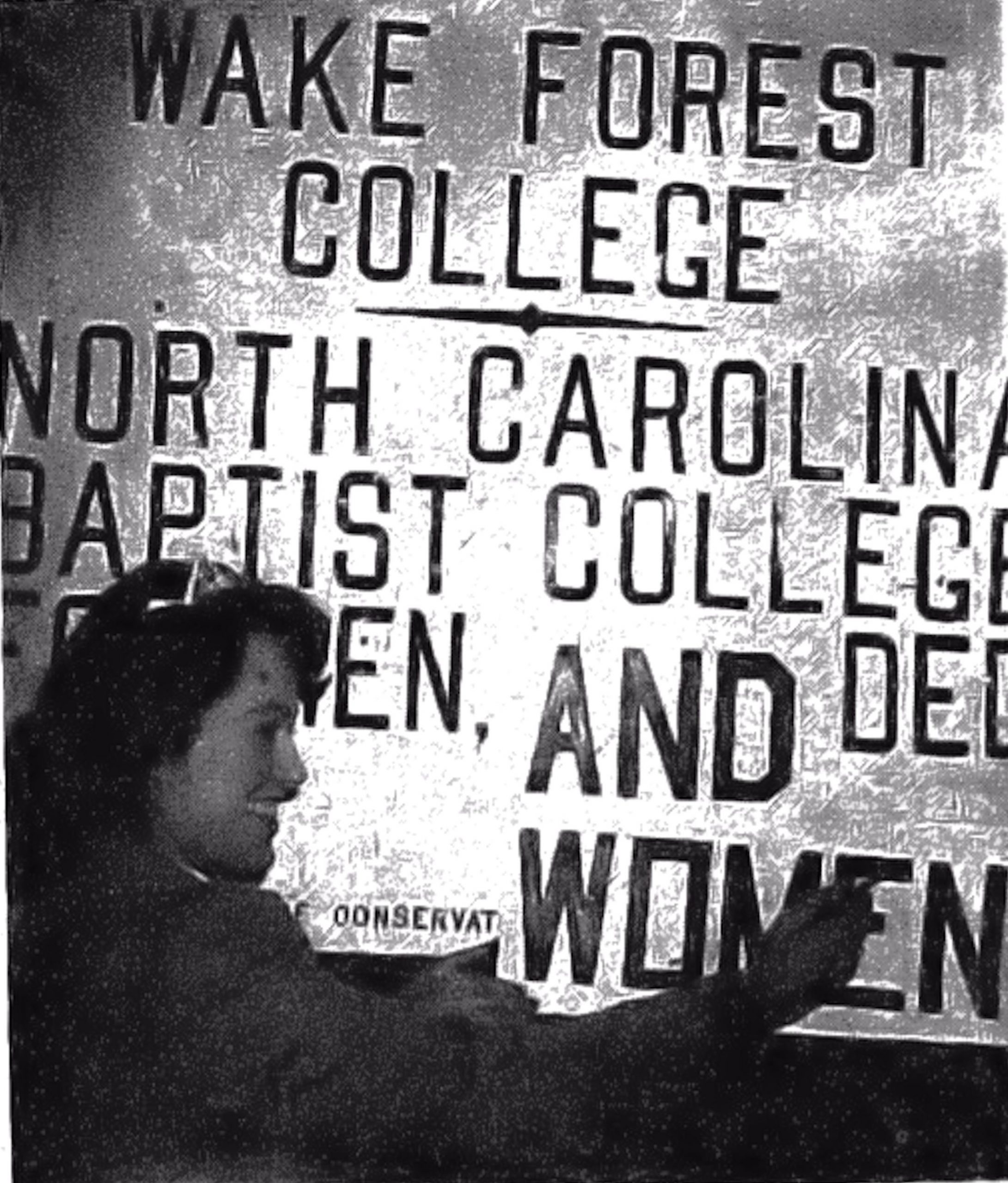 ---
Two urgent tasks now awaited Dean Johnson. She had to find acceptable housing and places to eat for the women in her charge. Johnson was able to lodge 13 women students and herself in the Powell House, a large dwelling with white columns, across the street from Dr. Hubert Poteat's house. Arrangements for dining were more varied: several boarding houses offered meals. Finally, Johnson secured permission for the women to eat in Miss Jo's cafeteria, along with Peahead Walker's football team.
Nowell fondly remembers the unique experience of living with the other 12 women in the Powell House; she shared a triple room with Betty Williams and Viola Hopkins. Because Dean Lois Johnson lived in the house with them, in a small apartment on the front side, there was scarcely any need for a written set of rules or student handbook. Nowell speaks of Lois Johnson as having been "the most lovely and gracious of women." Behavioral expectations for the first class of women students were formed as they went along, in the simple acts of college life, carried out in a time of war.
---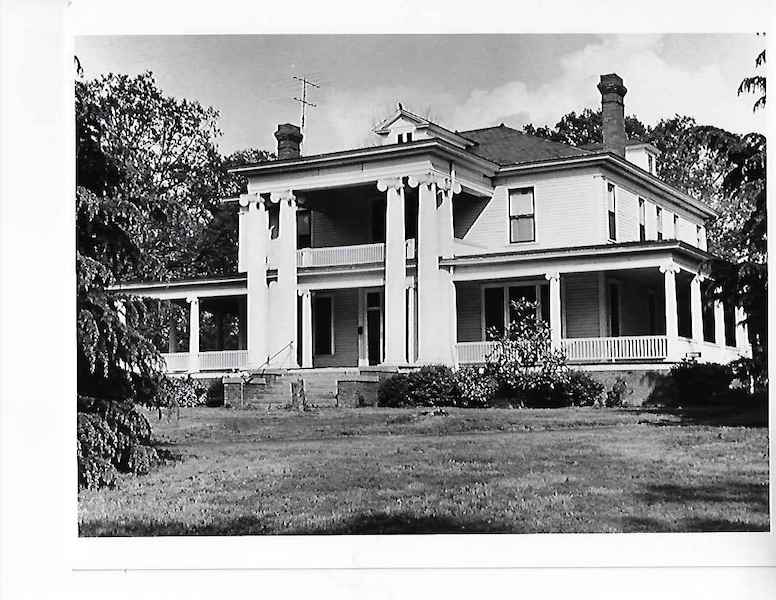 ---
Nowell recalls, "War news was overwhelming in those years. The men were always concerned about where they would end up." She never felt animosity from her male classmates, many of whom were in the ministerial, pre-med, or law school programs. What stood out to her much more was the accessibility of the faculty. She started out majoring in chemistry, and added a minor in mathematics. Two of her favorite professors were Dr. Ora C. Bradbury in biology and Dr. Hubert ("Cocky") Jones, in mathematics, owing to the dignified demeanor of the former, and the lively sense of humor of the latter.
The social life on the wartime Wake Forest campus was on a small scale, and everyone understood why, considering the numbers of men who periodically left to join the armed forces. For the remaining students, even the most low-key social gatherings had limited access to the traditional celebratory goods because civilians needed ration books to buy sugar, coffee, gasoline and other items.
---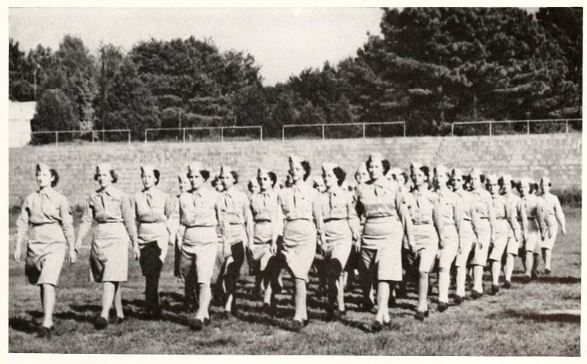 ---
But, despite the fact that the daily life of the first coeds had almost no luxuries, it did have many pleasures. Primarily, there was the Wake Forest tradition of friendliness and camaraderie, both in and out of class. It was a small and tight-knit community where people walked everywhere; almost no one had a car. During their free time, the men hitched rides into Raleigh on the "Bumming Corner," while the women rode the bus into the city. Nowell recalls three of her favorite free time destinations while window shopping in Raleigh: a popular candy store, a bowling alley and Fallon's Flower Shop.
By December of 1943, Nowell had amassed sufficient credits for graduation, but she stayed through the summer of 1944 to take more graduate credits. In December of 1943, her Commencement Day had arrived. Marina Hawkins walked into the Wake Forest president's office, where Dr. Thurman D. Kitchin handed her the diploma she had earned, as a member of the first class of Wake Forest women.*
---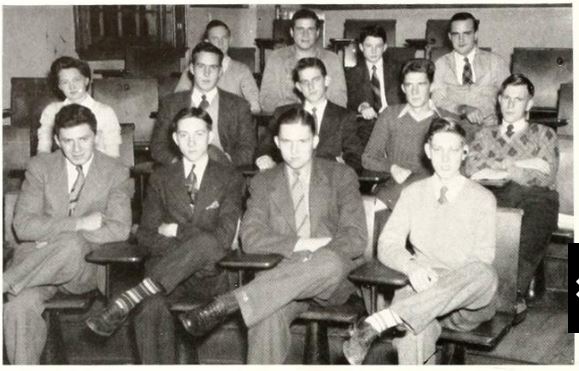 ---
After graduation, Marina moved to Winston-Salem, and worked in research and clinical laboratories at Bowman Gray School of Medicine and North Carolina Baptist Hospital. She married her classmate Robert Nowell ('43) in 1949, and they remained in Winston-Salem, where they raised three children. After the College relocated its campus in 1956, Marina and Robert enjoyed renewing their friendships with several newly-arrived Wake Forest faculty couples.
Two of the three Nowell children are Wake Foresters: Margaret ('78, JD '86) and Betsy (MBA '90).
*According to the 1944 Howler, with reference to the December commencement, "Fourteen men and a girl graduated at the end of the quarter." That girl was Marina.