What I didn't realize at the time was that the kind of family farm I came from — one using traditional methods like manure spreading and crop rotation — was being crowded out by an industrial production system that I believe has had disastrous consequences: for the livestock mistreated by it, for the land and for our health.
It's depressing to think about.
But meeting Fred Bahnson has persuaded me there is hope in the form of a great untapped resource — faith communities — which are increasingly using their land, congregations and resources to grow healthy food and make it available where it's needed most.
Bahnson's mission is to help churches understand how faith and food intersect by equipping future ministers and others to lead the way on food-related issues such as hunger and obesity.
As the director of the Food, Faith, and Religious Leadership Initiative at the School of Divinity, Bahnson is a translator between the sustainable agricultural world and the faith world. Bahnson grounds advice to faith leaders in a practical biblical injunction to till and, more importantly, keep the soil. "The command to care for soil is our first divinely appointed vocation," he says.
"Most of us are pretty ignorant about the way we eat," he says. "We don't know where our food comes from, who grew it, how the land was treated or the workers treated. There's plenty of food in the grocery store, so why worry about it?" Having a belly full of cheap food, however, isn't such a bargain if it comes at the expense of the soil, which, in Bahnson's view, is the "physical manifestation of God's presence."
Bahnson wants people of faith to understand the profound connection between food and spirituality beyond the obvious symbolism of the Christian communion service. Reconnecting with the land through growing our own food allows us to "become co-creators with God," Bahnson says.
The initiative is about inspiring people to become part of healthier and more just food systems, which bring ethical considerations into the equation rather than just financial ones. "We should be aligning our agriculture with the ways we care for creation," Bahnson explains.
Bahnson, 40, lives and gardens in Brevard, N.C., where he enjoys a life of simple abundance with his wife, Elizabeth, and their three sons on a plot of land shared by his parents. Although his family has deep roots in North Carolina, he grew up in Montana and spent three years in Nigeria, where his parents did mission work.
I visited Bahnson's spread on a beautiful fall day and got a tour of his hillside garden, which he cultivates without the benefit of internal combustion or chemicals. Corn, beans, squash, purslane, quince, pawpaw, figs, Asian pears and a host of other species thrive in this permaculture garden. For Bahnson, diversity, whether it's biological, human or spiritual, is a good and healthy thing.
A compost pile — the heart of any healthy organic garden — has a place of honor on this half-acre, which supplies the Bahnson family with plenty of good things to eat year-round. But it also provides something deeper: a connection with the divine.
Bahnson's first experience of how food can impart a profound sense of God's presence came during a Moravian Lovefeast in Old Salem when he was 5. His calling to feed people snapped into full focus when he was a young adult. With a master's degree in theological studies from Duke Divinity School and inspired by the writings of Wendell Berry, he discovered an affinity for the agrarian life while working as a peace activist with Mayan coffee farmers in Chiapas, Mexico. He returned to North Carolina and set about learning how to farm.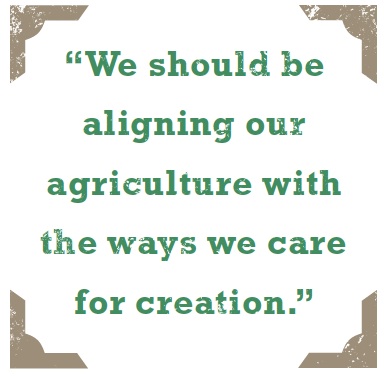 He got the chance to seriously pursue his calling in 2005 as the co-founder of the church-affiliated Anathoth Community Garden in Cedar Grove, N.C., one of the first ministries of its kind in the state.
Bahnson tended to the garden's depleted clay soil and nurtured the volunteer laborers, believing that the physical act of feeding people laid the groundwork for spiritual nourishment. The community created by the garden ranged from church members to Hispanic neighbors to residents of a group home, all of whom bonded over potluck dinners and outdoor concerts. The garden not only fed the needy but also provided, Bahnson realized, "a whole new way to be a church."
Other churches and community groups took note, and community gardens began to crop up all over the state, many church-related. Bahnson estimates there are now more than 100 in Forsyth County alone.
After four years, Bahnson left Anathoth and with the support of a Kellogg Food & Community Fellowship set out on a series of short pilgrimages to other faith communities where people were living lives grounded in the soil. He brought back stories of people whose lives had been transformed, from a meth cook turned Pentecostal coffee roaster to a Philly cab driver who became a mushroom-growing monk. The stories appear in his recent book published by Simon & Schuster: "Soil and Sacrament: A Spiritual Memoir of Food and Faith."
Stories, Bahnson believes, are what will help faith communities reach people and effect change. Bahnson gives faith leaders the tools to inspire others to join the food and faith movement through a writing workshop called "Faithful Witness: Creative Writing and Social Change."
His efforts extend far beyond the divinity school. Through conferences, workshops, writing and speaking engagements (including a TEDxManhattan event), Bahnson inspires and connects people of different faiths to work together on food issues.
urse and minister Tamica Patterson attended the initiative's Food, Faith and Justice conference in February 2013 in Winston-Salem and last fall entered the divinity school. Along with her husband, she runs a community market, Rebecca's Store, now partnering with local growers and community garden programs to provide certain fresh produce that has been difficult to find in her east Winston-Salem neighborhood.
She wants to educate other faith leaders about the problem of "food deserts" and appreciates Bahnson's inclusive vision for the initiative, which seeks to expand what has been largely a white, liberal conversation. "He's open-minded to all types of individuals and cultures and faiths," Patterson says. "He pushes for diversity … and as an African-American woman, I appreciate that."
Jamie Sims, who attended the divinity school, says Bahnson helped give him the theological framework for a broader vision that includes food and the land in his ethical considerations. "My faith hadn't taught me how to think about those things before," he says.
Sims takes agriculture classes at a community college and has managed the Wake Forest Campus Garden on Polo Road, which donates produce to the Campus Kitchen program. Sims has come to share Bahnson's view of farming as a spiritual endeavor and believes it will be part of his future.
If social change as it relates to our unhealthy food system seems like an overwhelming undertaking, Bahnson says the full vision need not be in place to take action.
"You don't necessarily have to go out and become a community gardener," he says. Churches without a plot of land can still start conversations about food and how to work outside the industrial food production system to create something healthier, both physically and spiritually.

s a society, we are at a pivotal moment in our cultural, political and economic history in terms of reconsidering our relationship with food, says Provost Rogan Kersh ('86), a political scientist with a special interest in the politics of food.
"Fred's message is about the possibility of redemption," Kersh says. "We are a fallen people when it comes to our food practices, but we can redeem ourselves."
I see reason to hope in my own little corner of the world. My family's farm is still intact and has not given ground to development. My husband tends a small but productive organic garden in our yard, and if I'm lucky, I'll eventually convince him that a few chickens would provide both entertainment and self-sufficiency. I see more and more people in my urban orbit reconnecting with the land, including several local churches with community gardens, and it doesn't feel like a fad.
It might just be a movement.
---
Cheryl (Katie) Miller Scarvey ('83) grew up on a sheep and cattle farm in Bridgewater, Va. A former newspaper reporter and editor, she is a communications specialist for the nonprofit Lutheran Services Carolinas in Salisbury, North Carolina.
---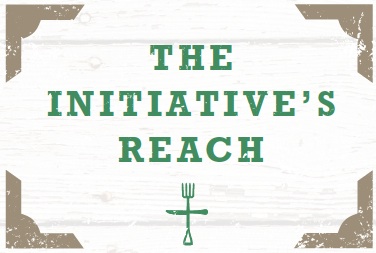 When Gail R. O'Day became dean of the School of Divinity in 2010, she paid attention to what ignited students' passions: sustainability, poverty, economic justice and hunger. Out of that understanding came the Food, Faith and Religious Leadership Initiative, launched in 2012 with Fred Bahnson, a writer and permaculture gardener, as director. It also led to the addition of a Master of Divinity degree with a concentration in food and faith, equipping students to take leadership roles on food issues in the church and nonprofits.
Bahnson teaches one course a year while attending to his duties leading the initiative. He is able to do much of his work, including grant writing and conference planning, from his home in Brevard, typically commuting to Winston-Salem for meetings at the divinity school several times a month.
The first course Bahnson taught at Wake Forest in spring 2011 was "Field, Table, Communion: Food and the Work of Ministry," an experiential class that included weekend visits to places like The Lord's Acre, a community garden southeast of Asheville. This spring Bahnson taught "The Monastic Impulse Old and New: Prayer, Work and the Spirituality of Food." The initiative has led to an expansion in the curriculum with other faculty teaching food-focused courses, including "Culinary Culture in the Black Religious Experience."
Off campus, the initiative works to bring together faith leaders and other interested parties through conferences and workshops. Living in western North Carolina has allowed Bahnson to expand the initiative's work in that region, hosting retreats and workshops for local clergy and nonprofit leaders. Although national in scope, the program focuses on western North Carolina and on Winston-Salem, which has one of the highest rates in the country of food insecurity, a situation in which a household's access to affordable, nutritious food is limited by a lack of resources.
A two-day Spirituality of Eating seminar in Asheville this past October, co-taught by Bahnson and eco-theologian Norman Wirzba, attracted 130 participants from the Southeast. In February 2013, the initiative partnered with the School of Medicine's Translational Science Institute and the Maya Angelou Center on Health Equity to host a food justice conference in Winston-Salem. More than 150 participants, including leaders from minority churches, discussed how churches and faith communities could work to alleviate hunger, diabetes and obesity and provide access to healthier foods through such means as urban gardens.
---