Last summer was a strange one around Winston-Salem, one of the coolest and wettest on record.
For most of us, a break from the South's usual summer swelter is a blessed relief, and only 30 summer days without rain is just an inconvenience, an annoyance that ruins nothing more than beach trips and yard work.
But for Natalie Sevin ('04) and Isaac Oliver ('06), strange weather is an occupational hazard, a threat to their livelihoods, an obstacle they must overcome with all the agility of mind that a Wake Forest education is supposed to provide.
All entrepreneurs and small-business owners must grapple with an adverse business climate from time to time. It's just that "adverse climate" is not always a metaphor when your business is farming.
Wait  . . .  Farming?
Banking, law, business — sure. Teaching, medicine, the ministry — of course.
Farming? Hardly seems like the kind of career for which Wake Forest prepares its students. Farming was what earlier generations of students came to Wake Forest to escape. Farming was what the very first Wake Forest students did to support themselves and their newborn school.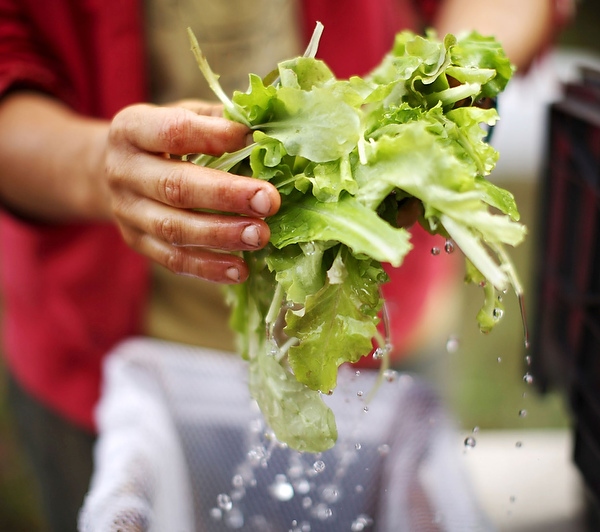 Farming is the setup for a cow college joke.
Seen from soil level, though, farming becomes an ideal pursuit for those who take seriously Wake Forest's ideals: the life of the mind, and Pro Humanitate.
A good farmer is always noticing, observing, thinking, trying, concluding — exactly the activities, the habits of mind and being that a liberal arts education is supposed to teach. And what on earth could be more Pro Humanitate than feeding humanitate?
Besides, while the name may be Wake Forest, the school has always stood on farmland.
Whether on the Jones farm north of Raleigh or the outer reaches of Winston-Salem's Reynolda estate, since 1834 the men and women of the college have gone about their educations on top of good, living, red-clay soil.
No matter how landscaped, or how much construction goes up, the campus rises and falls with the Piedmont soil beneath the red brick, beneath the maples and oaks and magnolias, beneath the lawns of the campus plazas, beneath the feet and the notice of students and faculty and staff.
That same Piedmont soil keeps rolling, beyond the campus, and then the city limits, up across the hilltops where it's drier and redder, down into the creek bottoms where it's wetter and darker.
It is the same soil in which Natalie and Isaac have chosen to pursue their careers, their visions of the good life.
"In choosing to be a small farmer, I became a steward of the land, and I strive to be a good one," Natalie says. "The land sustains us. It can be mind-boggling to think of all of the factors involved, but having respect for the land and working with it achieves some beautiful produce."
That red-clay soil hoards water, which is useful in droughts but ruinous in heavy or steady rains. Excess rains are especially hard on summer fruiting crops like tomatoes: overwatering invites diseases to infect the plants earlier in the growing season, and can cause the fruit to split, and lose much of its taste. "Dryness concentrates flavor," Isaac says.
This is a problem when you have just reached a deal with The Fresh Market to provide tomatoes for all their southeastern stores, as Isaac's Harmony Ridge Farm in Tobaccoville did last year.
"It's really our first foray into commercial growing," Isaac says. "It's been really challenging. In a normal summer, we would have had more production."
So instead of using Harmony Ridge's fertile bottomlands along Mill Creek — which flooded twice in the summer of 2013 — Isaac and his crew planted between three and four thousand tomato plants on the farm's knolls and hills, to give the crop as much of that flavor-packing dryness as the weather would allow.
Natalie, as manager of Sugar Creek Farm near Advance, did not have the same kind of geographic variety to work with, so she adapted to the weather in other ways. She emphasized crops that crave lots of rain, like lettuce, arugula, beets and carrots.
"You need a certain amount of diversity for markets and programs," Natalie says, "so you have to forge ahead with trying everything."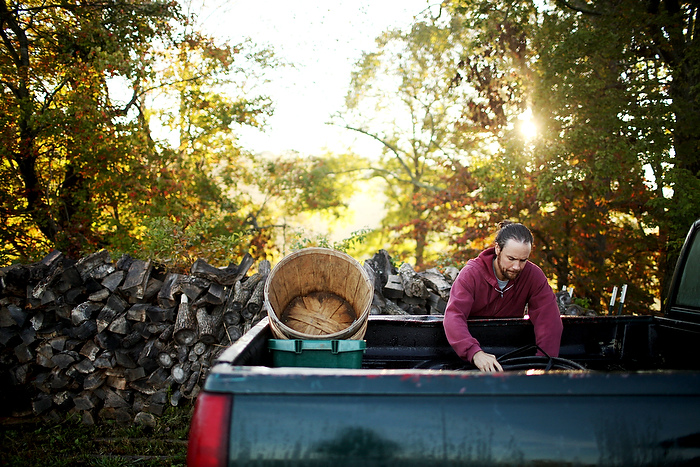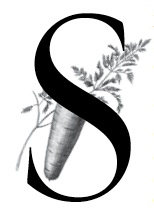 he and Isaac also, like any good businesspeople, looked on the bright side of all those cloudy days.
"The wet weather is allowing us to try different crops in the fall," such as sugar snap peas, bok choy and arugula, Isaac says, "and it allows us to plant fall crops earlier as well."
"Farming requires a lot of thinking on your feet," Isaac says. "There are so many micro-decisions that I make."
"Everything changes every day" on a farm, Natalie says. "There's a lot going on out there, even though it might not look like it."
Wake Forest began as a manual labor institution that required each new student to show up on campus with a personal ax and hoe. Classes ended in the mid-afternoon so that students could put in at least three hours of farm work every day.
Neither Isaac nor Natalie showed up on the Reynolda campus with farm tools in hand, or farming in mind. Though he already loved the outdoors, Isaac — known in college as Kevin — arrived from Flower Mound, Texas, planning to write or teach. "I grew up hunting and fishing with my dad," he says. "I wasn't a granola-munching hippie when I first came to Wake."
His coursework at Wake, though, set him on the road that led to Harmony Ridge. Michele Gillespie's class on the History of the New South made him feel a connection to the South, and a community service project creating a history with Winston-Salem's YWCA gave him a connection to northwest North Carolina. A freshman seminar on environmentalism with John Llewellyn, and studying the Romantics with Eric Wilson (MA '90), started him thinking about nature in new ways. A course on myth and modernism with Philip Kuberski "really made me rethink a lot of things in my life," Isaac says, and led him to want to live "more creatively. That was probably the most significant course I took at Wake in terms of my career choice."
He took some time off from Wake and headed west. He backpacked and worked a variety of jobs, all involving nature and the outdoors, including sustainable construction. While he was out West his parents — coincidentally — moved to Winston-Salem. His father, who had previously owned a farm in North Dakota, wanted to buy farmland in Forsyth County, and after Isaac returned to finish his degree, they agreed to go into organic farming together.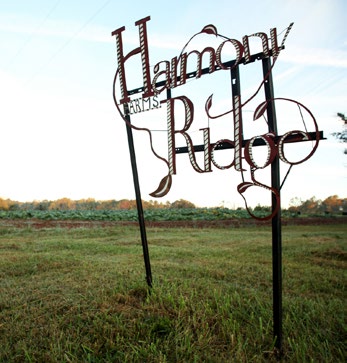 They started Harmony Ridge in 2009 with 12 acres. Two years later they added another 10 acres, which are now their main commercial production field; the original fields they now call their "gardening area" for high-maintenance crops. In 2012 they bought a 50-acre farm, 3 miles up the road, where they keep chickens and board horses.
Born in France, Natalie grew up just a few miles from the Reynolda campus, where her mother worked. At Wake she majored in anthropology, where she says, "agriculture kept coming back up" in the coursework.
A history course on postcolonial Africa, though, awoke a latent interest in the Peace Corps (her mother and sister both served), and a Peace Corps recruiter said they had a need for volunteers in agriculture. Natalie spent three weeks volunteering on a WWOOF (Worldwide Opportunities on Organic Farms) farm near Asheville, then another nine weeks at a Rodale Institute in Pennsylvania — all in order to spend two years and three months as a Peace Corps agricultural volunteer in a village near Gao, Mali.
She started with a plot in the women's garden, growing onions, okra and watermelon. Even after all her training, the village women "taught me a lot," she says. When her sister came to visit, a neighbor harvested for her two of the watermelons she had planted, even though "they were not ready by our standards." The neighbor showed Natalie how to cook the melons, still white inside, with rice and squash to make the fruit go farther. Later, she joined with another Peace Corps volunteer in a village five kilometers away to farm rice in fields flooded by the Niger River.
Natalie came home from her tour knowing that "the Peace Corps kind of ruined me in some ways. After that, everything had to be very tactile. I knew I didn't want to sit in an office."
She became the manager of Sugar Creek Farm in 2011, adding diversity to the crops grown on its two-and-a-half cultivated acres. This spring she has begun renting land at Greenbrook Farm in Forsyth County, growing and selling her own crops as a step toward owning her own farm someday.
"You can grow a lot on a little bit of land," she says.
Most Saturdays in season you can find Natalie or Isaac at one of Winston-Salem's farmers' markets: the Cobblestone market in Old Salem, or the large weekly market at the Dixie Classic Fairgrounds. You can find the produce they raise in area restaurants including Milner's, Mozelle's and Salem Kitchen.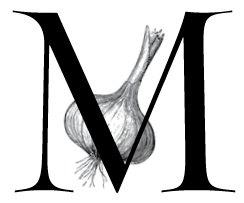 uch of their business, though, comes through Community-Supported Agriculture (CSA) programs in which customers buy a share of the season's harvest, delivered weekly as a box of mixed produce.
"More and more people are looking for organic produce," Natalie says. "People feel good about what we sell."
"This region is late arriving to the organic food movement," Isaac says, "but demand in North Carolina is taking off."
Harmony Ridge now runs two CSA programs: their "regular" program that serves about 80 households and a CSA program called "Farm Fresh Healthy Living." Funded by the University's medical school, this program provides CSA boxes to 75 underprivileged families in Forsyth County, through local nonprofits El Buen Pastor, the Boys & Girls Club and the YWCA. Researchers at the medical school are tracking the effects of eating fresh, local, organic produce on health, family life and social metrics.
"Variety is critical," Isaac says. "If we were just growing that one thing, there's a lot of risk in that. Having a wide variety of crops really spreads out the risk and spreads out the income. It's the only way we could do it sustainably and remain viable. That variety is what our clientele is looking for as well. Our CSA customers wouldn't be as happy if they were getting eggplant in the box every week.
"It's a small business like any other small business. It's about efficiency and production. All the things that make a small business work make a small farm work."
Samuel Wait said that the farm work required of the first Wake Forest students "was to promote the health of the students and contribute somewhat toward the establishment of habits of industry." A "scientific farmer" was supposed to supervise the students' labor and teach them the most advanced agricultural techniques that 1834 had to offer.
Natalie and Isaac may not have studied with any "scientific farmers" in their time at Wake Forest, but they do carry their educations into the fields every day.
"Wake Forest definitely helped me learn how to think, and be open-minded and flexible as well," Isaac says. "I'm trying to find the balance between cultivating a soulful connection to nature while running a small business."
"The education doesn't go away: Learning how to think, learning how to learn," Natalie says. "And we are learning all the time. It's a humbling kind of job."
---
Ed Southern ('94) is the executive director of the North Carolina Writers' Network and the author of  "Parlous Angels" and "Voices of the American Revolution in the Carolinas." He lives in Winston-Salem.
---