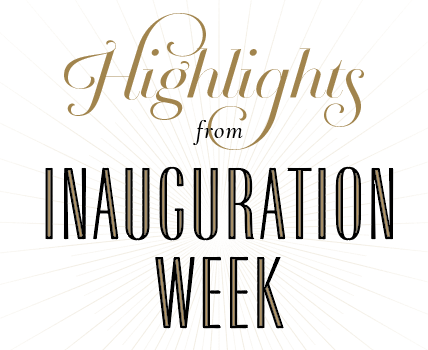 ---
A Day of Service
Students, faculty, staff and alumni volunteered at "kit-packing" events on March 23 in a day of service for projects to benefit schoolchildren at Cook Literacy Model School as well as women without housing. "I'm so thankful that we could build a service day into the week," said President Susan R. Wente. "I think that's really reflective of our Pro Humanitate motto being lived and breathed." Volunteer Thomas Gawf, a junior, said, "It's definitely an awesome message to send to everyone that we're committed to the broader Winston-Salem community." 
---
Face to Face Speaker Forum
In a special Face to Face event March 24 in Wait Chapel, University Trustee Marybeth Torbet Hays ('90, MBA '94) moderated a conversation about radical collaboration with, left, Gene Woods, president and CEO of Atrium Health, and Hays' fellow Trustee Larry Culp (P '17, '19, '23), chair and CEO of GE. Hays asked the CEOs what they see as important to collaboration. Culp stressed the need to have a company where people collaborate across functions. Woods said Atrium Health had to leapfrog into radical collaboration with logistics experts and other unusual partners to get through the pandemic.
---
Reynolda House Museum of American Art Reception
Evening lights shone at Reynolda House Museum of American Art, where the Association of Wake Forest University Black Alumni (AWFUBA) and the Black Student Alliance sponsored an inauguration reception on March 24, coinciding with the "Black is Beautiful: The Photography of Kwame Brathwaite" exhibition.
 "What a historic night for Wake Forest and Reynolda House!"
 "I continue to see people who are Wake Forest legacies and Wake Forest excellence. It's an indication of a great vibe on campus," Mann said. 
"One of the ways our collaborations can be radical is if we listen to voices in the margins, so tonight I really want you to lean in, lend your ears to spaces you've never listened to before, open your hearts, open your minds and try something new," said spoken word poet and hip-hop artist Donovan Livingston, who holds a doctorate in educational studies, teaches in the Wake Forest Department of Education and is assistant dean in the Office of University Collaborations. He performed his "Spitting Image" piece at the reception, inspired in part by the "Black is Beautiful" exhibition.
---
Trustees and Institutional Delegates Luncheon
"Wake Forest's commitment to collaboration is 'radical' in several senses. First, it challenges a larger culture that sees achievement in individualistic terms. By contrast, radical collaboration requires us to see our good in light of others' good and to contribute the best of our knowledge, skill and talent to create something that could not be created or achieved on our own. It directs us to a common purpose."
 "This approach is not new at Wake Forest, which speaks to another way it is radical. The Latin origin of 'radical' is the word, radix, which means 'root.' To be radical is to return to the roots, to those vital foundations that give life to an organism or, in this case, an institution. To practice radical collaboration, then, is not to abandon our traditions but to reimagine and reinvigorate them, to recognize what is vital and enduring about our common life and innovate from the roots in ways that respond to our changing world."
— Michael Lamb
---
Alumni Class Representatives Luncheon
Alumni delegates from every class from 1950 to 2021 gathered in the Magnolia Room in Reynolda Hall for a luncheon before donning academic robes and special medallions to join the inaugural procession.
"Treasure this moment, treasure Wake Forest. … To me, one of the happy facts about Wake Forest is that on that day, way back when I heard about the new school for the first time (in 1939), the two words that leaped out were 'Wake' and 'Forest.' There is something wonderful about that name, Wake Forest. It suggests waking up to life itself at its best, and it suggests something green and verdant that lasts as far as to the years to come."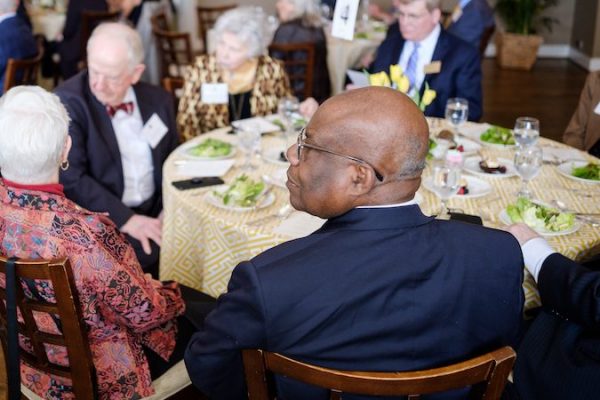 "It's good to see all these alumni come back, people of great accomplishments. Starting here as the only Black person (as a student), to see all these Black faces here (today) is so meaningful to me."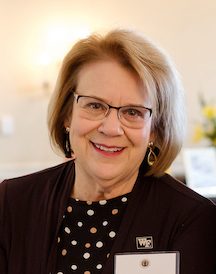 "A memory that I will always hold dear was the camaraderie and pride among the alumni delegates. From the class of 1950 to the class of 2021, we were bound by our affection for Wake Forest and the honor of representing our classmates. Dr. Wente's vision that Wake Forest should be a 'catalyst for good' is rooted in Pro Humanitate, the secret sauce of Wake Forest. I am so proud of where we have been and so excited for what is to come."
— Jane Owens Cage ('78), an alumni class representative from Joplin, Missouri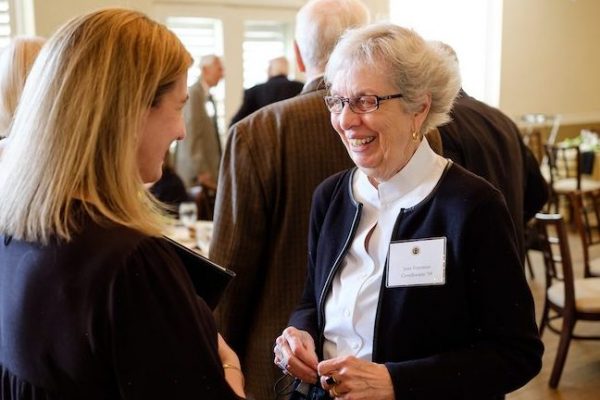 "The president's comments were well positioned and thoughtful, and I am very hopeful for Wake Forest's future. The world is in a terrible spot right now, and it's going to take careful training to help the students become politically, socially and morally responsible."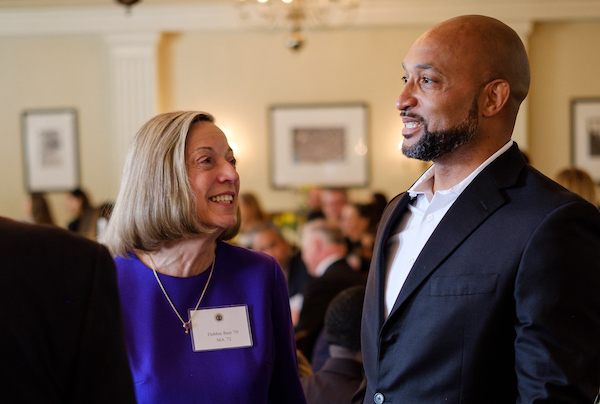 ---
President's Ball
Celebration, music and dancing followed the inauguration at the President's Ball on March 25 in Lawrence Joel Veterans Memorial Coliseum.
"As a female, I find it empowering and encouraging to see a woman lead this incredible school."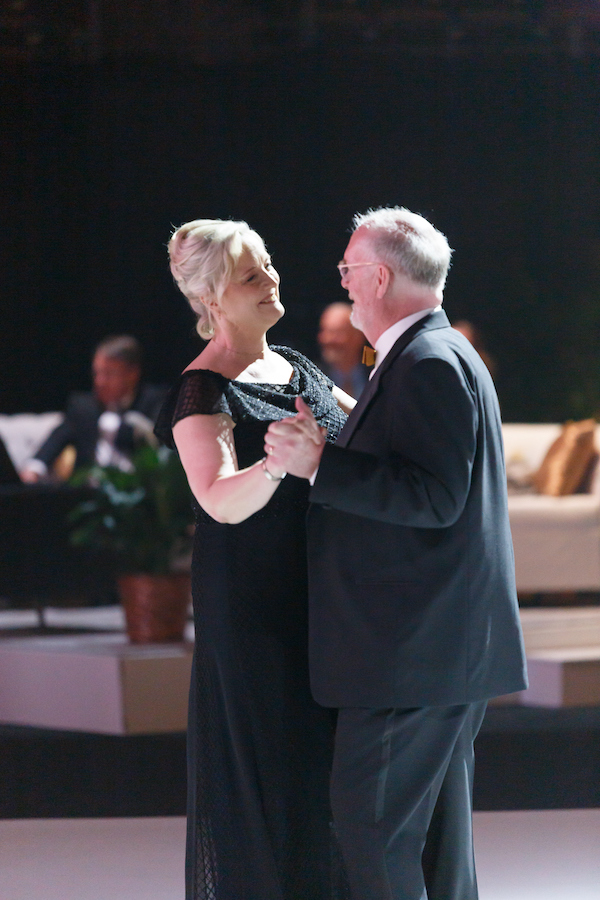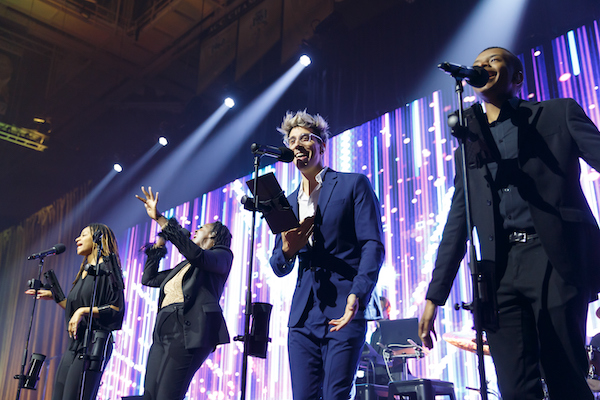 "It's been a tremendous experience coming back. I've seen some of my friends, professors and workers at The Pit. For me, coming back today as a delegate of 2020, it's (that) even though COVID kicked us out, I am here to make sure the 2020 graduates are not forgotten. I am here for the team!"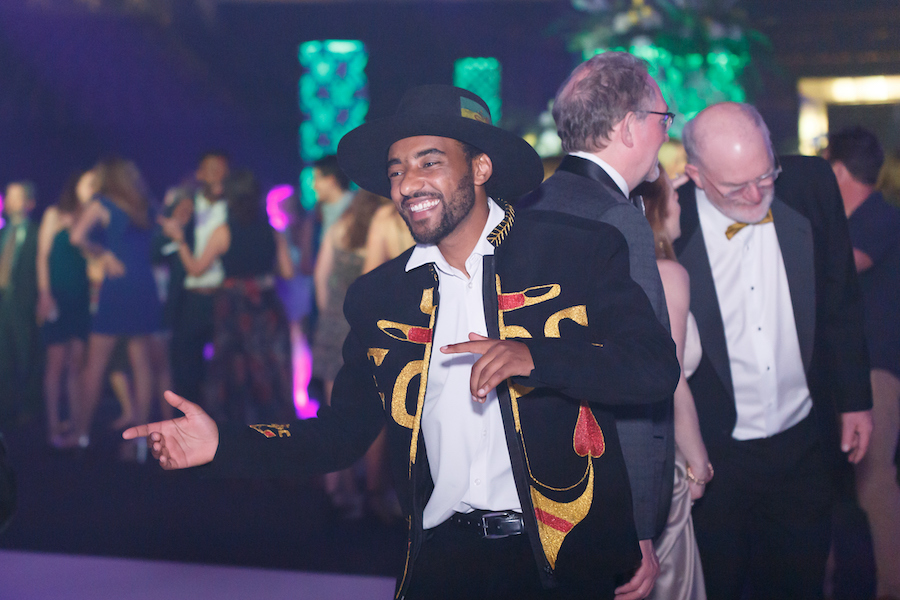 ---
Wake Women's Weekend
Participants in Wake Women's Weekend explored movement in Reynolds Gymnasium with Mona Hilbawi Flynn ('87), owner of Life Fit Yoga, in one of many events. The keynote panel featured remarks by President Susan R. Wente and a discussion on inspiring leadership among Jen Mitchell Hoover ('91), Camille Russell Love ('73), Andrea Malik Roe ('99) and Alex Sink ('70, P '11). The moderator was Alumni Council President Alex Reyes Schroeder ('06, JD '09).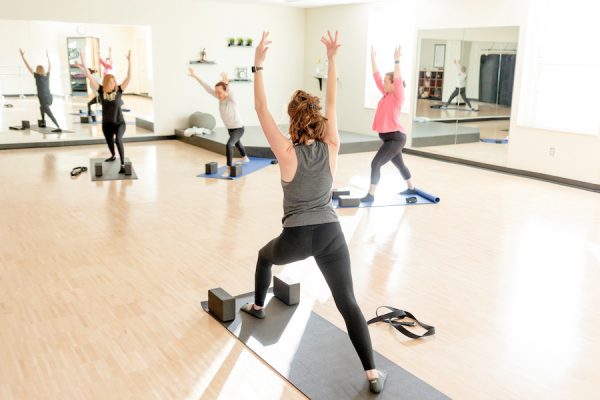 ---
Inauguration Worship Service
The Rev. Dr. Emilie M. Townes, dean and distinguished professor of womanist ethics and society at Vanderbilt Divinity School, preached the sermon, "The Theology of Somehow," at the inauguration worship service on March 27 in Wait Chapel. She told congregants, "You and I can be and must be the instrument through which God's 'somehow' is realized … in a mendable world as we work with God to stitch our way to justice."
---
"You could almost physically feel the weight of the history being made."