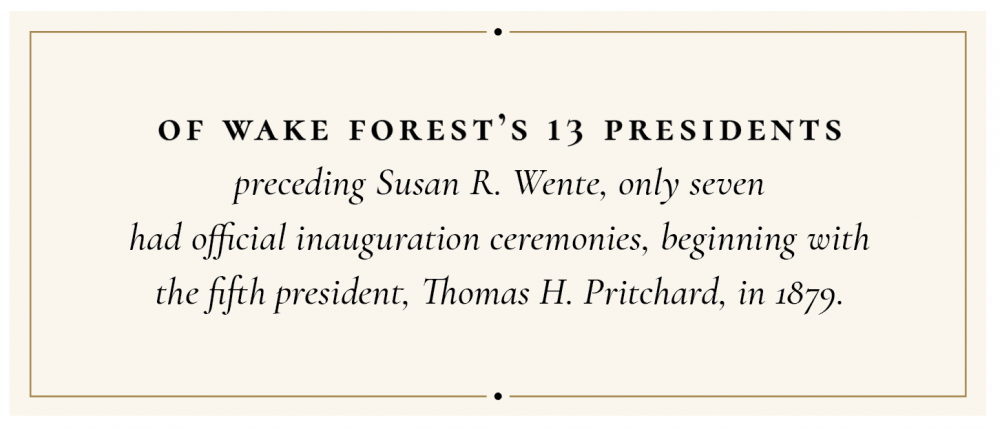 ---
Thomas Henderson Pritchard (1854)

 
1879-1882
Pritchard was a North Carolina pastor and a Wake Forest trustee and fundraising agent when he was named president, after the trustees' first two choices turned down the job. A train from Raleigh brought 150 people to Wake Forest for the inauguration ceremony on Sept. 3, 1879, in the chapel. 
In his inaugural address, "A Plea for Higher Learning," Pritchard spoke strongly about the need for education at all levels in the state. The Biblical Recorder summed up the day: "The occasion was a grand success, and opening with 105 students, the prospects were never so bright for our college, nor were its friends ever so hopeful."
---
William Louis Poteat
(1877, MA 1889, P '06)

 
1905-1927
Poteat joined the faculty a year after he graduated to teach biology and became well-known across the state for promoting modern scientific methods. He was on an ocean liner headed to London for a Baptist World Congress conference when the Wake Forest trustees offered him the presidency after learning that he had been offered the presidency of Mercer University. Poteat cabled his acceptance when he arrived in London and became the first layman to serve as president.
His inauguration was held on Dec. 7, 1905, so that members of the Baptist State Convention of North Carolina, meeting in Raleigh, could travel by train to campus to attend. In his address, Poteat spoke on "The Place of the Christian College in the Modern World." A prominent university president commented after the ceremony, "What most impressed me … was the splendid showing made by your students as they marched in." 
"An inauguration is a kind of commencement — a new beginning that invites us to reimagine who we are and who we aspire to be. While our past provides some prologue, it is our opportunity and obligation to write the next chapter of the Wake Forest story."
Francis Pendleton Gaines
(LL.D. 1930)
1927-1930
Gaines was an English professor at Furman University when he was named president, even though he had never visited campus. He quickly "won the hearts of Wake Forest audiences," the Old Gold & Black wrote. A faculty member described Gaines, who was only 35, as "of good appearance, with face gentle, but strong; his voice was pleasing, and his manner easy."
At his inauguration on April 25, 1928, more than 60 delegates from other colleges took part in the academic procession, "all in the caps and gowns of their individual institutions, the bright colors of the hoods and tassels adding a touch of brilliancy to the impressive line," according to the Old Gold & Black. The ceremony, held in Wake Forest Baptist Church, included "more than two hours of oratory which was of an extraordinarily high standard," including remarks by North Carolina Gov. Angus McLean. 
In his address, Gaines said that "if Wake Forest is to be a good college, it must … aspire to be a small, cultural, Christian college." Following the ceremony, a luncheon was held in the Sir Walter Hotel in Raleigh and a "brilliant reception" was held in the gym.
---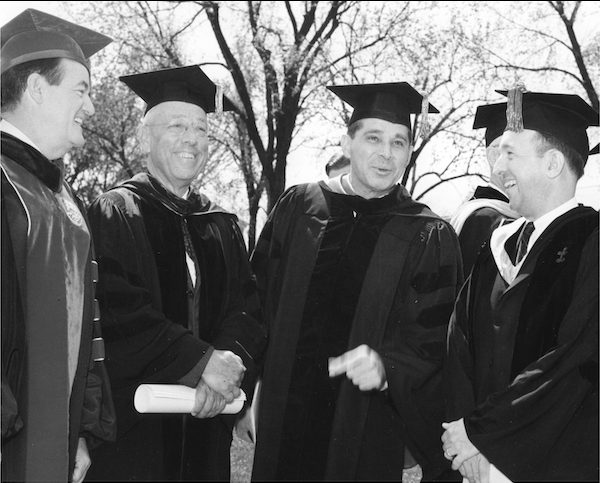 ---
Harold Wayland Tribble
(LL.D. '48, P '55)

 
1950-1967
Tribble, an ordained minister and president of Andover Newton Theological School, had spoken on campus numerous times and had received an honorary Doctor of Laws degree before being named president.
At his inauguration on Nov. 28, 1950, more than 300 people in a "very impressive and awe-inspiring" academic procession marched from Wait Hall around the old well and into the chapel. The Old Gold & Black lamented the lack of student turnout but called the day "a day of thrills. A whole day of football games could not have produced more thrills."
University Board of Trustees chair Hubert Olive (1918, LL.B. 1920) presented Tribble with a set of keys, among them a key to the chapel; Wait Hall, the administration building; the schools of law, medicine and business; and an office at Reynolda, site of the new campus. Tribble pledged in his inaugural address to revive the stalled campaign to raise money to build the new campus. Following the ceremony, 700 guests dined on 305 breasts of chicken, 24 Smithfield hams and six bushels of yams in the cafeteria.
---
James Ralph Scales

 
1967-1983
Scales was dean of the college of arts and science at Oklahoma State University and a past president of Oklahoma Baptist University when he was named president. He was described as "likable and gregarious … dignified and yet democratic."
North Carolina Gov. Dan K. Moore (LL.D. '68), past Gov. Terry Sanford (LL.D. '65) and representatives from 200 colleges and universities attended Scales' inauguration on April 11, 1968. Professor of Biology and grand marshal John Davis carried the University mace, created for the occasion, at the head of the academic procession.
The Old Gold & Black noted that one member of Scales' family was absent: the family's "oversized" golden retriever Missy. The OG&B also reported that Thomas "Terrible Tommy" Turner, "terror of the physics department," refused to cancel his 8 a.m. class, in defiance of the faculty-decreed class holiday.
An ardent Democrat, Scales chose U.S. Vice President Hubert Humphrey as the guest speaker. Humphrey called for a "new patriotism" in the country: "Not the hurrah of patriotism, but of dedication, of commitment, of understanding, of the cleansing of our minds and our souls from every form of bigotry, prejudice, intolerance and blindness."
In his own address, Scales said, "Let the critics know that this Baptist school proposes to lead … in the proclamation of soul freedom and its intellectual corollary, academic freedom"; in "non-conformist thought"; in "international concern"; in "the attacks on social injustice." Following the ceremony, 800 guests packed the cafeteria for a luncheon of baked chicken and rice and rainbow sherbet parfaits.
---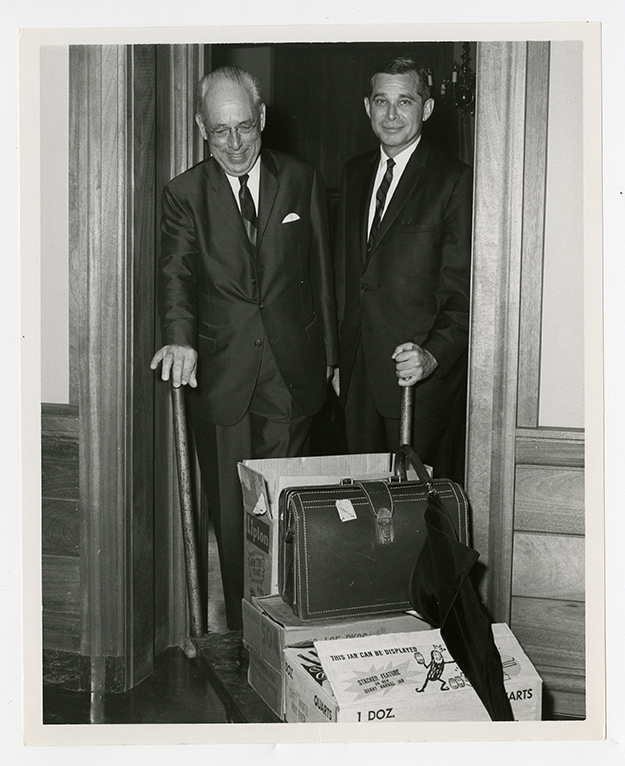 ---
Thomas K. Hearn Jr. (L.H.D. '04)
1983-2005
Hearn was senior vice president for non-medical affairs at The University of Alabama at Birmingham when he was named president and was the first non-Baptist ever chosen to lead Wake Forest. For his inauguration on Nov. 4, 1983, Professor of Music Dan Locklair composed an anthem, "The Fabric of Creation," with words by University Editor Marty Lentz (MBA '79, P '01). Before the ceremony, 500 guests enjoyed lunch in the Indoor Athletic Center, decorated with "exquisite ice sculptures."
In his address, Hearn noted that "Inauguration is a time of beginning. … Yet this inaugural ceremony occurs as Wake Forest celebrates 150 years of distinguished service. …(This is) a time to pay homage to those worthy men and women who created the goodly heritage which is ours. … While preserving yesterday's achievements, we create tomorrow's opportunities."
North Carolina Gov. James B. Hunt (LL.D. '82, P '88, '90); William Friday ('38, LL.D. '57), president of the University of North Carolina system; and Student Government President Joanne O'Brien Beam ('84) offered official greetings to Hearn.
---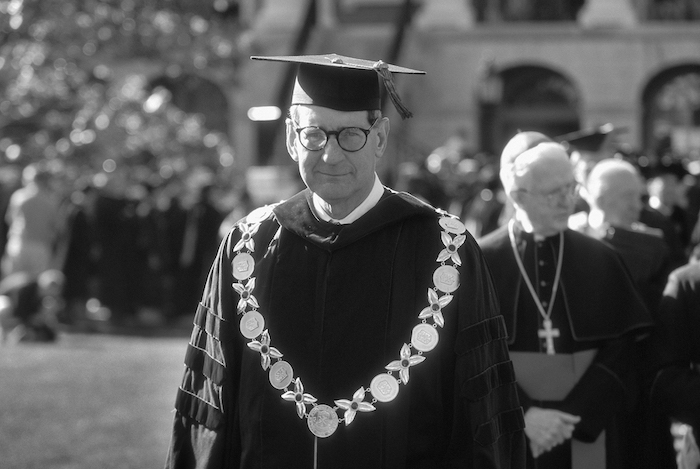 ---
Nathan O. Hatch (L.H.D. '21)

 
2005-2021
Hatch was provost at the University of Notre Dame when he was named the 13th president. A week of activities — including a community prayer service featuring Reynolds Professor of American Studies Maya Angelou (L.H.D. '77) and two academic symposia that explored the aims of a liberal arts education and the moral challenges of professional life — led up to his inauguration on Oct. 20, 2005.
Representatives from more than 100 colleges and universities, including Notre Dame's current and past two presidents, attended the ceremony in Wait Chapel. Past trustee chair Murray Greason Jr. ('59, JD '62, P '85) and Provost Emeritus Edwin G. Wilson ('43, P '91, '93) invested Hatch with the Presidential Collar of State, a chain of medallions engraved with the names and dates of service of his 12 predecessors.
In his inaugural address, Hatch pledged to "rekindle Wake Forest's finest tradition: a face-to-face community, grounded in the liberal arts, passionate about professional education, and committed to living out the values we profess individually and as a community."