You'll need a hankie along with your popcorn while watching "Brian's Song," a legendary 1971 film about the inspirational friendship between athletes Brian Piccolo and Gale Sayers that has become a Wake Forest tradition.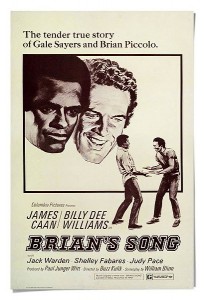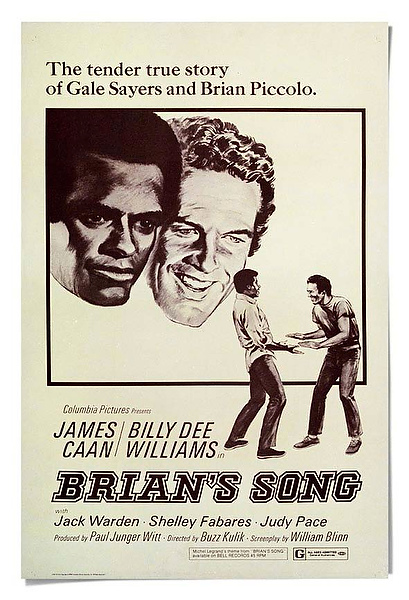 Piccolo (James Caan) was a Deacon running back who led the nation in rushing and scoring and was ACC Player of the Year in 1964. He met Sayers (Billy Dee Williams) while they played for the Chicago Bears, and they became the first interracial roommates in the NFL. Piccolo died of cancer in 1970 at the age of 26, leaving behind a story of friendship and courage that touches hearts to this day. His Wake Forest legacy lives on through two daughters, Lori ('87) and Traci ('89), as well as the Brian Piccolo Cancer Fund Drive to support treatment and research at the Comprehensive Cancer Center of Wake Forest Baptist Medical Center. Hit the Bricks for Brian, a popular student-organized team race around the Quad, is a highlight of the fall semester.
---
Not every speaker stirs up as much controversy as Hustler editor Larry Flynt sparked on campus in 1977, but activists, politicians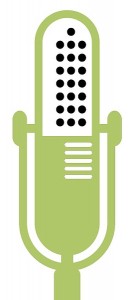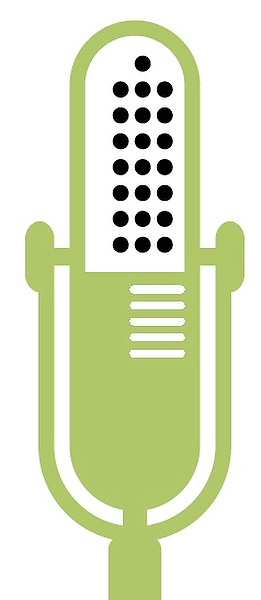 and writers have inspired and challenged us, including Martin Luther King Jr., W. H. Auden, Tom Clancy, Barbara Jordan, Hubert Humphrey, Jimmy Carter, Gerald Ford, Eleanor Roosevelt, Betty Ford, Barbara Bush, Bill Moyers, Hillary Clinton, Joe Biden, Betty Friedan and Colin Powell, who famously told graduates in 2004, "Party on, Demon Deacons, party on."
---
Remember listening to Deaconlight in your dorm room? We still tune in to 88.5 WFDD, but now it's for national, local and arts news stories as well as National Public Radio favorites "Morning Edition" and "Talk of the Nation." If we're in the mood for Mumford & Sons or mewithoutYou, we check out student-run WAKE Radio, with its excellent playlists and eclectic music mix.
---
You don't have to go to New York City for performances by renowned artists. The Secrest Artists Series brings a rich, eclectic array of pianists, flutists, violinists, dance troupes, chamber orchestras, string quartets and ensembles to campus.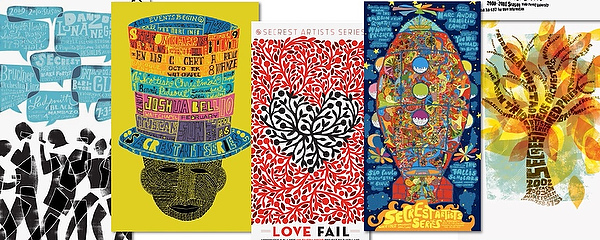 Since the Artists Series started on the Old Campus, more than 300 artists and groups have performed, including Marian Anderson, Andrés Segovia, Itzhak Perlman, Marcel Marceau, Wynton Marsalis, Ravi Shankar, Denyce Graves, Joshua Bell, Doc Severinsen, the Guarneri Quartet, the Emerson String Quartet and the National Symphony Orchestra with Leonard Slatkin. For more than 60 years — including the last 15 under the direction of Lillian Shelton (MALS '06), who is retiring this year — the Artists Series has remained true to its mission: to provide world-class performances to students, free of charge, as part of their cultural education. In 1987, it became the Secrest Artists Series in recognition of a gift by Marion Secrest of Winston-Salem in memory of her husband, Willis.
---
One thing you'll surely miss after leaving Wake Forest: the sweet perfume of a magnolia in bloom. Perhaps you perched among the tree's stately branches to read a book or shared a romantic moment in the shadow of its velvety blossoms. The Southern Magnolias on Manchester Plaza, or the Mag Quad, are Wake Forest's most recognized heritage trees. We have to thank for them Walter Raphael Wiley ('29) and his wife, Monnie Louise McDaniel Wiley, who learned of the impending move to Winston-Salem while visiting the Old Campus in 1947. Mrs. Wiley wanted to establish a symbolic bridge between the old and new campuses.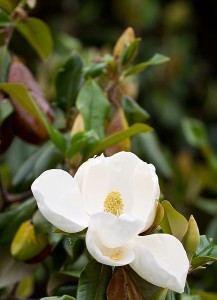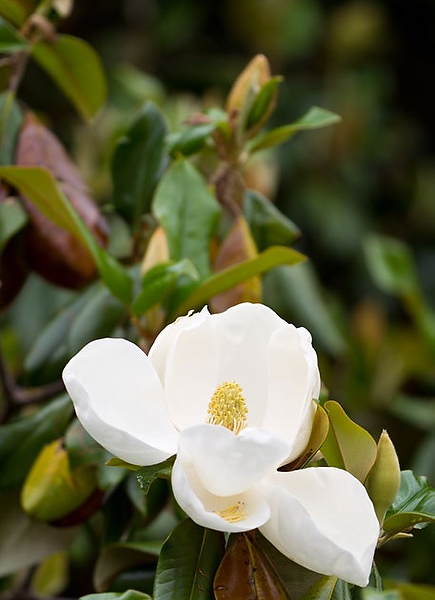 An avid gardener, she had her nephew, Robert Earl Williford ('51), collect seeds from the magnolia trees on the Old Campus. Williford enlisted the aid of Budd Smith, professor of biology, and the seeds were mailed to the Wileys in Chesterfield, S.C., where Mrs. Wiley planted them in a filled-in swimming pool. In 1956, when construction of the college buildings in Winston-Salem was under way, the magnolia trees in Chesterfield were about five feet tall. The administration graciously accepted Mrs. Wiley's offer to donate the trees. She and her son, Walter R. Wiley, Jr. ('64), put the trees with root balls intact in the back of a large station wagon and delivered approximately 20 to the nursery/landscaping department. They were planted a week later. To this day the magnolias remain a bridge we all hope to cross — often.
---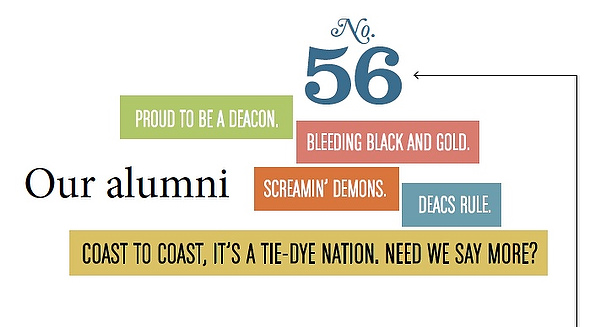 ---
TEDxWakeForestU made its second showing in February with innovative speakers including Ricky Van Veen ('03), co-founder of College Humor, and international photographer and activist J Henry Fair. (TEDx stands for technology, entertainment and design; the x indicates an independently organized event.) Lucy Lan ('12) led a group of student organizers in bringing the first conference to campus with its famous tagline "ideas worth spreading." The conference strives to inspire students to think, dream and create in ways that change the world.
---
Nothing like snare drums, trumpets and flags to get us pumped up on game day! Whether they're practicing on Davis Field, performing on BB&T Field or playing the fight song for freshmen as they emerge from New Student Convocation, The Spirit of the Old Gold and Black Marching Band (aka SOTOGAB) knows how to energize the Deacon spirit faster than a Red Bull.
---
Mozart, Lennon, Gaga and Bach.
Sweet serenades from bells that rock.
---
At Wake Forest, springtime is for shagging. This Wake Forest tradition wouldn't be complete without a pristine white tent, a flowing chocolate fountain and swinging, nonstop dancing. Time to pull out the bow ties and the Lilly Pulitzer dresses. It's time to shag!
---

 HORACE ALBERT "BONES" McKINNEY
The Pepsi-drinking, Nabs-eating, fiery basketball coach and Baptist preacher was a showman on and off the court. He was renowned for his antics (yes, he really did wear a seat belt on the bench), sparring with officials (graduates of the North Carolina School for the Blind, he called 'em) and sharing folksy tales. "I plead guilty to driving through life at about 80 miles an hour, drinking 60,000 Pepsi-Colas, smoking some two million cigarettes and threatening the lives of several hundred referees," he wrote in "Bones: Honk Your Horn If You Love Basketball." When he wasn't out preachin' across North Carolina, he was coachin' the Len Chappell ('62) and Billy Packer ('62) team to the 1962 Final Four. Honk your horn if you love the late Bones McKinney.
---
Like the child who asks repeatedly, "Are we there yet?" Wake Foresters yearn for a familiar landmark that says they're close to returning home. And then there it is, a beacon rising above the pines — a gray protruding point of pride, adorned with a fierce black and gold "WF."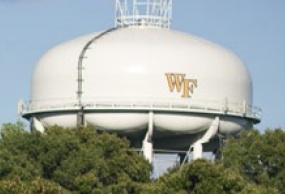 There's the water tower. We made it. We're home. We love the way it disappears against the sky on a cloudy day and pierces the blue on a clear one. We play soccer in its shadow. We squint to see the fake owl planted up high to keep away birds. We're mesmerized by the slow circling of the hawk who pays the owl no mind. He perches atop the dome, master of all he surveys. He, too, has found his way home.
---
The "Holy Land," as some call it, is where it all started. The forest of Wake County was Wake Forest's home for 122 years until the College moved 110 miles west in 1956. Now housing the Southeastern Baptist Theological Seminary, the campus in the town of Wake Forest appears much as it did in the 1950s. Look for the WFC insignia in the former Wait Hall and the Wake Forest seal on Binkley Chapel. Stop by the original Groves Stadium, where Peahead Walker ruled the sidelines, and Gore Gym, where the late Murray Greason ('26,  P '59) coached and Dickie Hemric ('55) played. Sit a spell under the Old Well and remember legendary teachers: Billy Poteat, A.C. Reid, Skinny Pearson, E.E. Folk Jr., Jasper Memory, Benjamin Sledd. Visit the Calvin Jones House, where Samuel Wait and later students lived, and the Wake Forest Historical Museum. Stroll the brick walkways lined with magnolias, past familiar brick buildings (you will recognize their names), and imagine what it must have been like to be a student here. You'll feel right at home.
---
Children, pumpkins and candy, oh my! Project Pumpkin has been helping thousands of underprivileged kids in the Winston-Salem community have a safe and rewarding trick-or-treating experience since 1988. Campus organizations set up booths on the Quad to entertain wee ghosts and goblins with games and hilarious costumes. You know the event is a success when the laughter of children fills the air.
---
Over 60 percent of undergraduates study abroad.

There are more than 400 study program opportunities, three residential study centers (Venice, London and Vienna) and a learning center in Nicaragua called Casa Dingledine. Wake Forest's base is Winston-Salem, but its reach extends to more than 70 countries across the planet. Acting locally? Acting globally? Both.
---
With Campus Rec's myriad offerings — from fitness classes and aquatics to intramural and club sports — there's something to get even the most dedicated couch potato moving. And for some leisurely weekend pursuits, how about a little skydiving or whitewater rafting?
---
From Starbucks to the new Writing Center to the sun-splashed atrium, the Z. Smith Reynolds Library has become the center of campus life. Two years ago, the library won a national award for excellence. With events like Capture the Flag, Humans vs. Zombies and Wake the Library, it's the coolest place on campus. But if you still want that old-world library feel, nothing beats the Rare Books Room (officially the Special Collections Reading Room). With a 1502 edition of Dante's "Divine Comedy" and an Ethiopian Bible from the late 18th or early 19th century, to first editions of "Pride and Prejudice" (1813) and "Charlotte's Web" (1952), to Samuel Wait's walking stick and reading glasses and George Pennell's (1914) collection of circus memorabilia, the Rare Books Room boasts treasures and itself is one.
---
Musicians have inspired Wake Foresters to sway, shag and pogo even when dancing was verboten. Campus headliners through the years include:


The Lettermen, Dave Matthews, Peter, Paul & Mary, Al Hirt, The Drifters, The Four Seasons, Dionne Warwick, Carlos Montoya, Widespread Panic, Pat Benatar, The Fifth Dimension, Duke Ellington, Chuck Berry, Fleetwood Mac, The Spinners, The Temptations, Ben Folds, Stray Cats, Indigo Girls, Blues Traveler, The Rascals, The Four Tops, Nitty Gritty Dirt Band, Richie Havens, Graham Nash, Randy Newman, Preservation Hall Jazz Band, Jurassic 5, Bruce Hornsby, Jason Mraz, Ben Harper, The Association, Harry Chapin, Skip Castro, Pure Prairie League, Sara Bareilles, Southside Johnny & The Asbury Jukes, Toad The Wet Sprocket
---
The undergraduate experience leaves many of us wanting more time at Wake Forest. The University has it covered: the Graduate School of Arts and Sciences; the Schools of Business; the School of Law; the School of Divinity; or the School of Medicine. Take your pick and keep on living the good life.
---
Imagine a time when most of the faculty and administrators lived in the same neighborhood, tucked in beside the College. When Wake Forest moved to Winston-Salem in 1956, faculty tried to recreate what they had left in the town of Wake Forest. Many put down roots along the old wagon road in the woods and hayfields of the Reynolda Estate and set about building a sense of community.
The Faculty Drive neighborhood later grew to include Royall Drive, Poteat and Sledd Courts and Timberlake Lane, all named for professors on the Old Campus. Some faculty live there now, although relatively fewer than the old days, but the neighborhood retains its charm and sense of history. Houses are still referred to by the name of the original owners. Faculty Drive and neighboring streets remain a place where students enjoy a home-cooked meal at their professor's house.
---
Back in the mid-1970s, you didn't always go to Groves Stadium to watch football games. You went to watch the dancing, prancing, cheering, head-spinning Jeff Dobbs ('77). He fired up the home crowd with his famous head roll, defying human anatomy by spinning his head round and round. He knew how to make an entrance, too, once arriving in a helicopter, another time atop the Staley's Bull. Thirty-five years later, Dobbs can still bust a move, as he showed at Homecoming last year.
---
Few places are more beautiful than the 1828 palazzo on the Grand Canal in Venice with the Pro Humanitate seal above its waterside door. Students fortunate to call 699 Dorsoduro home for a semester keep Casa Artom and Venice in their hearts.

The University leased the former American Consulate in 1971 with help of then-U.S. Ambassador to Italy Graham Martin ('32, LL.D '69), who later became famous for being the last ambassador to South Vietnam. After buying the house for $250,000 from the U.S. government in 1974, the University named it for the late Dr. Camillo Artom, an Italian biochemist who fled Italy in the 1930s and joined the School of Medicine faculty. His wife, Bianca, who served as the house's summer director, taught Italian on the Reynolda Campus.
---
This Norman Revival country house, built in the 1920s for the Gray family, has a storied history. After its use as a home, for a time it housed a psychiatric hospital and, after it was donated to the University in 1972, saw its share of student revelry. Seven thousand people attending a concert on the grounds in 1980 witnessed Graylyn's worst moment. The house caught fire. Its third floor burned. But Graylyn meant too much to disappear. Rebuilt, Graylyn functions as a University conference center, the splendor of its Persian card room and indoor swimming pool intact. The estate remains a favorite spot — for Easter egg hunts, jogs through the grounds and dog walking on lazy Sunday afternoons.
---
It's not as though we long to escape traffic jams, blaring horns, or the stressful bustle of the big city. Winston-Salem lacks all of the above. But when the air is crisp, the trails, the woods and the "Great Guide" beckon. "Jomeokee," or "Great Guide," was the name the Saura Indians gave to Pilot Mountain. Atop the Little Pinnacle, look around. You can see the mountains of North Carolina and Virginia. Nearby, another day-tripping destination and rappellers' delight, Hanging Rock State Park, claims the statewide title of 2012 Park of the Year. A carload of friends, sturdy hiking boots and a picnic — that's the list for an excursion to toast a Sauratown sunset. The question every time: Who will claim the best seat on the rocks?
---
Despite what popular movies suggest, students don't need to be affiliated with a sorority or fraternity to get the most out of their college days. While they don't wear Greek letters, the independent students are the majority at Wake Forest, making their impact through athletics, academics, service projects and myriad on-campus organizations. Instead of a lounge, their second home is on the field, in a classroom or in ZSR. And do they ever wear Wake Forest gear proudly!
---
---
---
Thanks also to contributors Katie Mahone ('13), Clare Rizer ('13) and those of you who answered our call for ideas on Facebook.
Did we leave out one of your favorites?
Email us or join the conversation on Facebook.
---