By Kerry M. King ('85), Carol L. Hanner, Maria Henson ('82), Katherine Laws ('20) and Michael Breedlove
__________________________  
'The Book' at Casa Artom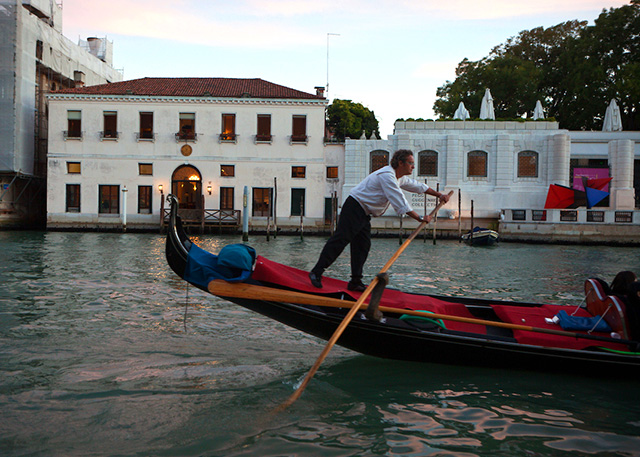 If you ever visit Dorsoduro 699 on the Grand Canal in Venice, be sure to savor the memories of Wake Foresters who've called Casa Artom home and share your own reflections in "the book" on the small table in the salotto, the upstairs parlor. The book (eight volumes now) started simply enough as a registry of students, professors and guests. (Actor Tony Curtis visited in 1976 and included a hand-drawn self-portrait along with his signature in the book.)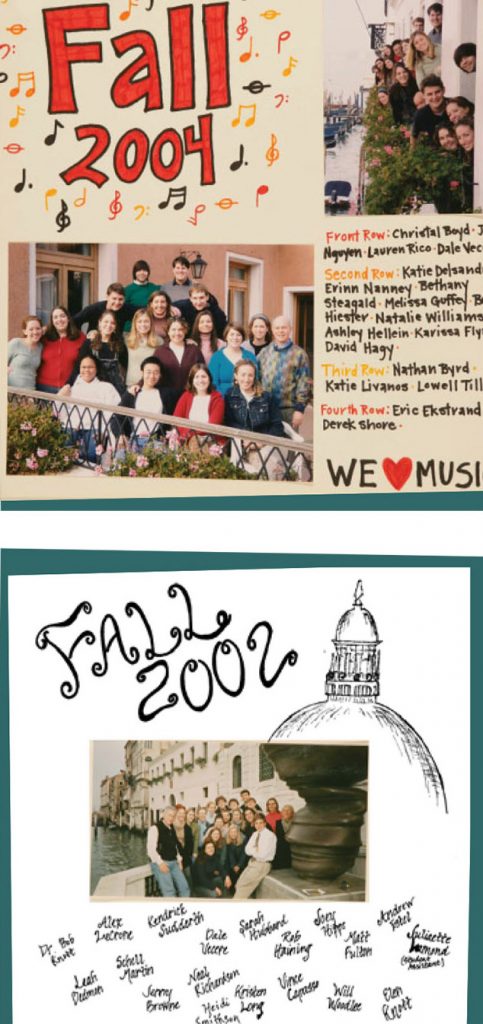 It soon became a book of memories (and photos) and advice written by students, usually on their last day in the house, as they're feeling a bit melancholy and sentimental, as friends leave and they await their own departure on the water taxi. "Only four short months ago, I sat here on this same couch looking out onto the Grand Canal, reading all the advice of former Casa Artom students," one student wrote. "Now it's my turn to write, to say final words of wisdom to future students."
Students who've spent a semester at the other University properties abroad surely share many of the same memories of changed lives, friendships made and adventures throughout Europe. But the book has become part of the fabric of Casa Artom, connecting one group of students to the next.
"I know in my heart that I will return to Venice," one student wrote. And many do return as alumni to the bella città, often with spouses and children in tow. They visit Casa Artom, find where they signed the book years before and sign once again: "It's even more amazing than I remember!"
"Grazie Mille, Venezia!"
__________________________  
What's in a Motto?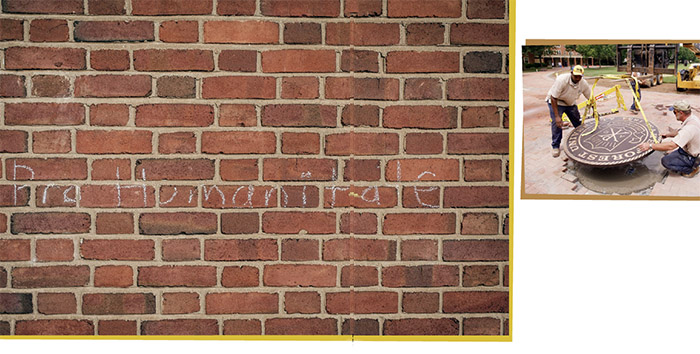 If the motto is Pro Humanitate at Wake Forest, the answer is all encompassing. Retired Associate Professor of Classical Languages James Powell wrote the oft-quoted, seminal piece about the motto by saying it is regularly translated as "For Humanity" and most often discussed as what we do for the people of the world. That's fine, he said, but there's more to it. Relying on how ancient Romans did not view "humanitas" in the collective sense, he said the word meant kindness, and it also pointed to human cultivation and learning. "Pro Humanitate calls us to consider what we are as human beings and what constitutes genuine human flourishing," he wrote. He suggested that the more common interpretation and the ancient one can be linked: "…when we as a University are truly doing our particular work of reflecting on humanness in all its richness and complexity then we are truly serving humanity."
__________________________  
Journalism's Revolutionary
If you want to discuss a Wake Forester who broke the rules, be quick to name Harold T.P. Hayes ('48, P '79, '91, L.H.D. '89).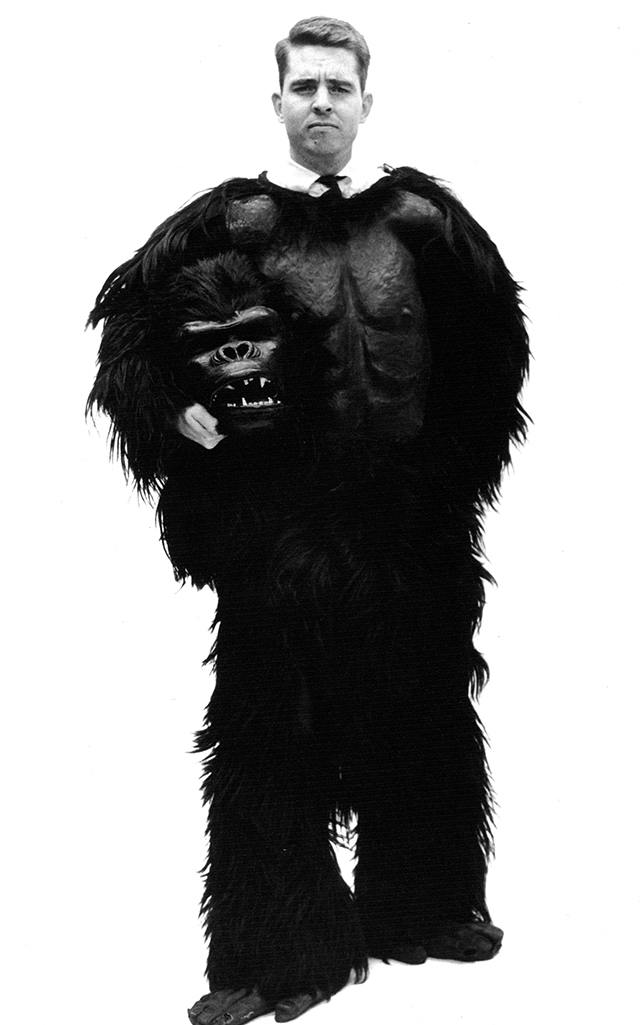 Within a decade after editing The Student literary magazine at Wake Forest, he was working at Esquire. By mid-1961 he was managing editor and by 1963 editor, ushering in the new journalism of the 1960s with writing and covers that shook up the industry. (Boxing great Sonny Liston as a black Santa Claus in December 1963 caused a national stir.) Contributors penned must-read pieces of the era: James Baldwin, Nora Ephron, Gay Talese, Susan Sontag, Norman Mailer, Saul Bellow and Tom Wolfe.
"Hayes' Esquire would identify, analyze, and define the new decade's violent energies, ideas, morals, and conflicts — though always with an ironic and, occasionally, sardonic detachment that kept the magazine cool as the 60s grew increasingly hot," Frank DiGiacomo wrote in Vanity Fair in 2006. With "literary and visual firepower" under Hayes' leadership, Esquire became "the great American magazine of the 1960s," he wrote, "if not the great American magazine of the 20th century."
__________________________  
A Baffling Labyrinth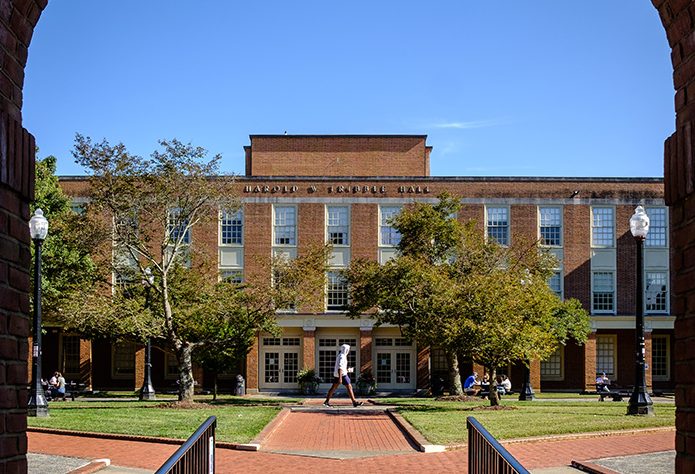 From the day it opened in 1963 as what some called a poorly designed split-level, Tribble Hall has been a baffling labyrinth to generations of students (not to mention faculty) who've gotten lost in its tangled web of confounding levels and A-B-C wings (or was it C-A-B?).
It's had its share of mysteries, too. During the Cold War, it housed a secret U.S. Navy doomsday bunker. During the mid-1960s, pranksters snuck a Volkswagen Beetle into the lobby. Professors once found a dead deer on the roof, the remains of a forgotten anthropology project.
And then there was what one critic called "the bizarre conning tower on a brick battleship" on the roof. The Old Gold & Black suggested that the submarine-like tower (actually a mechanical space) was the final resting place for campus architect Jens Larson so that he could watch over his greatest creation (the campus, not the building) for all eternity. But for all its oddities, Tribble has also been home for many of our favorite professors, even if we never could find their offices.
__________________________  
"Brian's Song" – Must-See TV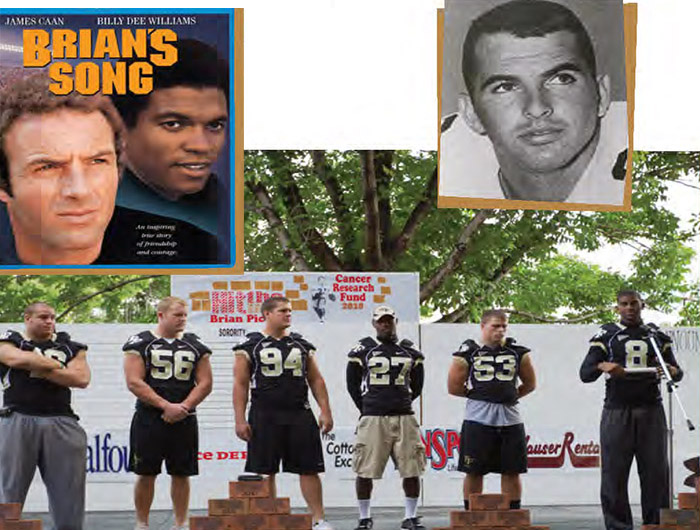 "I'd like to say a few words about a guy I know, a friend of mine. His name is Brian Piccolo, and he has the heart of a giant and a rare form of courage which allows him to kid himself and his opponent: cancer. He has a mental attitude which makes me proud to have a friend who spells out courage 24 hours a day every day of his life. And you flatter me by giving me this award, but I say to you here and now Brian Piccolo is the man of courage who should receive the George S. Halas Award. It's mine tonight and Brian Piccolo's tomorrow. I love Brian Piccolo, and I'd like all of you to love him, too. And tonight, hit your knees. Please ask God to love him."
There's no way any Deac can manage to keep a dry eye when actor Billy Dee Williams playing football great Gale Sayers gives that acceptance speech for a football award in the classic 1971 TV movie "Brian's Song." James Caan played Piccolo ('65, P '87, '89), Wake Forest's most famous football player. Piccolo battled cancer as a running back for the Chicago Bears.
The movie about the Sayers-Piccolo interracial friendship and Piccolo's courage is a staple for Wake Foresters and never fails to choke up viewers. "It is unclear why — or even if — men had tear ducts prior to 1971," wrote Steve Rushin in Sports Illustrated in 2011. Opening the floodgates for men, he said, the movie joined "pepper spray and kidney stones on the very short list of things guaranteed to induce tears."
Piccolo died in 1970 at age 26, but he continues to inspire generations of Deacs to raise money for cancer research through traditions that honor Piccolo and all loved ones facing cancer. Sayers died of dementia in September 2020.
__________________________  
Flaunt Those Colors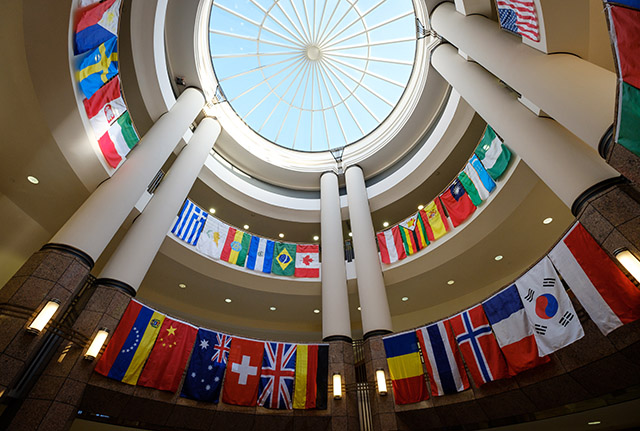 Walk through the door of Benson University Center and look up. Behold the colorful flags of the world, each representing the country of an undergraduate, each a true global Deac. Last year, Benson showcased the most flags so far — 49 — ranging from Canada and China to Iceland and Botswana. Leigh Myers (P '15, '19, '22), manager of campus programs & services, says the custom of hanging flags from the fourth- and fifth-floor balconies (and occasionally the columns) began in the 2017-2018 school year. "I have to re-identify the flags every year" and order ones not on hand to reflect a new country for an incoming student, she says. The best days have been when she sees international students' families stop to take photos. "That," she says, "warms my heart."
__________________________  
SOTOGAB: Wake Forest's Biggest Fans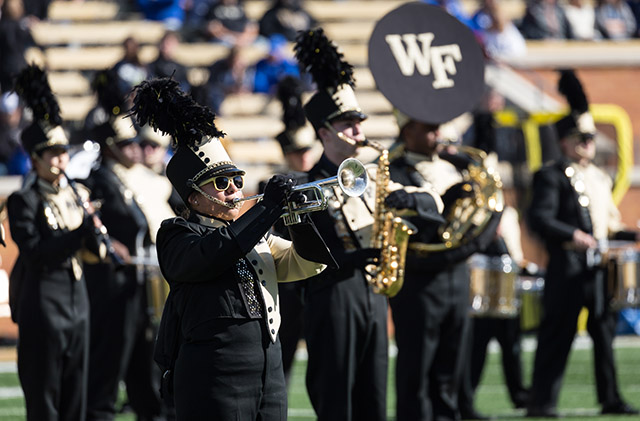 Pride. Excellence. Tradition. Passion. Marching band director Tim Heath says it's what makes The Spirit of the Old Gold and Black (SOTOGAB) special, with passion being the key ingredient.
As the oldest college marching band in North Carolina, SOTOGAB has been the heart and soul of Wake Forest's cheering section since 1927. These days it's hard to imagine gameday without it — the crack of a snare drum, the call of a trumpet, the battle cry of "GO DEACS" during the Fight Song. Just try to make it through the band's drumstick-rolling, cymbal-sizzling, quick and spirited cadence without tapping your foot and shouting, "How 'Bout Them Deacs!" We dare you.
__________________________  
Fabulous Faculty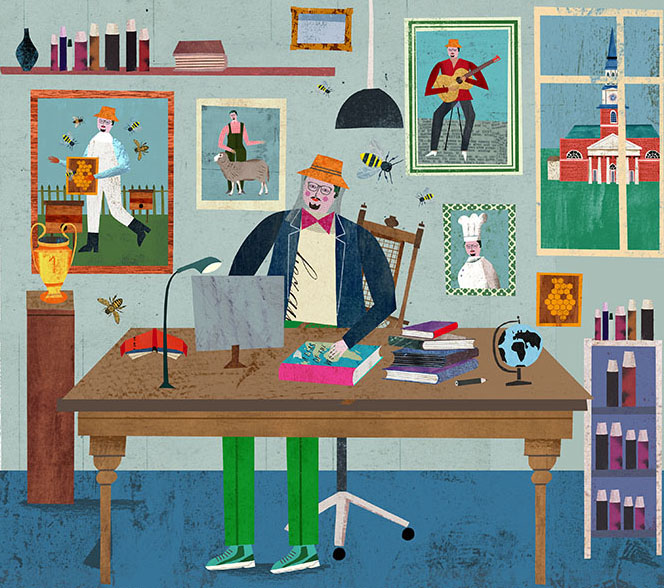 Hundreds of faculty members enrich students' lives by teaching an eye-popping array of courses that range from "People and Cultures of the World" to "Managing in a Global Context" to "Codes and Cryptography" to "Myth, Ritual and Symbolism" to "The Physics of Music" to "Moral Dilemmas in International Politics." The Academic Bulletin (available to view online) leaves one wishing there were lots more years at Wake Forest to keep learning from these celebrated teacher-scholars. Invitations to their office hours should not be missed. It's here you might discover your professor is also a sheep farmer, another is an apiarist who gives honey as gifts, one is a boss at crafting handmade pasta, one plays a mean banjo, and another aces trivia nights around town. For those alumni and friends who want to continue learning from fabulous faculty, they can sign up for online Lifelong Learning classes through Alumni Engagement.
__________________________  
Pro Humanitate Meets Pro Bono
"Doing good for good" is the motto of the law school's Pro Humanitate Project.
Law school students exemplify that through their work with juveniles, immigrants, those who are disabled or incarcerated and those who need help with wills, health care directives or income tax returns. Students embrace that ideal, too, through clinical work with veterans, low-income clients and various nonprofits. And through their work with the Innocence and Justice Clinic, they help investigate cases of those who claim they've been wrongly convicted.
__________________________  
A Home for Presidents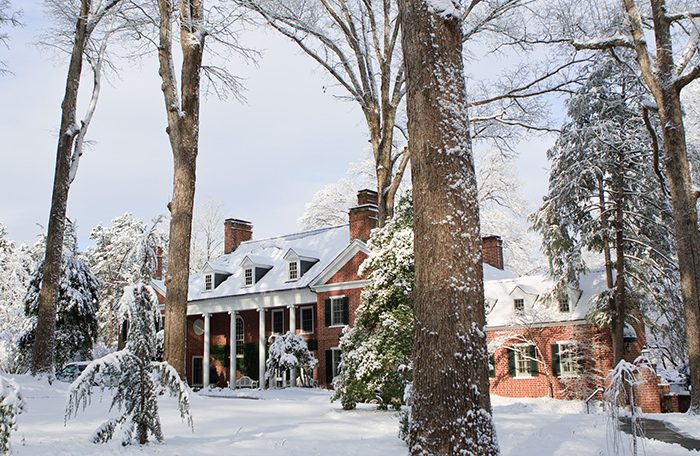 As Susan R. Wente settles into the President's Home this year, she'll be enjoying a house rich in history. The country estate was designed by noted architect Julian Peabody. The gardens were designed by Ellen Biddle Shipman, one of the country's first female landscape artists. Interior designer Sister Parish later collaborated with Jacqueline Kennedy to redecorate the White House. Local African American artisan George Black handcrafted the house's oversized bricks.
Ralph and DeWitt Hanes moved into their new home on Oct. 29, 1929, a date more notable for the stock market crash that set off the Great Depression. The house was donated to the University in 1988 and became the presidential residence. Shortly after President Nathan O. Hatch and his wife, Julie, moved into the house in 2005, a four-car garage was renovated into a comfortable meeting place for students.
Guests likely won't see one of the home's most unusual features. A concealed trap door leads down a spiral staircase to the basement, where a large safe hid the Hanes family's silver. The Hanes' children stored their electric train set in the attic, and decades later in an echo from the past, President Hatch did the same with his train set for his grandchildren.
__________________________  
A Strong Start with Deacon Olympics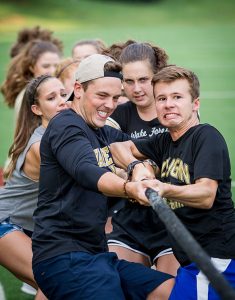 The name of this game is taking on the greatest athletes most incoming students will likely ever face — the best Division 1 student-athletes, faculty and staff that Wake Forest has to offer! As part of orientation and originally called Pros vs. Joes, the Deacon Olympics (renamed in 2018) sets up epic contests for first-year students to out-shoot, out-chip, out-kick and out-dodge the campus pros and each other. (The high dive/cannonball splash has been one of the most popular events.) They meet new people, learn the environment, win prizes and prove every Deacon is a competitor at heart.
__________________________  
Campus Caretakers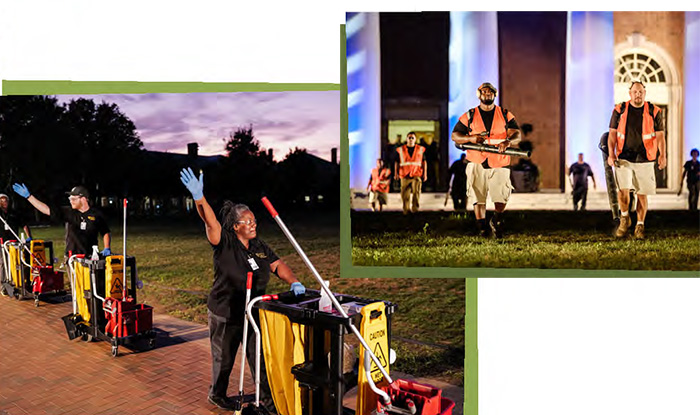 We owe Facilities & Campus Services big-time for our landscape beauty, dorm cleanliness and quick responses to plumbing disasters or lost keys. We saw employees' skills, commitment and big equipment come into glorious focus in "From the Ground Up," a large-scale performance on the Quad in 2019 directed by another favorite — choreographer Allison Orr ('93), who turned cranes and lawn mowers into balletic performers. We learned the parental care that custodial staff take in keeping students safe and comfortable. We heard the pride and joy that landscapers have in our stately trees and garden atmosphere on campus. And we saw the carpenters, plumbers and electricians who build and maintain the equivalent of a small city.
__________________________  
Shag on the Mag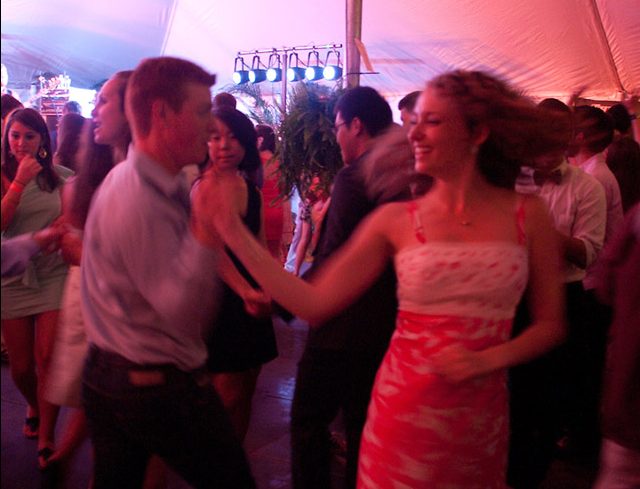 Sam Cooke sings about "twistin' the night away," and Shag on the Mag is a night to put on your springtime best and do just that. A tide of beach music breaks across campus as The Embers take the stage on Mag Quad. Skirts swing, ties loosen and dancing shoes twist under a tent strung with shimmering lights. The official state dance of South Carolina and the official state popular dance of North Carolina, the shag has been called the jitterbug slowed down. Made famous in both states' coastal towns, the shag inspires Wake Forest students to create their own footwork and spins.
When he was leading the Student Union, Joseph Bumgarner ('06) enlisted his buddy Patrick Brennan ('06) to help plan the first Shag on the Mag to unite the campus. After more than 15 years, this traditional capstone to Springfest still delivers. And as the Chairmen of the Board sing, "The Shag is here to stay."
____________________________  
MORE WAKE FOREST MISCELLANY
The Magnolia Room   |   Stephen Colbert's Commencement   |   Wake Downtown   |   Party So Dear   |   The Lilting Banshees   |  Arnold Palmer   |   'Freshmanland'   |   Secrest Artist Series   |   Reynolda estate   |   The original campus   |   Maya Angelou   |   Student art-buying trip   |   Hit the Bricks   |   On-campus coffee  |   'The Hill' at Spry Soccer Stadium   |   President's Ball
---
Campus ironwork   |   Project Pumpkin   |   Humans vs. Zombies   |   Farrell Hall   |   'For the pandemic record books'   |   Celebrity singles   |   Ed Wilson   |   Winston-Salem traditions   |   Reynolds Gym reborn    |   ZSR Special Collections   |   Sportscaster alumni   |   Graylyn   |   Paper airplanes   |   Sea Turtle Rescue & Rehabilitation Center
---
The Joel   |   The  Carillon   |   Hidden Trails   |   Chris Paul shoe collection   |   Deacon Camp   |   Moravian Lovefeast   |   Pitsgiving   |   Farrell Hall entrance   |   'Doggie Deacons'   |   Deacon Hill   |    Disco parties in the Afro-American Society Lounge   |   A.R. Ammons   |   Wait Chapel   |   Autumn