Kerry M. King ('85), Carol L. Hanner, Maria Henson ('82), Katherine Laws ('20) and Michael Breedlove
__________________________  
Deacs in 'The Joel'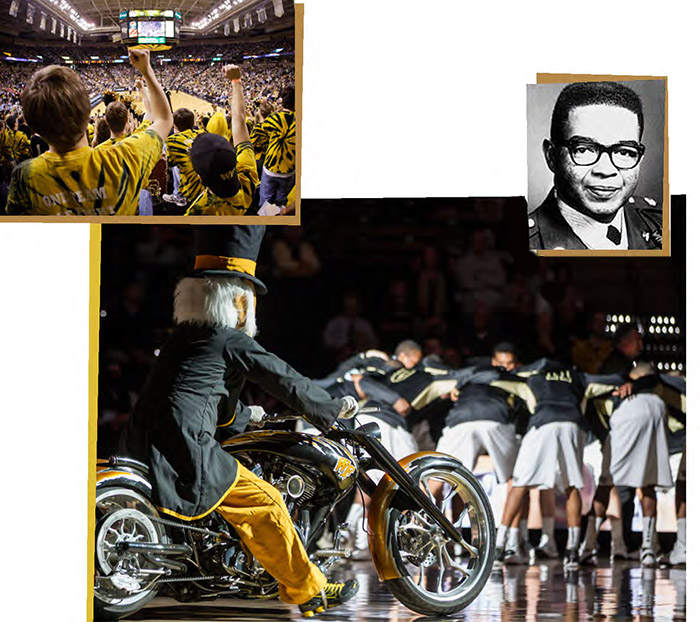 The Deacon roaring in on his motorcycle. The squeak of sneakers on the court. Rainy day Commencements. Rockin' concerts from Elton John to Lil Wayne to Alan Jackson. Those are memories of Lawrence Joel Veterans Memorial Coliseum, home court for 500 wins by the men's and women's basketball teams since it opened in 1989 to replace the Winston-Salem Coliseum.
In 2013, the University bought the 14,665-seat arena, the only Power Five conference basketball arena named for a Black person. It pays homage to all veterans and its namesake, a U.S. Army medic from Winston-Salem who received the highest combat award, the Medal of Honor. Joel, a veteran of the Korean and Vietnam wars, was shot twice in the leg in a 1965 battle north of Saigon. He crawled for 24 hours under fire to give aid to his comrades and save the lives of 13 men. He died in 1984 at age 55.
__________________________  
A Familiar Ring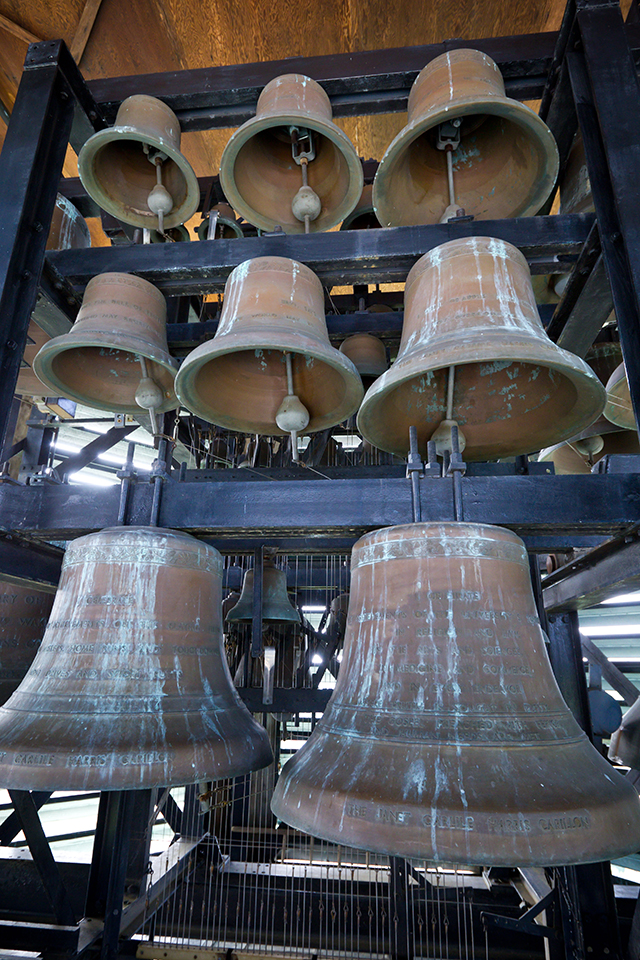 It's the defining sound of Wake Forest — the simple, memorable chime of the Harris Carillon. The bells ring out weekdays at 5 p.m. from atop Wait Chapel, audible for nearly 5 square miles. A 15-minute mini-concert ensues, with songs ranging from Beethoven to the Beatles to Beyoncé. (We're pretty sure we heard the "Game of Thrones" theme at least once.)
Installed in 1978, the 12-ton instrument features 48 bronze bells that range from 28 to 4,400 pounds. While there are said to be more than 100 carillons in the United States, our carillon (officially the Janet Jeffrey Carlile Harris Carillon) is one of the few still operated manually. This means that a carillonneur (usually a student) is up in the tower playing each note, creating a one-of-a-kind soundtrack for the campus folk below.
__________________________  
'Hidden' Trails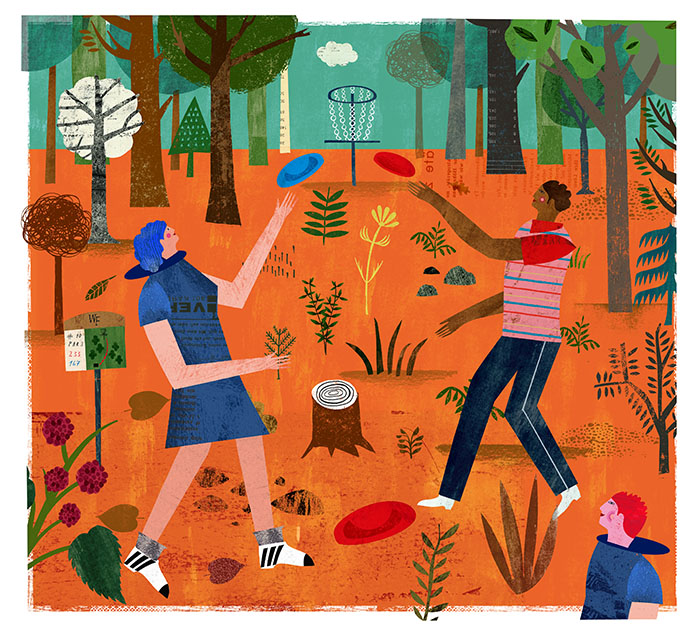 Love the outdoors? Then you'll love Wake Forest, where outdoor pursuits are aplenty across its 340 acres. While central campus regularly hums with activity, it's the edges of campus that offer escapes. On the north end, a series of cross-country trails, ranging from 1.2 to 3 miles, loop beneath a canopy of hardwoods. The trails, which start around The Barn, are groomed for walkers but ideal for runners, with elevation changes, color-coded markers and QR codes linking to interactive maps.
On the opposite end of campus sits another amenity: an 18-hole disc golf course. Established in 2015, the course features metal tee box markers displaying the layout and distance at the start of each hole. The front nine holes begin behind Martin Residence Hall and snake through the woods en route to Davis Field. The back nine run parallel to the Reynolda walking trail, twisting through the woods before ending at the Lake Katharine waterfall, named for Katharine Smith Reynolds. Screened from civilization by a blanket of trees, it's easy to forget that central campus is just a disc throw away.
__________________________  
It's The Shoes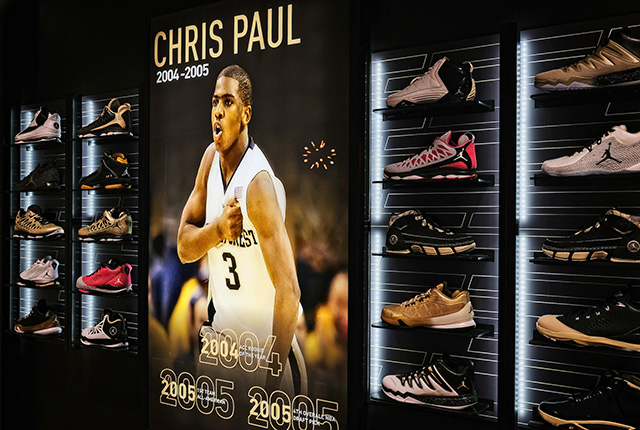 Look closer at Chris Paul's Jordan CP3 shoes in a display in the Shah Basketball Complex. Each custom shoe tells a part of his life story. Many have details honoring people or things close to his heart: "Wake Forest," "Skip Prosser," "61XTY" ("61" for his grandfather who was killed at the age of 61) and "336" (the Winston-Salem area code). His Wake Forest superlatives are printed on a pair of old gold and black shoes with tie-dyed laces, the same type worn by the men's basketball team when Paul's No. 3 jersey was retired in 2013.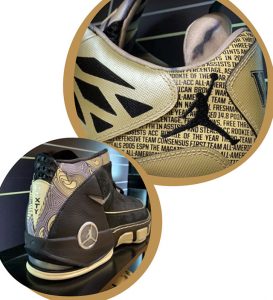 For all his success — ACC Freshman of the Year, NCAA All-American, 4th overall pick in the draft, NBA Rookie of the Year, 11 time NBA All-Star, Olympic gold medalist and president of the National Basketball Players Association — Paul ('07) still wears the old gold and black proudly, on and off the court. And he still makes us Proud to be a Deacon.
__________________________  
Deacon Camp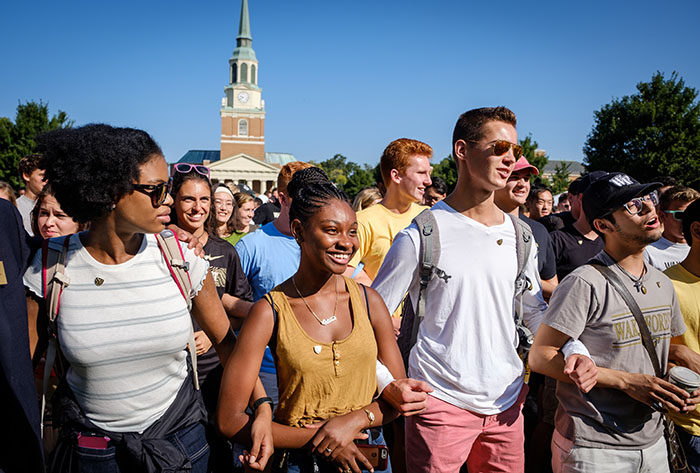 A tour of the original campus, scavenger hunts, lip sync battles and a view from the top of Wait Chapel. These are just a few memorable moments for Deacon Campers, who arrive the week before the official move-in and orientation times to learn the compelling stories of Mother, So Dear. Deacon Camp, alongside other optional, pre-orientation camps, continues to grow in popularity not only for its legendary itinerary, but also for the new friendships between first-year students and upperclassmen who become mentors helping smooth the transition to college life.
__________________________  
The Moravian Candlemaker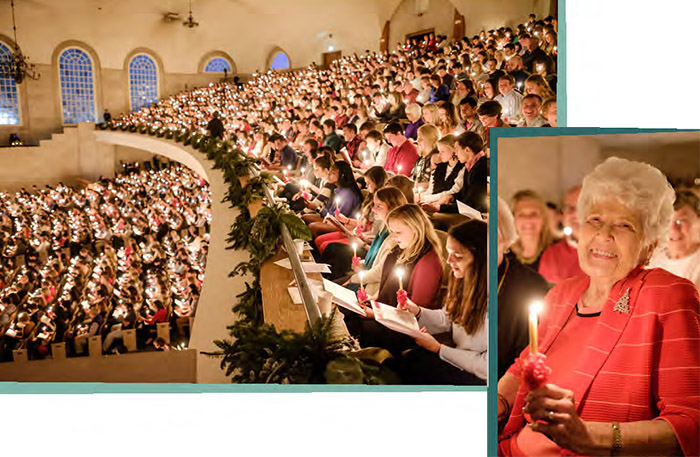 There is perhaps no more beautiful sight at Wake Forest: A dark Wait Chapel slowly brightens as 2,000 people pass the light of beeswax candles from person to person during the annual Moravian Lovefeast. The December tradition is a sacred gathering that features Christmas hymns, prayer and messages of hope in the dark winter. Every year, for decades, Mary Dull — widow of a Wake Forest graduate and grandmother to two others — helped make thousands of the traditional Moravian candles, trimmed with red crepe paper, for the Lovefeast. "Visualize (Wait Chapel) full of people, full of candles that are burning, and they've dimmed the lights; it's really wonderful," she once recalled with unbridled joy about the warm glow that spreads throughout Wait Chapel. "I get chills." We do, too, Mary.
__________________________  
Pitsgiving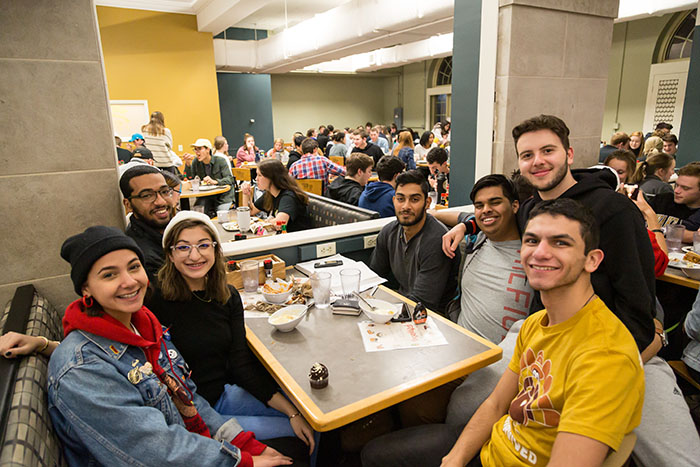 Before students return home for the Thanksgiving holiday, they head to the Pit with their friends to get a taste of what's to come. Pumpkin pies, turkey, sweet potato casserole, green beans, mac 'n' cheese, cranberry sauce. Some Pitsgiving fans are so dedicated they share a Google doc with their friends for shifts to claim a table for lunch and dinner. They know it's worth it.
__________________________  
'Proceed without Fear'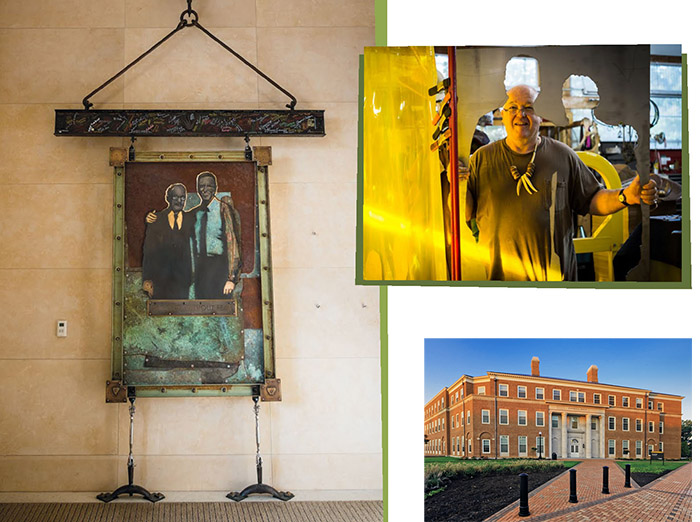 A quiet spot to discover an immigrant's success story, inspiration to press onward and a grand metallic sculpture is in Farrell Hall's entrance closest to Poteat Field. You will see the metal art created by North Carolina craftsman Dempsy Calhoun (top right) to honor the vision and generosity of Michael A. J. Farrell (P '10, LL.D. '13) and Mary Flynn Farrell (P '10). Amid turbulent U.S. economic waters still churning from the 2008 recession, the Farrells pledged $10 million because they believed in Wake Forest and a new building for business education.
"The Empire State Building, the Rockefeller Center — these things were built during the Depression when people didn't think they were achievable," Mike Farrell said. "When people are confused and scared and concerned about direction, you need to send a strong message that we can't stop thinking about the future."
Mike Farrell gave the donation to honor his late father, Michael John Farrell, an Irish immigrant who caulked skyscrapers, painted subway cars and worked as a janitor. You can see the image of father and son side by side in the sculptural portrait. Farrell, a trustee, died in 2012 of lung cancer, unable to see the November 2013 grand opening and dedication of the building named for his father. Trustee Mary Farrell said, "Although my husband, Mike, may not be here with us today, I like to think he is watching us, smiling."
__________________________  
Doggie Deacons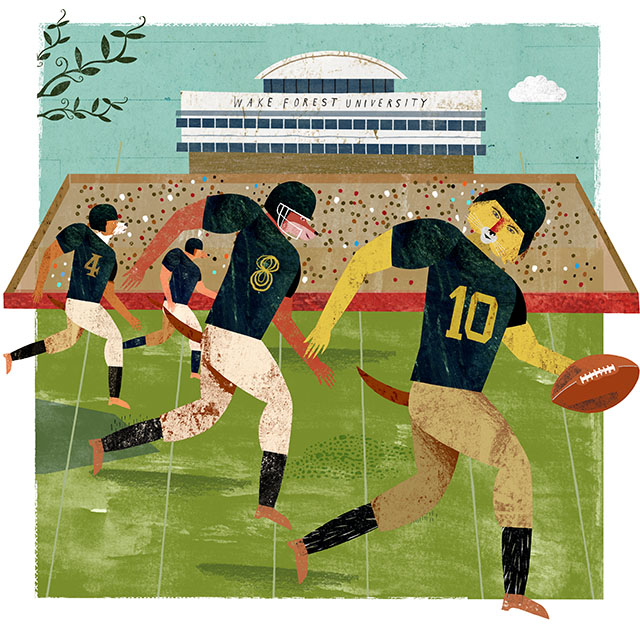 Deacon, Arnie, Palmer, Duncan, Skip, Prosser, Muggsy. With a nod to Wake Forest athletic history, we love our dogs as much as we love our Demon Deacons. Not to be overlooked are the cats (and at least one deceased hamster) with Wake Forest names. They don't get the same Insta press as the Deacon dogs, but the cats are out there, just hiding under the sofa or lurking nearby.
__________________________  
Deacon Hill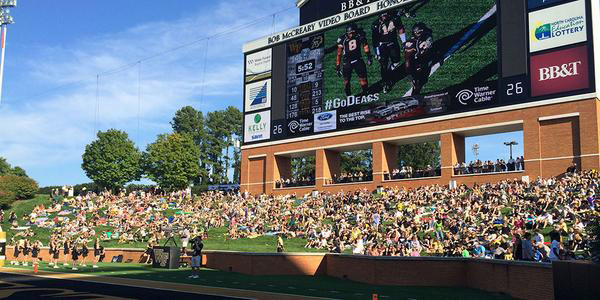 For many kids in Winston-Salem, their love for the Deacs starts on Deacon Hill — the sloping, grassy field bordering the southeast end zone at Truist Field. Stop by on Saturdays in the fall, and you'll see families spread out on blankets, youngsters playing freeze tag, teens tossing Nerf balls — not to mention, you'll likely see some good football.
Deacon Hill has been part of the gameday experience for decades, since the venue opened as Groves Stadium in 1968. It's remained virtually unchanged over the years, even as its surroundings expanded and evolved. Now sitting in the shadow of the Bob McCreary Video Board Honoring the Class of 1961, the hill remains as family-friendly a setting as you'll find in college sports.
__________________________  
Disco Parties in the Afro-American Society Lounge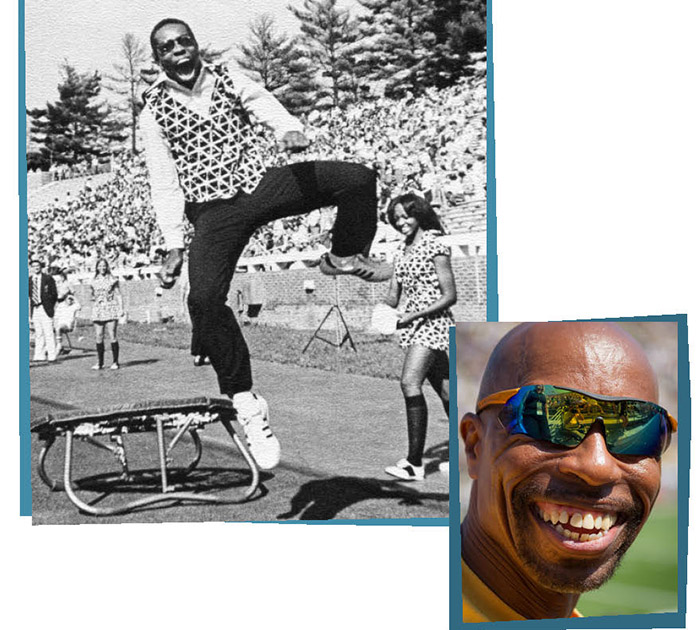 The Afro-American Society, formed in 1969 by Howard "Jan" Stanback ('69) and Freeman Mark ('71), had serious purpose — supporting Black students and advocating for Black studies, faculty and equity issues in a time of civil rights activism. But the group celebrated culture and had fun, too. Jeff Dobbs ('77), famous for his dance moves at games and his polka-dotted gold and black shirt, recalls record-playing and dancing in the society's lounge in Kitchin. "Weekends were party time. We had a big light box that was like a disco light, and we would pull that out of the closet." (Dobbs, a dance teacher and choreographer in New York City, still has that shirt and wore it most recently to a '70s party!) The society evolved into the Black Student Union, then today's Black Student Alliance, which returned in 2019 to Kitchin after seeking lounge space lost years earlier.
__________________________  
A Name to Know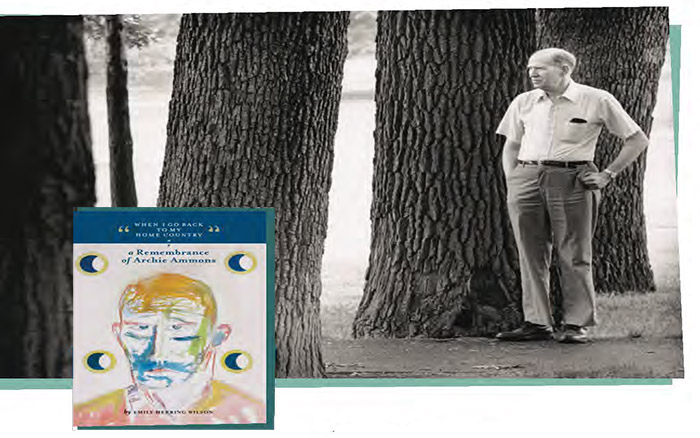 English majors eventually find their way in Tribble Hall to the faculty lounge named for A.R. Ammons ('49, D.Litt. '72), where the poet's manual Underwood typewriter is on display. Shy, poor and raised on a subsistence farm in Columbus County, North Carolina, he arrived at the original campus "feeling 'lost — as usual,'" Emily Herring Wilson (MA '62, P '91, '93) has written. A half century later, "against all odds except his own genius, (he) secured a place in the highest rank of American poetry." His accolades were many: National Book Award (twice), the Library of Congress' Rebekah Johnson Bobbitt National Prize for Poetry, National Book Critics Circle Award for Poetry, a "genius grant" from the MacArthur Foundation and the Poetry Society of America's Robert Frost Medal, among others. He taught at Cornell University from 1964-1998 and died at age 75 in 2001. An obituary in The New York Times lauded his ability to "turn any topic, even a heap of garbage, into poetry."
__________________________  
Wait Chapel Serenity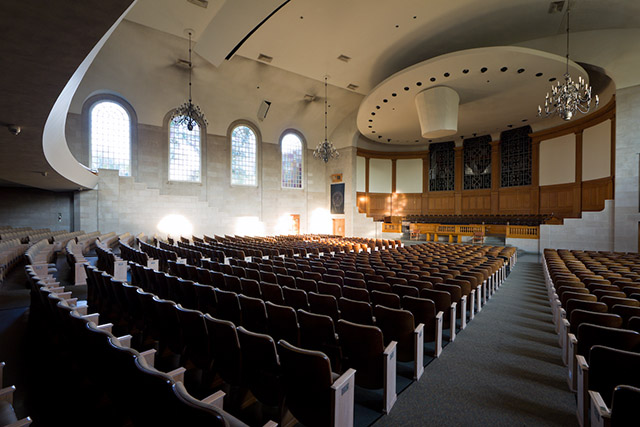 When students need a break from the hustle and bustle of college, it can be challenging to find a private spot. Wait Chapel, when it's empty, is that place to have a quiet conversation with a friend, to study or to reflect. With its stained-glass windows, intricate pipe organ and vast space, it offers solace for tired minds and souls, a refuge and reminder to be still and breathe.
__________________________  
Golden Days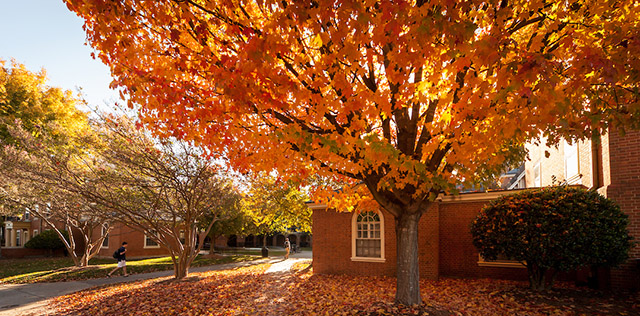 ---
Is there any campus that shines like Wake Forest in the fall? Well, no — at least not according to BestCollegeReviews.org, which ranked our fair university No. 1 in a recent article, "50 Most Beautiful Campuses in Autumn." The kudos come on the heels of a 2014 article from Best College Values that also ranked Wake Forest in the top spot, ahead of the next North Carolina school (Duke at No. 35).
---
____________________________  
MORE WAKE FOREST MISCELLANY
The Magnolia Room   |   Stephen Colbert's Commencement   |   Wake Downtown   |   Party So Dear   |   The Lilting Banshees   |  Arnold Palmer   |   'Freshmanland'   |   Secrest Artist Series   |   Reynolda estate   |   The original campus   |   Maya Angelou   |   Student art-buying trip   |   Hit the Bricks   |   On-campus coffee  |   'The Hill' at Spry Soccer Stadium   |   President's Ball
---
Campus ironwork   |   Project Pumpkin   |   Humans vs. Zombies   |   Farrell Hall   |   'For the pandemic record books'   |   Celebrity singles   |   Ed Wilson   |   Winston-Salem traditions   |   Reynolds Gym reborn    |   ZSR Special Collections   |   Sportscaster alumni   |   Graylyn   |   Paper airplanes   |   Sea Turtle Rescue & Rehabilitation Center
---
'The Book' at Casa Artom   |   Pro Humanitate   |   Journalist Harold T.P. Hayes   |   Tribble Hall   |   "Brian's Song"   |   Flags in Benson University Center   |    'Fabulous Faculty'   |   Spirit of the Old Gold & Black (SOTOGAB)   |   The President's Home  |   Law School pro bono   |   Deacon Olympics   |   Shag on the Mag   |   Campus caretakers