By Kerry M. King ('85), Carol L. Hanner, Maria Henson ('82), Katherine Laws ('20) and Michael Breedlove
__________________________  
Campus Ironwork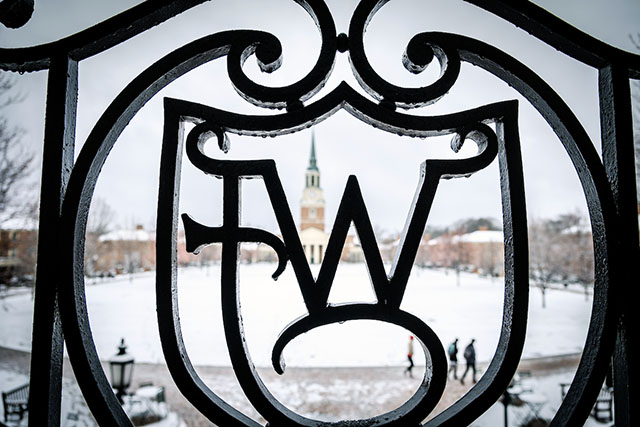 Sometimes, it's the little things that stick with you. Case in point, the intricate, graceful ironwork found throughout campus. Like many things at Wake Forest, the ironwork doesn't shout its existence. From the elegant arches that frame the Quad to the flowing "WFC" lettering around Manchester Plaza, the ironwork is both iconic and unassuming, forging its own understated charm.
__________________________  
The Great Pumpkin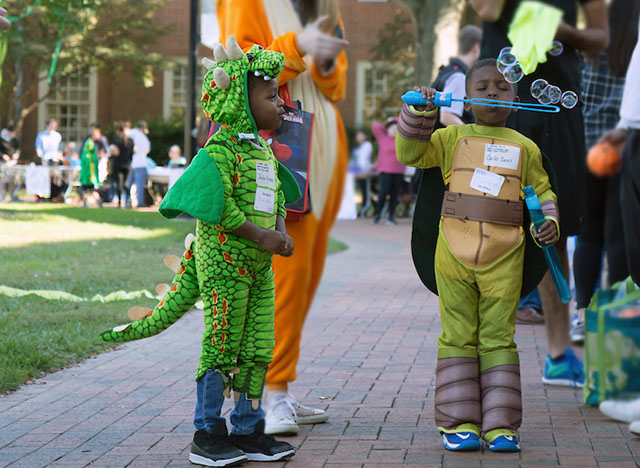 Back in 1989, Libby Bell ('93) and friends had a scary-good idea: invite underprivileged children to campus for an afternoon of fun, games and trick-or-treating on Halloween. Their classmates embraced the idea, handing out candy and running carnival games (and a too-scary haunted house that got the ax), and Project Pumpkin was born. Little did Bell know they were starting what's become a favorite campus tradition and the largest student-service project. Every fall (except during the pandemic), students don their own costumes and welcome wee witches, ghosts, pirates and superheroes to Hearn Plaza for some scary-good fun.
__________________________  
Zombie Outbreak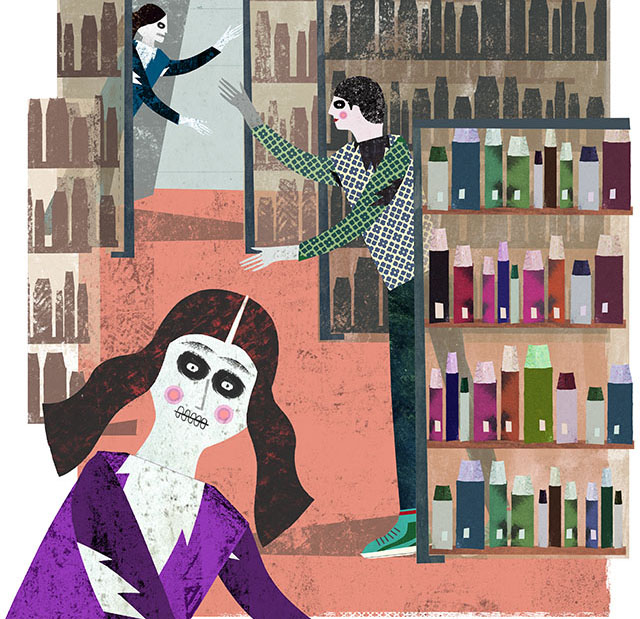 What better way for first-year arrivals to learn the lay of the land and the best study spots of Z. Smith Reynolds Library than to join hundreds of students with yellow foam golf balls chasing a handful of "zombie" student volunteers through the stacks. The library holds "Outbreak," née Humans vs. Zombies a decade ago, after 7 p.m. closing on the first Friday after classes commence in the fall, except for years with renovations or, ironically, a virus pandemic. A zombie nabbed by a foam ball must navigate the library's 170,000 square feet to return to the Atrium before its zombie powers are restored. Humans tagged by a zombie become zombies. See a pattern? The zombies always win, but the few wily humans who escape are the real champions.
__________________________  
Farrell Hall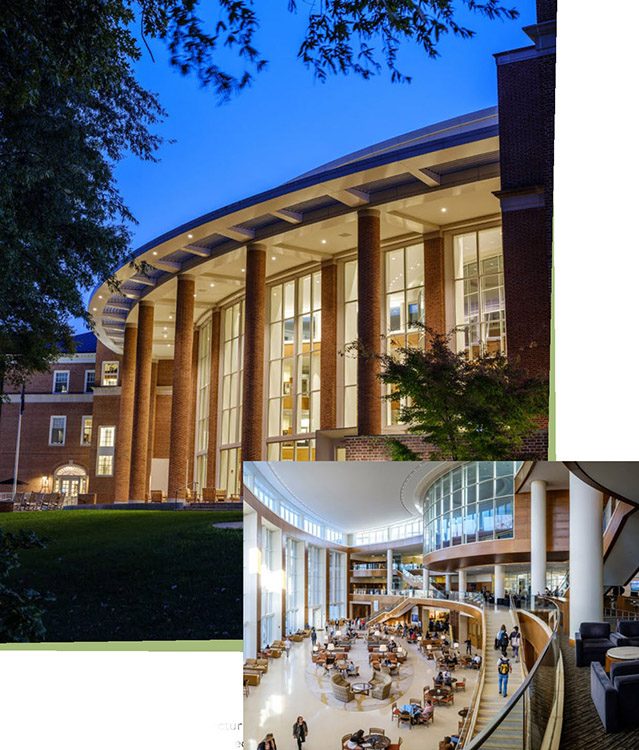 The distinctive architecture by Robert A.M. Stern Architects, the orange-toned woods and the spacious classrooms provide fertile ground for business students to work hard and succeed. Not to be missed is the Founders Living Room, with its sunlight beaming in, the comfy sofas and the coffee from Einstein Bros. Bagels to share with a friend.
__________________________  
For the Pandemic Record Books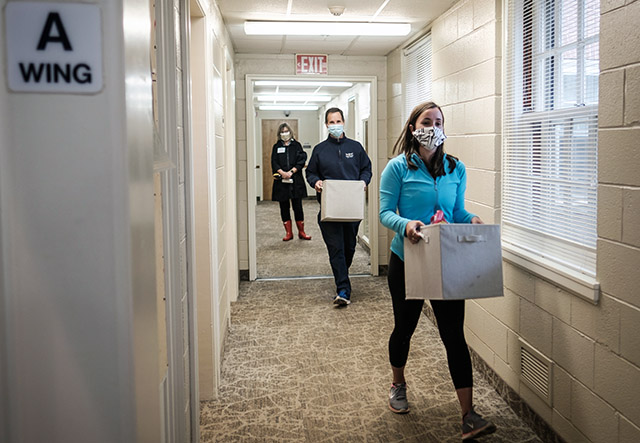 The tradition of going the extra mile for students put Wake Forest staff to the test in March 2020. As President Hatch explained earlier this year in an interview with Hilary Burns ('14) of the Boston Business Journal: "We had to move students around last spring on a moment's notice. People went home for spring break and they didn't come back. What do you do with everything that's in people's rooms? And there are two people, right? They had a process using an iPad and FaceTime to try to go through room by room to say, what belongs to whom, box it all and send it home. And in that process, they found one cat and one snake."
We are hoping the snake made the move without incident or is slithering free, far, far away from here.
__________________________  
Celebrity Singles
Deacons show up everywhere in reality — and in reality shows. Call it a guilty pleasure if you must, but who could resist Matt James ('14), this year's star of "The Bachelor"? By the finale, 8.2 million viewers tuned in. Good looks aside, James exudes Pro Humanitate. He founded a nonprofit to inspire children affected by homelessness by taking them on tours of restaurants whose owners, like James, have risen from humble origins.
Tyler Cameron ('15), his ABC Food Tours partner, best buddy and Deacon football teammate, made the final four of "The Bachelorette" with Hannah Brown in 2019. James followed him and was picked for "The Bachelorette" but instead was elevated to star of "The Bachelor." Their friendship grew to include Andi Dorfman (JD '12), "The Bachelorette" in 2014. As Coach Dave Clawson ribbed his former wide receiver: "Matt caught more passes in that one episode than he did in his entire four-year Wake Forest career." (James, for the record and not too shabby, caught 40 passes in his final season at Wake Forest before briefly going pro.)
__________________________  
A Love Song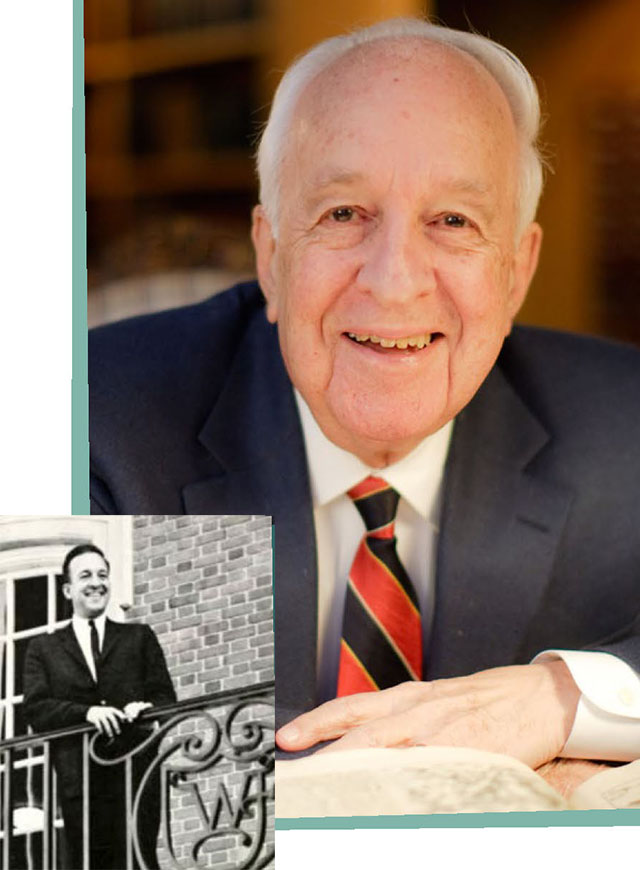 Ed Wilson ('43, P '91, '93) has been telling Wake Forest's story for decades. In his latest book, "Songs of Wake Forest," he remembers many of the Wake Foresters — classmates, professors, administrators — who devoted their lives to the University. In eloquent, poignant and, at times, wistful tributes, he remembers friends lost who embodied the essence and spirit of Wake Forest. It's his latest love song to Wake Forest.
__________________________  
Winston-Salem Traditions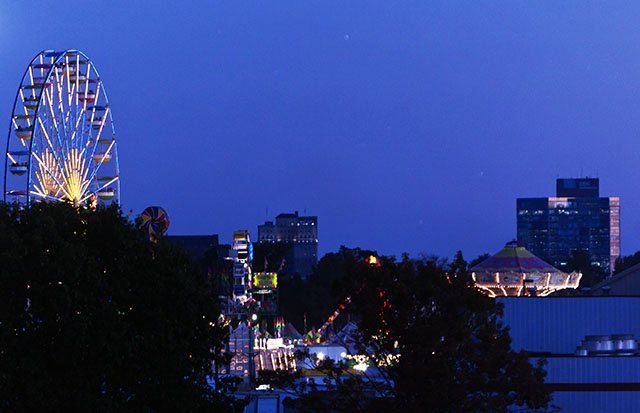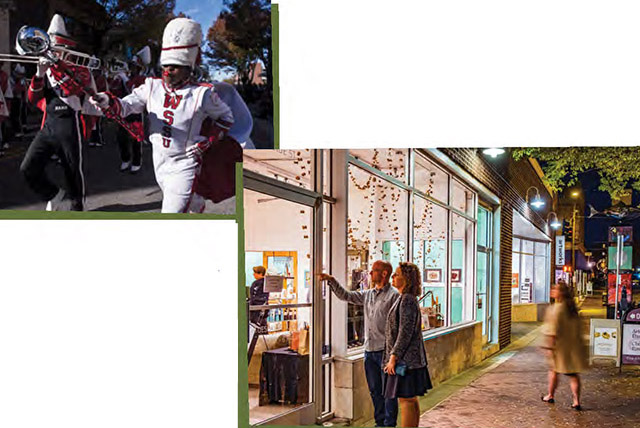 Each fall, the colorful Ferris wheel lights and the sweet, sappy smell of kettle corn beckon at the Carolina Classic Fair, formerly the Dixie Classic. In the spring, we drive to the fairgrounds with the windows down to the Annual Used Book Sale by The Shepherd Center of Greater Winston-Salem and peruse the dusty books to our delight. On weekend nights, we wander around Trade Street as live music plays while we inspect the local art (above right). Whether it's marching to the drumbeat at a Winston-Salem State Homecoming Parade (above left) or taking a bite into the baklava at the Winston-Salem Greek Festival, our home sweet home has a few traditions of her own.
__________________________  
Find Your Health Bliss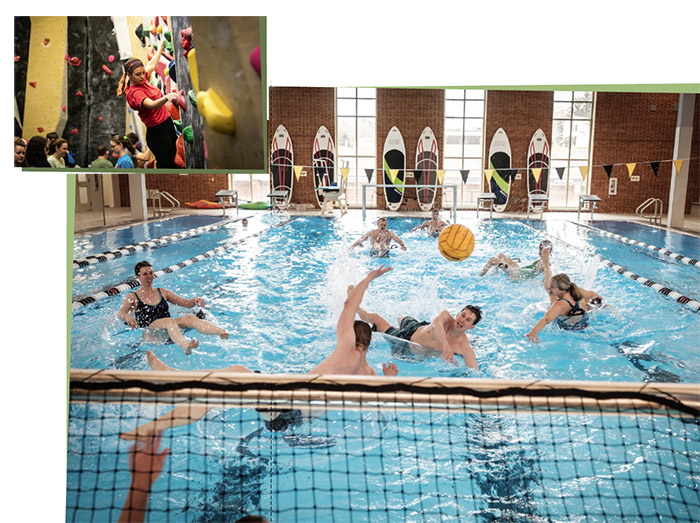 Goodbye to W.N. Reynolds Gym's 1950s vibe, with narrow hallways and outdated locker rooms. Hello, campus crowning glory of fitness and health. Students, faculty and staff can practice bouldering on the climbing wall, swim in the pool's eight lap lanes or get social in the open 3,000-square-foot living room with floor-to-ceiling windows.
Name a piece of exercise equipment, a fitness class or health or nutrition counseling, and it's likely to be here. Three years of renovations and construction produced the Sutton Center in 2016, followed by the adjoining Reynolds Gym transformation into the Wake Forest Wellbeing Center by 2018. Students, faculty and staff can find just the right roadmap to staying fit and happy.
__________________________  
Treasures of the Archive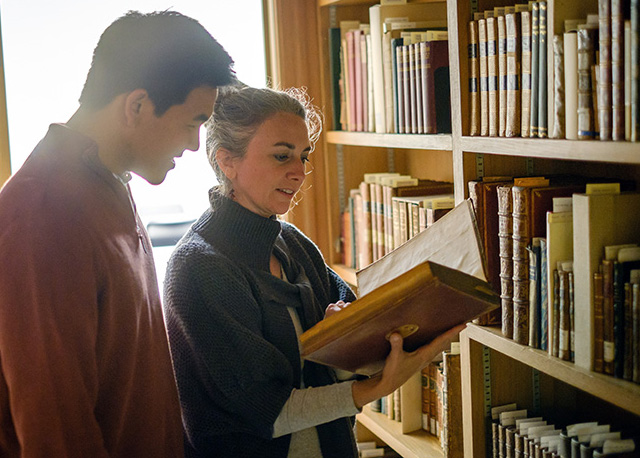 Spend an afternoon exploring the treasure trove of books, photographs, recordings and artifacts in the Special Collections Research Room (formerly known as the Rare Books Room) in the Z. Smith Reynolds Library. Discover first editions of "Leaves of Grass" (1855) with Walt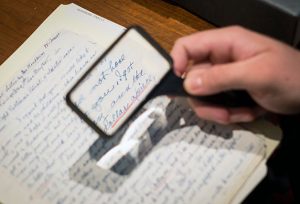 Whitman's signature, John Milton's "Paradise Lost" (1669) and Herman Melville's "Moby Dick" (1851). Listen to Martin Luther King Jr.'s 1962 address in Wait Chapel and Elie Wiesel's (Litt. D. '85) 1985 Founders' Day speech. Read the papers of groundbreaking female U.S. Army Brig. Gen. Pat Foote ('52, LL.D. '89) and Civil War letters. Explore Jan Hensley's ('64) collection of thousands of first edition books, many signed, by 20th-century Southern authors, and Bob Burke's (P '19) collection of presidential memorabilia, which includes signatures or handwritten notes from nearly every president and most First Ladies through 2020. And relive your student days through digitized copies of the Old Gold & Black (dating back to 1916) and Howler (dating back to 1903).
__________________________  
Calling the Shots
Turn on the TV to a sports broadcast, and you might just hear a Deacon voice behind the microphone. There's Jason Benetti (JD '11) — one of the hardest-working and best announcers in the biz — the play-by-play voice of the Chicago White Sox and a college basketball and football announcer for ESPN. (He once called two White Sox games in Chicago sandwiched around a football game in Florida in 23 hours.)
Former women's basketball star LaChina Robinson ('02) is one of the leading analysts covering women's college and professional basketball. She won the 2021 Mel Greenberg Media Award from the Women's Basketball Coaches Association. Versatile Evan Lepler ('07) has done it all: college football, basketball, soccer and field hockey, minor league baseball — even cornhole and axe throwing for ESPN. In his primary gig, drawing from his student days playing ultimate Frisbee, he's "The Voice of Ultimate," covering the American Ultimate Disc League on Fox Sports.
At a school that boasts Arnold Palmer ('51, LL.D. '70) as an alumnus and that's won three national championships in golf (1974, 1975 and 1986), it's only natural that World Golf and Wake Forest Hall of Fame legends Lanny Wadkins ('72, P '96, '10) and Curtis Strange ('77), who won the national individual title in 1974, have called their share of birdies and bogeys on television.
And we can't forget Billy Packer ('62), who sailed with the (Jefferson) Pilot through the golden age of ACC basketball broadcasts and covered the NCAA men's basketball tournament for CBS for decades. And a tip of the Deacon hat (and a reminder to turn on your radio this football season) to the Voice of the Demon Deacons, Stan Cotten, a four-time North Carolina Sportscaster of the Year.
__________________________  
Home Sweet Home

Imagine living in a dorm room with oak-paneled walls and marble fireplaces and bathrooms with hand-painted tiles and 17-head showers. Some lucky students in the late 1970s didn't have to imagine it: They lived in the grand 1930s Norman Revival manor house Graylyn.
Built for the Bowman Gray family, the house was later used as a psychiatric hospital by the medical school and as a school for children with special needs. Professor Emeritus of History Jim Barefield lived in an apartment in the house in the 1960s and '70s. The grounds hosted lively alumni and fraternity parties.
Students moved into what had once been the Gray family's bedrooms and guest rooms in 1977. (Other students lived in foreign-language houses in cottages on the estate.) Curious students could explore what one recalled as a spooky haunted house, descending a spiral iron staircase to deserted but still grand formal rooms and an empty, Art Deco-inspired pool.
In 1980 a fire gutted the third floor and caused extensive damage to the rest of the house. But you can still sleep in those dorm rooms today: Graylyn was renovated to its 1930s opulence and opened as a conference center in 1984.
__________________________  
The Journey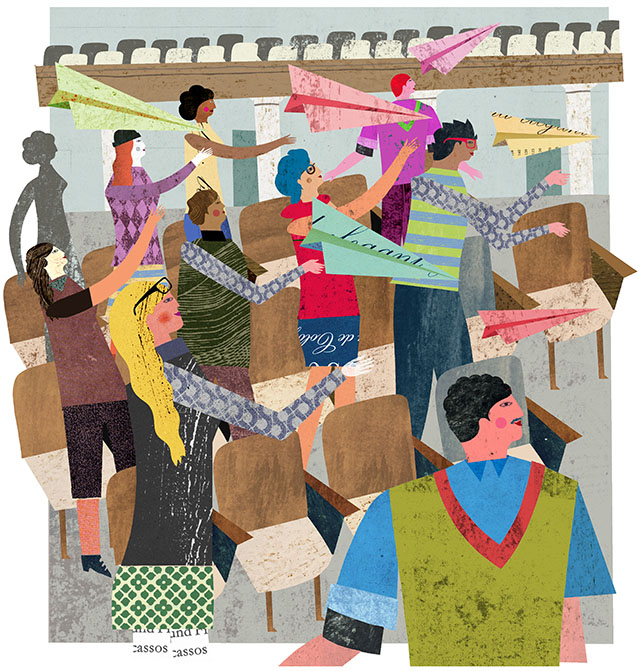 Pre-pandemic, incoming students gathered in Wait Chapel to learn how to navigate the daunting path from college to career, with help from the Office of Personal and Career Development. They wrote their career aspirations on colorful paper that they folded into paper airplanes and threw them into the air. As the paper airplanes soared into the wild blue yonder, students could dream about their own journey ahead.
__________________________  
A Demon Deacon's Legacy for a Marine Marvel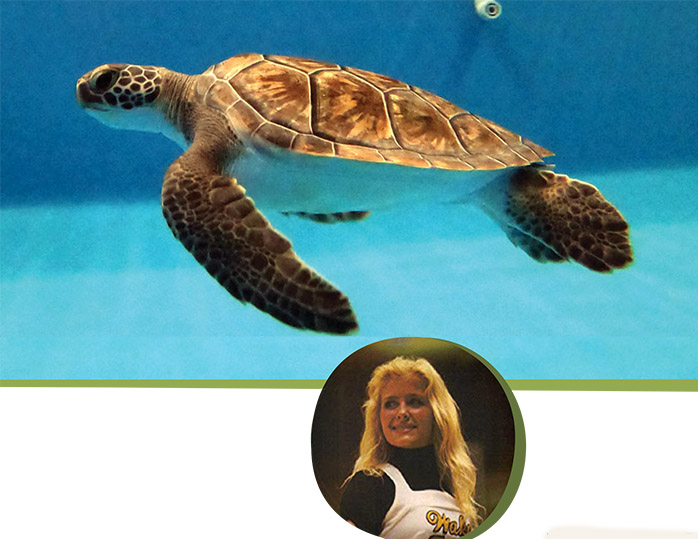 If you happen to be around Topsail Beach, North Carolina, between mid-May and August you might witness one of nature's miracles — female loggerhead sea turtles coming ashore to lay eggs. About two months later the newborns hatch and race to the sea.
Enchanted by such scenes was Karen Beasley ('84), a Wake Forest cheerleader and communication major whose lifelong memories of sea turtles spurred a last gift. As her health declined from leukemia, Beasley specified that insurance money "do something good for sea turtles." She died in 1991 at age 29, but the Karen Beasley Sea Turtle Rescue & Rehabilitation Center exists, thanks to her wish and the work of her mother and supporters. The turtle hospital is in Surf City, about 8 miles north of Topsail, a place of healing and conservation education about the fragile little creatures that must dodge crabs, birds, sharks and fishing nets to thrive.
____________________________  
MORE WAKE FOREST MISCELLANY
The Magnolia Room   |   Stephen Colbert's Commencement   |   Wake Downtown   |   Party So Dear   |   The Lilting Banshees   |  Arnold Palmer   |  'Freshmanland'  |   Secrest Artist Series   |   Reynolda estate   |   The original campus   |   Maya Angelou   |   Student art-buying trip   |   Hit the Bricks   |   On-campus coffee  |   'The Hill' at Spry Soccer Stadium   |   President's Ball
---
'The Book' at Casa Artom   |   Pro Humanitate   |   Journalist Harold T.P. Hayes   |   Tribble Hall   |   "Brian's Song"   |   Flags in Benson University Center   |    'Fabulous Faculty'   |   Spirit of the Old Gold & Black (SOTOGAB)   |   The President's Home  |   Law School pro bono |   Deacon Olympics   | Shag on the Mag  | Campus caretakers  |
---
The Joel   |   The  Carillon   |   Hidden Trails   |   Chris Paul shoe collection   |   Deacon Camp   |   Moravian Lovefeast   |   Pitsgiving   |   Farrell Hall entrance   |   'Doggie Deacons'   |   Deacon Hill   |    Disco parties in the Afro-American Society Lounge   |   A.R. Ammons   |   Wait Chapel   |   Autumn